Snowtap announces launches, signings and big Christmas sales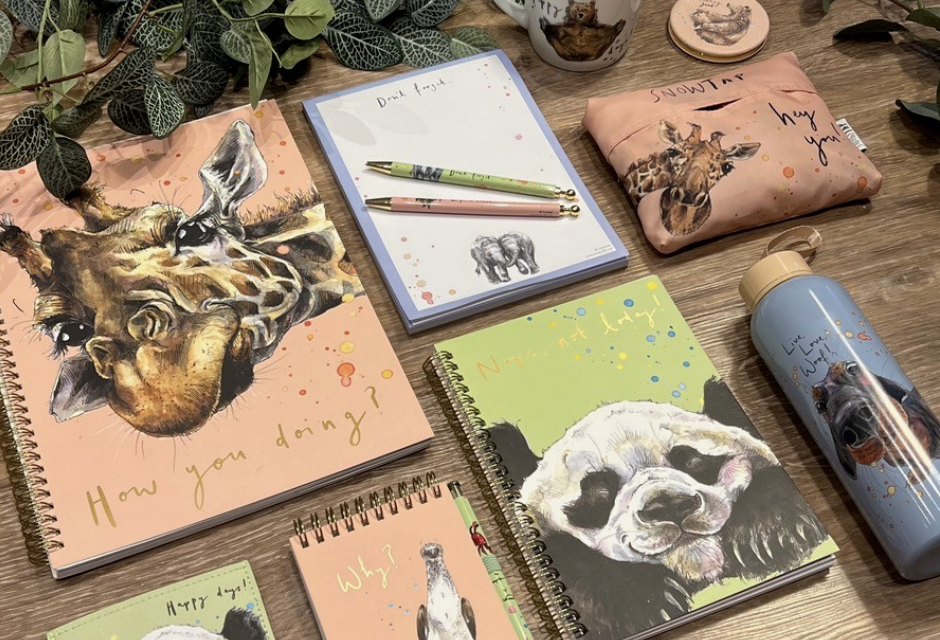 Graphic design and illustration brand Snowtap, and KJG Ltd, which manages the Snowtap consumer products programme, are celebrating a successful Christmas 2022 and looking forward to a busy 2023. A very successful Christmas greeting cards launch has been quickly followed by plans for an imminent retail launch of social stationery and gifts from a recently signed partner, and the signing of a new licensee in the toys and games category.
All three licences highlight Snowtap's signature beautiful artwork, which includes illustrations in watercolour and line drawing with hand-drawn typography highlighting witty and motivational wordplay.
It was in November 2021 that KJG signed a deal for Snowtap to appoint The Art File, a leading independent publisher of greeting cards, stationery and gifts, as Snowtap's leading greeting card publisher. The greetings cards, based on Snowtap's natural-world-inspired designs, have been a big success and in the 2022 Christmas market sales exceeded expectations with a very strong performance both online and out in the retail spectrum. More exciting new designs are now being lined up for the 2023 campaign.
As we enter 2023, retail and licensing activity for this distinctive and delightful brand is gathering pace. A recent Snowtap deal with leading stationery and gift licensee Blueprint Collections for a range of social stationery and gifts is about to see a retail launch in a number of outlets. The range, which includes mugs, pencil cases, notebooks, pens, sunglasses cases and drinks bottles, all illustrated with striking Snowtap designs, will be available at high street stores, grocers, gift shops and independents.
And that's not all. Snowtap is now targeting the autumn/winter 2023 games market with a new license awarded to Gibsons Games, a producer of innovative games and puzzles for all generations. Gibsons has produced an entertaining and educational jigsaw puzzle called a Collective of Creatures, which challenges players to piece together a colourful and witty Snowtap-devised illustration filled with a variety of animals. It also asks them to guess the collective nouns for each one (did you know a group of polar bears is called an aurora?).
A Collective of Creatures will be available at toy trade outlets, high street stores, gift shops and independents in Q3 2023. The partnership with Snowtap will also be showcased at the Gibsons Games stand during Toy Fair and Spring Fair.
And of course, in addition to these partnerships, Portico Designs, an independent publisher of quality design-led stationery, gifts, calendars & greeting cards, is continuing its successful relationship with Snowtap, through which it sells cards and 2023 calendars to Barnes & Noble in the US.
These partnerships build on Snowtap's consumer products programme, managed by KJG since 2021. Snowtap was founded in 2016 by Susy Snow and Gracie Tapner, who studied Illustration and Visual Communication together at university. The company now has over 60 designs combining instantly recognisable Snowtap art and typography with witty wordplay.
Lisa Shand, Managing Director at Blueprint Collections, comments: "Blueprint is thrilled to be working with Snowtap and Kirsty Guthrie from KJG Ltd to develop a collection of stunning giftware, stationery and accessories for a launch at retail in early spring 2023. The illustrations and beautiful designs Snowtap creates compliment our portfolio perfectly. We are very excited about this beautiful product and new license launch and already have great orders."
Emily Charles, Head Of Product Development at Gibson' Games, says: "We are so excited to launch the Collective of Creatures puzzle to the trade this January. The Snowtap artwork is absolutely stunning and the humour of the collective nouns is a wonderful bonus. It has been a real pleasure working with Kirsty Guthrie and Snowtap on the design and I can't wait to see it on shelves at retail and for consumers to enjoy piecing it together."
James Mace, Sales and Marketing Manager for The Art File, says: "The launch of Snowtap cards, stationery and gifts to retail has been even more of a hit than we expected. Customers love the illustrations, the words and the wit of these works, which have been massively popular in the Christmas market."
Gracie Tapner and Susy Snow, founders of Snowtap, add: "We are thrilled that so many people have enjoyed Snowtap's illustrations and even more excited that our work is now attracting high-quality licensing partners across a diverse range of categories. Blueprint Collections, The Art File and Gibsons Games have brilliantly adapted our work to their products. We're delighted to be working with them."
Kirsty Guthrie, KJG Ltd, adds: "It's been a very rewarding Christmas for the Snowtap team but they're not resting on their laurels. The word is definitely out on the appeal and originality of Snowtap's work and we're expecting even more interest from potential licensees in the coming year."