RHS Endorse Line of Sheds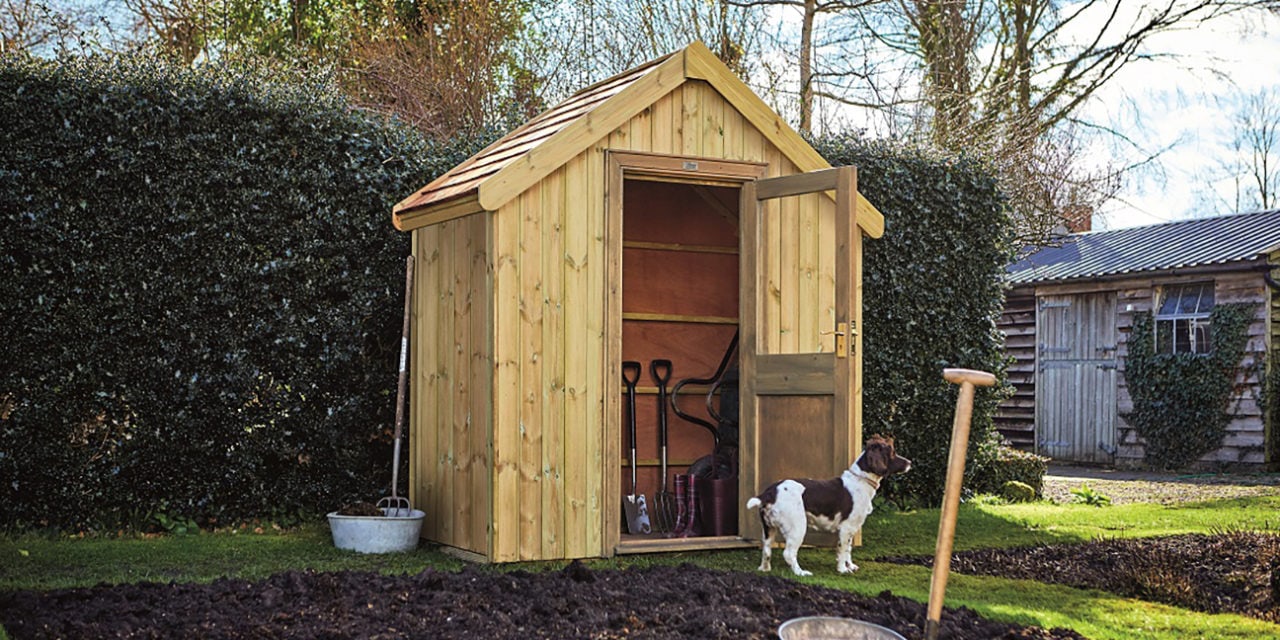 The Royal Horticultural Society (RHS) has announced an addition to the RHS-endorsed line of sheds from The Posh Shed Company.
The Kensington, launched in February this year, is a smart shed that fits well into any garden, with a straight facia and plain glazed door, giving the shed a traditional feel. It's also compact – 6ft 6in (2m) wide x 3ft 3in (1m) deep – but by taking full advantage of the 2.5m maximum height allowed under normal planning rules has more than enough storage room for any shed owner's needs.
The build specification is far superior to normal shed construction, featuring triple layer walls (internal plywood lining, waterproof membrane and external tgv cladding) solid floors (tanolised bearers/waterproof membrane,18mm external grade plywood) and effective roofs (12mm external grade plywood. waterproof membrane with a choice of roof finishes). All the external cladding is pressure-treated redwood and all the plywood WBP grade (weather and boil-proof).
The Kensington offers a choice of roof finish (felt shingles/cedar shingles/composite slate). The doors are a solid 40mm thick and supplied with five lever mortice locks and a choice of ironmongery, while the glazing is in toughened 4mm glass or polycarbonate.
Like all the other sheds in the Posh Shed portfolio, customers have three options for just how posh they'd like their shed to be: Posh (pressure treated) Very Posh (pressure treated and finished in your choice of colour) or Unbelievably Posh (pressure treated and finished in your choice of colour, fully insulated and double glazed, with weathervane and solar panel). All The Posh Shed company products are available in a number of installations including delivery only and full installation by Posh Shed's own people.
The RHS endorsement is a very important feature of this shed – and the entire Posh Sheds line. The RHS only endorses what it believes to be the very best products in any one product category. It's important to the RHS that, as part of its licensing and endorsement programme, it supports British-based companies, traditional skills and craftsmanship that creates some of the best hand-built products available – and that undoubtedly applies to Posh Sheds.
Richard Frost, managing director of The Posh Shed Company, says: "The Kensington continues a relationship with the RHS that began nearly two years ago. It is ideal for gardeners who want a shed that combines style with functionality, compactness and superior construction. We are thrilled with the continuing RHS endorsement of our products and delighted with its support for this new addition to our portfolio."
Cathy Snow, Licensing Manager, RHS, says: "An important part of our licensing and endorsement programme involves supporting craftsmanship and working with UK-based businesses – and Posh Sheds is a fine example of the best UK craftmanship can offer. The Kensington is a marvellous addition to the RHS-endorsed Posh Sheds line."