Popeye and Olive Oyl Stars of J-OIL MILLS TELEVISION COMMERCIALS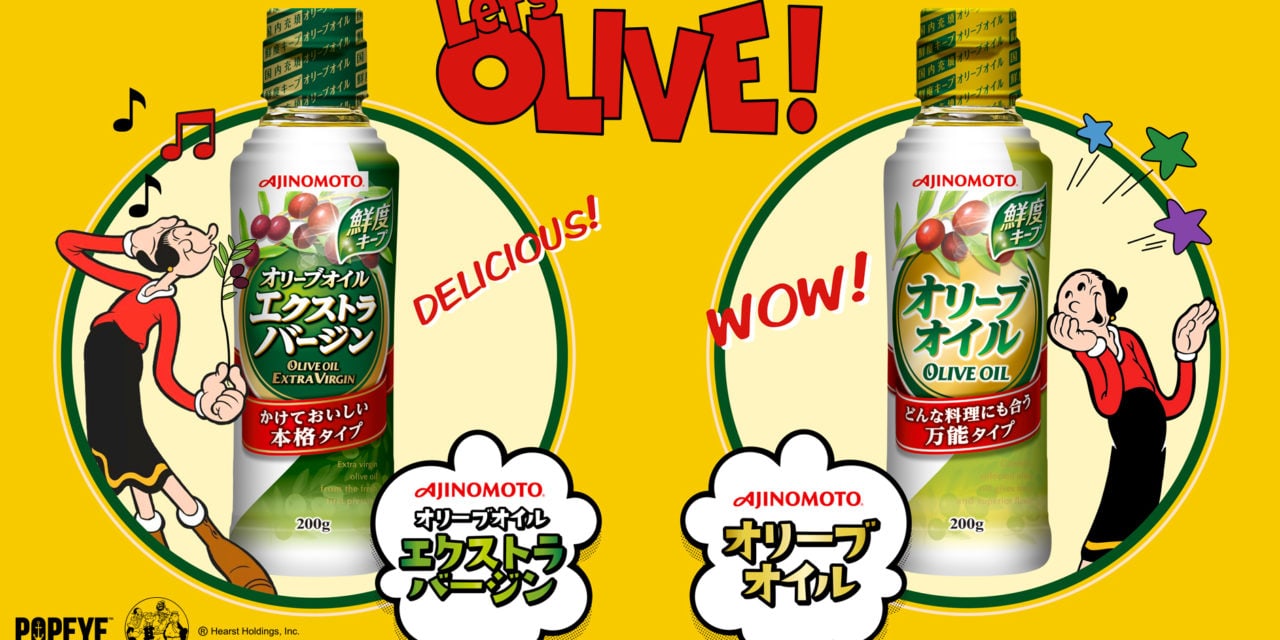 King Features Syndicate, along with local agent Copyrights Asia, announced the release of two
new television commercials featuring Popeye and Olive Oyl in promotion for J-Oil Mills' olive oil
products.

The commercials released by J-Oil Mills, headquartered in Chuo Ward, Tokyo, advertise their products,
AJINOMOTO Olive Oil and AJINOMOTO Olive Oil Extra Virgin, in collaboration with Popeye and Olive Oyl.

The first commercial, "Olive Oil Let's Olive Intro Version," began airing on March 19, 2020 and a second
commercial, "Olive Oil Let's Olive Spring/Summer Version," was released on March 26, 2020.

"Japan is an important market for King Features' iconic characters Popeye and Olive Oyl, especially as
we are in the middle of Olive Oyl's 100th anniversary celebration," said Carla Silva, vice president and
general manager, global head of licensing, King Features. "As promotions help boost brand awareness
and reaffirm brand relevance, they have been a large part of our strategy there. We are thrilled to see
the continued expansion of the Popeye brand within the territory through this creative and entertaining
promotional opportunity with J-Oil Mills."

Through this new series of commercials featuring the essential spirit of the world-renowned spinach-eating
sailor, J-Oil Mills invites consumers to recognize more fully the family appeal of their brand and
see that their products are a great addition for use in home dining. The other key message J-Oil Mills
hopes to convey through these commercials is "Oil that makes you a chef!" J-Oil Mills' olive oil is
recognizable for its freshness and versatility, making it highly recommended for everyone, from chefs
and food lovers to those who have not tried using olive oil yet. Recipes introduced in the commercials
include Spinach and Bacon Olive Salad, Whitebait and Daikon Radish Riceballs, Olive Chicken Wings and
Olive Potato Salad.

Both commercials are available for viewing on the AJINOMOTO Olive Oil brand website.