Pokémon Takes over Harrods Toy Floor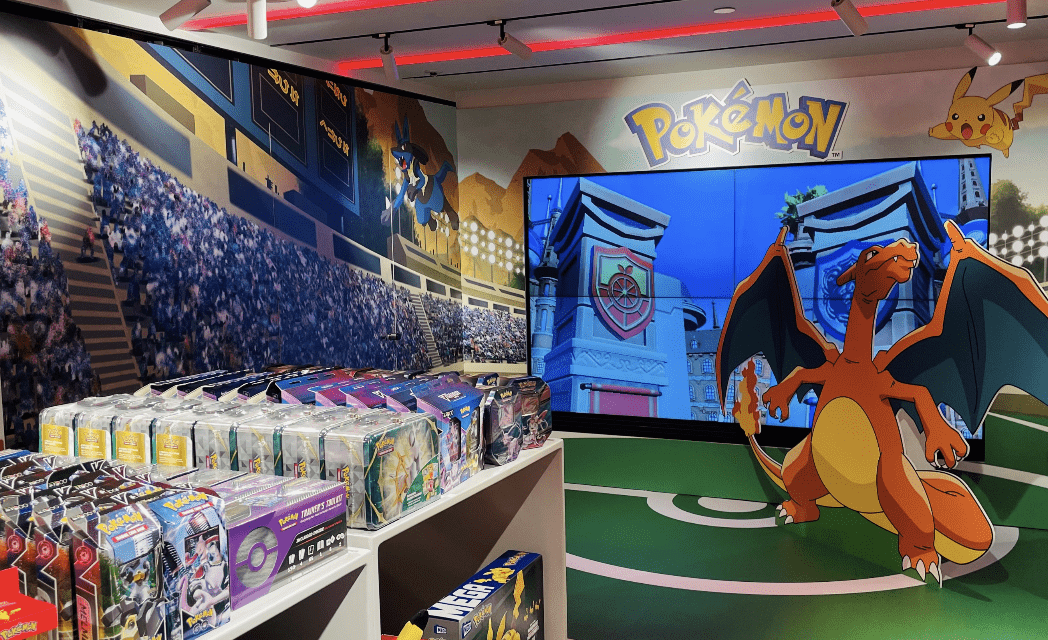 It has been announced that the Pokémon Company International has taken over Harrods' toy floor for six weeks of summer fun which began on 17th August. With a host of exciting activities on offer for visitors to the world-famous department store in Knightsbridge, London, the Pokémon space has taken inspiration from the Pokémon World Championships, which were held in London for the very first time from 18th– 21st
The prominent branded space in the toy department on the store's fourth floor is themed around iconic Pokémon in a Pokémon stadium, with colourful, vibrant graphics, displays and digital screens featuring dynamic content from Pokémon's key brand pillars of video games, Trading Card Game and animation along with the latest toy releases. Packed full of Pokémon product and with a variety of themed activities including cute giveaways, photo opportunities and costume character visits in September, the pop-up provides a rich and immersive Pokémon experience for Harrods customers.
With a wide range of Pokémon product across toys, the Pokémon Trading Card Game (TCG), stationery and accessories, there really is something for everyone. A selection of Jazwares' hugely popular toy line will be on display, including Battle figures, 8" plush, 18" sleeping plush and the Clip and Go belt set. Other highlights include Mattel's Construction sets, covetable collectibles from Wand Company, bespoke prints from GB EYE and Teknofun's lamps and wireless speakers.
Mathieu Galante, Licensing Director (EMEA) for The Pokémon Company International, said: "With the Pokémon World Championships held in London for the first time, we wanted to celebrate the occasion with something special and what better way than by creating this exciting experience in Harrods' iconic store. We are thrilled to be back at Harrods where we have a track record of hugely successful collaborations and we hope that this summer pop-up will be fun, engaging and inspiring for Pokémon fans old and new."
The Pokémon space in Harrods is a fun destination for fans to visit. The eagerly anticipated return of the Championships has added to the extra excitement, being held outside of North America for the very first time. Held at ExCel London, the event featured exciting activities for players and spectators alike as the very best Pokémon trainers from around the globe joined together to compete over various formats for the title of 2022 Pokémon World Champion.
The pop-up continues the collaboration between Pokémon and Harrods following three previous and hugely popular month-long promotions at the store: in May 2019 to promote the launch of the hit live action movie POKÉMON Detective Pikachu; in February 2020 for the launch of latest video game Pokémon Sword and Pokémon Shield, which became the fastest-selling Nintendo Switch titles ever; and in 2021 as part of the phenomenally successful Pokémon 25th anniversary celebrations.