Peter Rabbit Hops into the Year of the Rabbit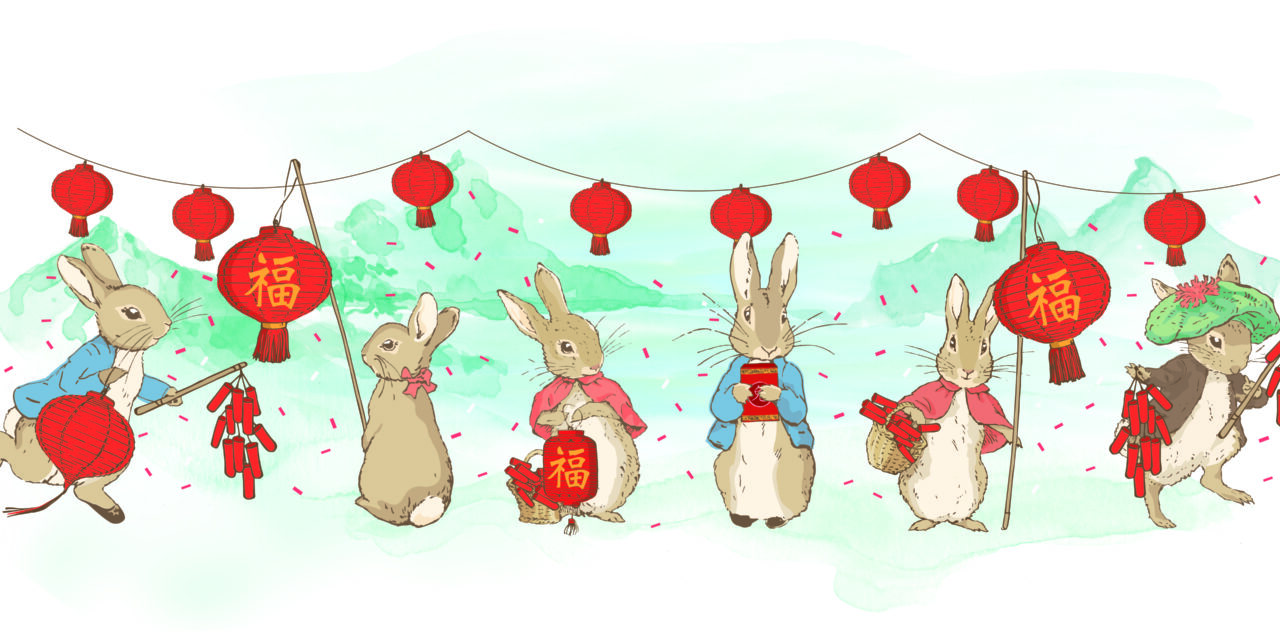 Penguin Random House Children's UK, together with global partners and agents in key territories will ensure that The World of Peter Rabbit™ is a central part of January's Lunar New Year celebrations which welcomes the Year of the Rabbit for 2023.
Following an incredibly successful year for the brand in 2022, when Penguin Random House Children's marked 120 years of Beatrix Potter's The Tale of Peter Rabbit in a year-long series of celebrations, the business is primed to move forwards with a strong roster of brand partners and licensees for Peter Rabbit during The Year of the Rabbit.
David Sprei, Commercial Director at Penguin Ventures (the licensing and consumer products team at Penguin Random House Children's) said: "We have worked closely with CAA, our brand licensing agent for China and multiple markets across Asia, who have developed an incredible series of high-profile brand collaborations to launch during the Lunar New Year celebrations. These include a global luxury hotel partnership and an exciting new experience which will reach fans in key territories, both of which will continue to position Peter Rabbit at the heart of the consumer experience.
Thomas Merrington, our creative director has overseen the production of a bespoke Year of the Rabbit style guide, which is being utilised by CAA and Penguin Random House China across all Peter Rabbit marketing activations locally, including the launch of a high-end fashion collaboration which will be announced shortly and a brand new campaign 'My Reading Time With Peter Rabbit' which will launch in partnership with Penguin Random House China during this key period."
The World of Peter Rabbit™ publishing programme continues to grow across Asia following the publication of the Frederick Warne & Co. Complete Collection of Original Tales by Penguin Random House China at the end of 2022. The publisher will continue to promote this official and authorised Peter Rabbit series throughout the year as a key priority.
Izzy Richardson, Global Brand Director at Penguin Random House Children's said: "Peter Rabbit has a significant and fast-growing presence in China and across Asia and we look forward to celebrating the Lunar New Year with our colleagues at CAA and Penguin Random House China. Alongside the licensing activity we are incredibly excited to see new Peter Rabbit publishing launch in China this year, supported by extensive promotional activity in bookstores and online. Building and engaging with our audiences online is key to our global strategy for The World of Peter Rabbit, and platforms such as TikTok, and our Peter Rabbit Weibo and WeChat channels will feature celebratory promotional activity throughout Lunar New Year. We will also celebrate The Year of The Rabbit on our global social platforms including Instagram, Facebook and Pinterest, alongside themed activities for families on our Peter Rabbit website."
During the Year of the Rabbit, Penguin Random House Children's will elevate The World of Peter Rabbit on a global scale, reaching children, families and consumers with innovative products, experiential activations and educational resources to drive further growth and engagement with the world's first licensed literary character during a celebratory year.