PAW Patrol teams up with Bondi Beach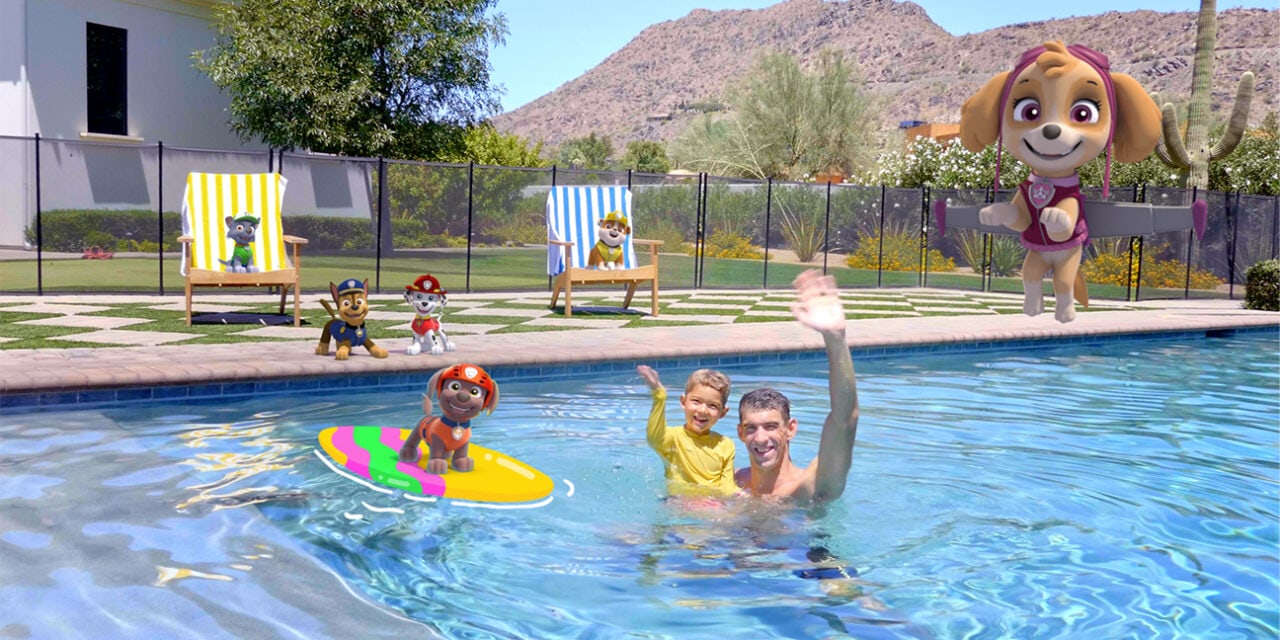 PAW Patrol Team Up With Bondi Rescue To Patrol Bondi Beach And Launch New PAW Patrol Safety First! Water Safety Campaign.
PAW Patrol's heroic pups were on a roll this morning at Bondi Beach with none other than Bondi Rescue! The unlikely new recruits helped the Lifeguards patrol the beach while spreading the word about the importance of water safety through their new PAW Patrol Safety First! prosocial initiative.
The water safety program, created in partnership with Michael Phelps, will launch today with a Public Service Announcement (PSA). Starring Phelps, World Champion Swimmer and Water Safety Advocate, who also serves as the PAW Patrol Safety First! Global Water Safety Ambassador, the spot will be featured on Nickelodeon and Nick Jr. channels, as well as their social media and digital platforms.
The PSA, which features the PAW Patrol pups as well as Phelps and his son Boomer, utilises a sing-along format to teach the "ABCs and 123s of Swim Safety", the core principles that will help kids keep safe as they try to beat the heat this summer with water-based activities.
The ABCs for adults include: A – Adult Supervision – always be within arms distance of kids, providing focused supervision; B – Barriers – all pools should have a barrier for entry and a self-latching gate; and C – Classes that concentrate on swimming for kids and CPR for adults. The ABCs are an important way to make sure everyone feels safe and confident in the water.
The 123s of Swim Safety for kids include: 1 – Never swim alone – ask a grownup if you want to jump in; 2 – Know your surroundings – look around and know which is the shallow and deep end; and 3 – Take swimming classes – learn basic swimming skills like floating and strokes before getting in the pool.
In addition to the PSA, Nickelodeon has partnered with the Michael Phelps Foundation to develop an interactive PAW Patrol Swim Safety toolkit, currently available at nickjr.com.au/watersafety.
The toolkit includes printable activities that caregivers and kids can complete together, to teach and reinforce the importance of water safety, such as: The Swim Safety Maze Challenge; Zuma's Swim Safety Count and Colour activity, which teaches kids the importance of blowing bubbles; and a water safety demo in the form of a game of 'Show-see-do."
"Water Safety has been a priority in my family since I was a child as my mum was adamant that my sisters and I learn to swim for safety purposes. The statistics around accidental drowning are alarming and we want to help educate and encourage families with a few basic tips in a fun and informative way, thanks to Nickelodeon and the PAW Patrol pups," said Phelps.
Royal Life Saving Australia's 2020 National Drowning Report found 50% of drowning fatalities of children between 0 and 4 happened in a swimming pool with 75% as a result of a fall. 25% of drowning fatalities of children aged between 5 and 14 were also in a swimming pool with 56% as a result of swimming and recreation.