New Peter Rabbit commemorative coins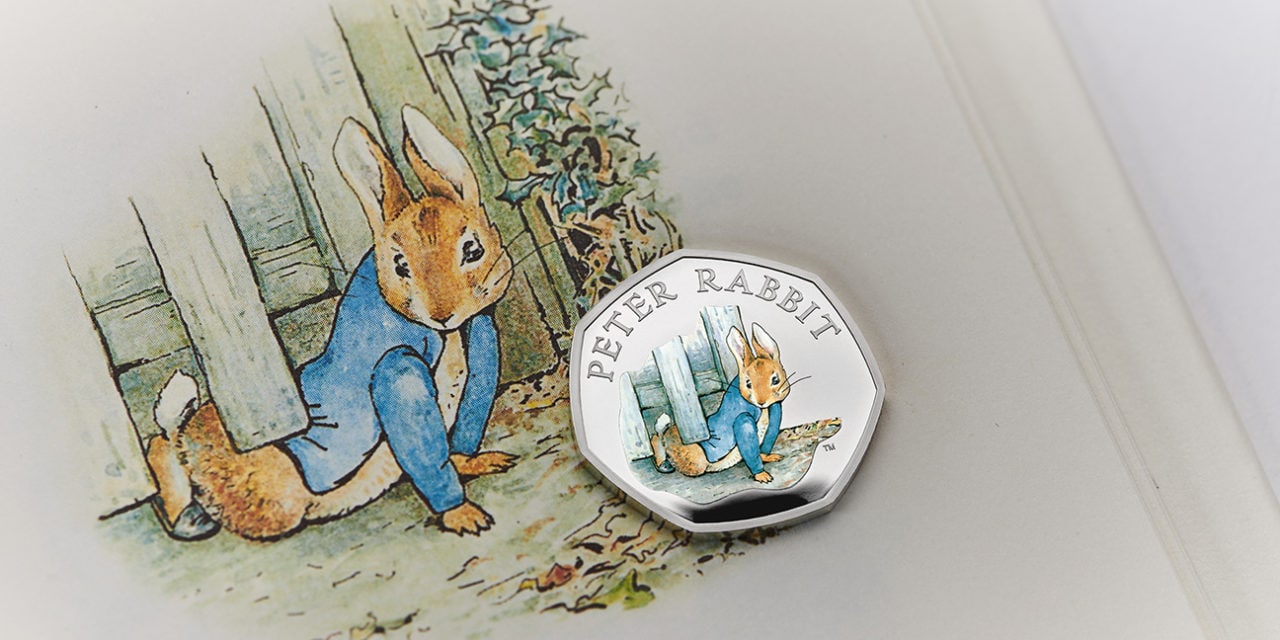 The Royal Mint has announced the return of Peter Rabbit onto UK commemorative 50p coins for one last time. The new design for 2020 will feature on Brilliant Uncirculated, Silver Proof and Gold Proof 50p commemorative coins. First introduced onto UK coins in 2016 to celebrate Beatrix Potter's 150th anniversary, Peter Rabbit has also appeared on UK coins in 2017, 2018 and 2019.
The new 2020 design, developed in collaboration with Penguin Ventures on behalf of Frederick Warne & Co. Ltd, Beatrix Potter's original publisher, depicts the rabbit in his trademark blue jacket sneaking under the gate in search of lettuces.
The hand-painted style of Beatrix Potter's original illustration has been carefully engraved by The Royal Mint's coin designer, Emma Noble, to immortalise the rabbit on the 2020 version of the coin. In addition to previous Beatrix Potter collections, Emma has previously designed coins commemorating the 60th anniversary of The Queen's coronation, Remembrance Sunday, and King George I.
Clare Maclennan, Divisional Director of the Commemorative Coin division at The Royal Mint and The Royal Mint Experience said, "The Royal Mint has celebrated Peter Rabbit on 50p coins for five years and this year for the final time, the nation's favourite bunny will feature on a new UK commemorative 50p coin. We are delighted to be continuing the tales of Peter Rabbit and capturing his latest adventure on UK coins, giving fans the opportunity to complete their Beatrix Potter UK 50p commemorative coin collection."
Thomas Merrington, Creative Director at Penguin Ventures (part of Penguin Random House UK) said, "It's been incredible to see Beatrix Potter's beloved Peter Rabbit lead the way in commemorative character coins. Over the past 5 years The Royal Mint have brought Potter's characters to life in a fantastically successful collection which has been treasured by fans around the UK. Whilst Peter will be bowing out of the 50p series I am excited about our future partnership with The Royal Mint".