Mitchell & Ness to Celebrate the 50th Anniversary of Hip Hop Graffiti'd NBA Jerseys by Tats Cru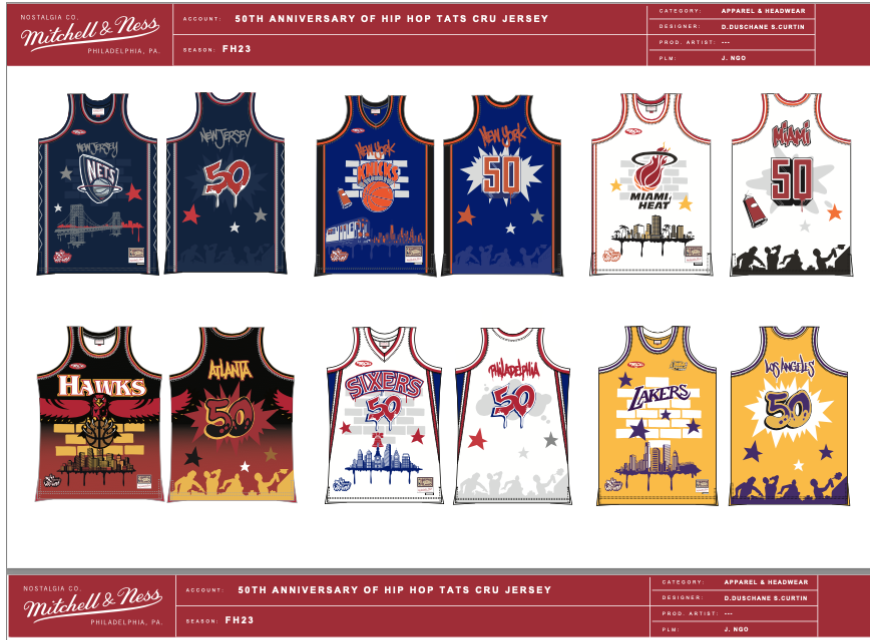 Mitchell & Ness and Legends Recordings announce the release of an exclusive collection of NBA jerseys celebrating the 50th Anniversary of Hip Hop designed by legendary graffiti artists, Tats Cru.
Set for release in October 2023 to coincide with the start of the 2023-24 NBA season and Hip Hop History Month in November, the custom collection of NBA jerseys will honor eight major metropolitan cities that played a leading role in the development of Hip Hop music and culture: New York, New Jersey, Atlanta, Chicago, Miami, Detroit, Los Angeles, and Philadelphia. The designs feature unique graffiti designs of the city skylines and four elements of Hip Hop (mc'ing, dj'ing, graffiti art and breaking).
Tats Cru is a legendary group of New York City-based graffiti artists who began their artistic careers by creating subway graffiti in the mid 80's as Hip Hop influence spread across the globe. They quickly became a fixture in Hip Hop culture as they changed people's perception of graffiti as an art through their respected work.
"As avid basketball fans, Tats Cru was honored to create commemorative 50th Anniversary of Hip Hop basketball jersey designs to pay homage to both the culture and the sport," said Bio from Tats Cru.
Distribution of the 50th Anniversary of Hip Hop x Tats Cru collection is set for specialty and upstairs retailers globally and will include jerseys from Mitchell & Ness and complementary products such as caps, socks and throws from Mitchell & Ness and other licensing partners.
The Brand Liaison is the exclusive licensing agent for Legends Recordings 50th Anniversary of Hip Hop merchandising and has built a licensing program that also includes collaborations with Ecko, Coogi, Haus of JR and more, as well as licensing deals with Isaac Morris Limited, Philcos, Ata Boy, and others.