MINECRAFT FAST BECOMING A SMIGGLE RETAIL SUCCESS FOR MERCHANTWISE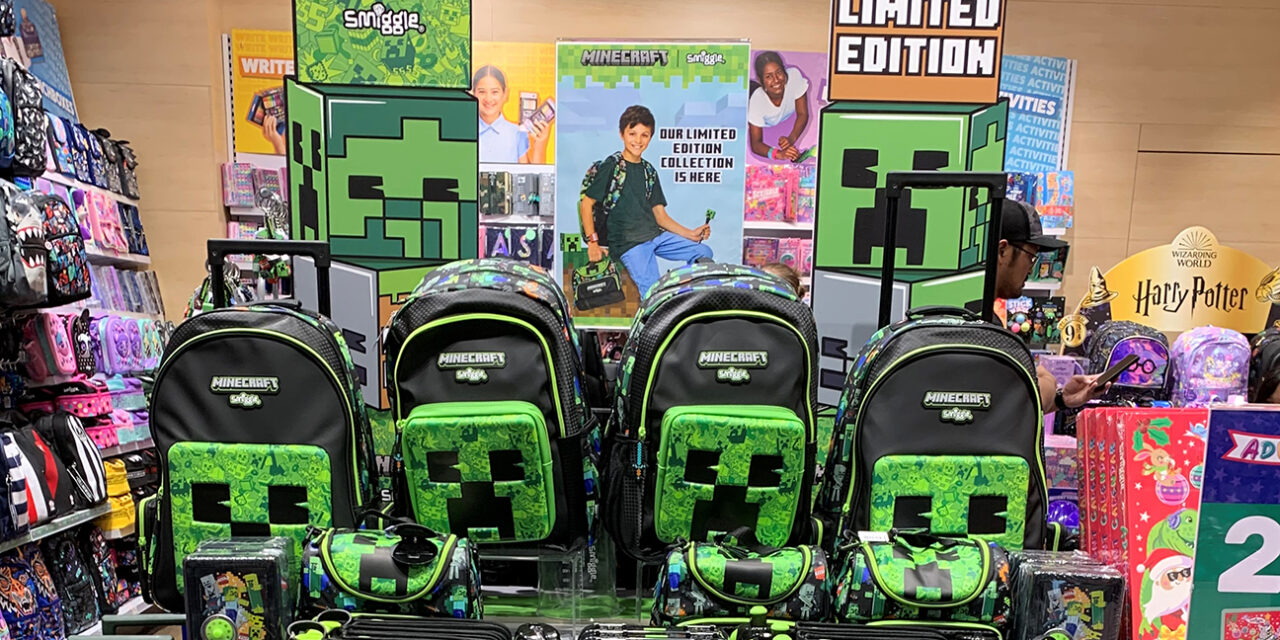 Minecraft is becoming a retail success story at globally renowned stationery and accessory retailer, Smiggle in Australia.  
Launching across stores in Australia, New Zealand, Asia Pacific, and the UK markets this past week and already exceeding retail staff and consumer expectations, it is the first time the Minecraft brand has partnered with Smiggle for a retail range.
Brokered by Merchantwise, the Australia and New Zealand licensing agency for Minecraft, the limited-edition collection brings the Minecraft adventures into the real world and is perfect for exploring new biomes and defeating mobs.
At Smiggle stores around the globe and via the retailer's website, Minecraft fans can get their hands on a branded backpack, an embossed light trolley bag, lunchboxes, a 3D print pencil case and a character wallet. The exclusive range also includes a moneybox, keyrings, pen pops and a multi-charm slapband – ensuring lovers of the bestselling game have all the essential inventory to bring the iconic elements of the game to life!
Featuring action-packed touches, fabrication and finishes that you expect from Smiggle, the Minecraft range also includes a digital clock with light projector, 4-piece stationery and accessory bundle, booksafe, notebook, socks and even a t-shirt.
"We are thrilled to have secured this exciting and incredibly successful global partnership for Minecraft with Smiggle. The Minecraft brand lends itself perfectly to all things stationery and accessories and we are already seeing many Minecraft fans racing into stores to get their hands on pieces from this limited-edition collection," said Merchantwise's Managing Director, Kerryn McCormack.
The Minecraft brand continues to perform beyond expectations across consumer products in leading retailers. There are now 26 Minecraft licensed partners in the Australian and New Zealand markets across all key categories including toys, collectables, apparel, footwear and accessories, homewares, publishing, novelty and gifting, outdoor and stationery.