Licensing International Announces 2023 Rising Star Award Recipients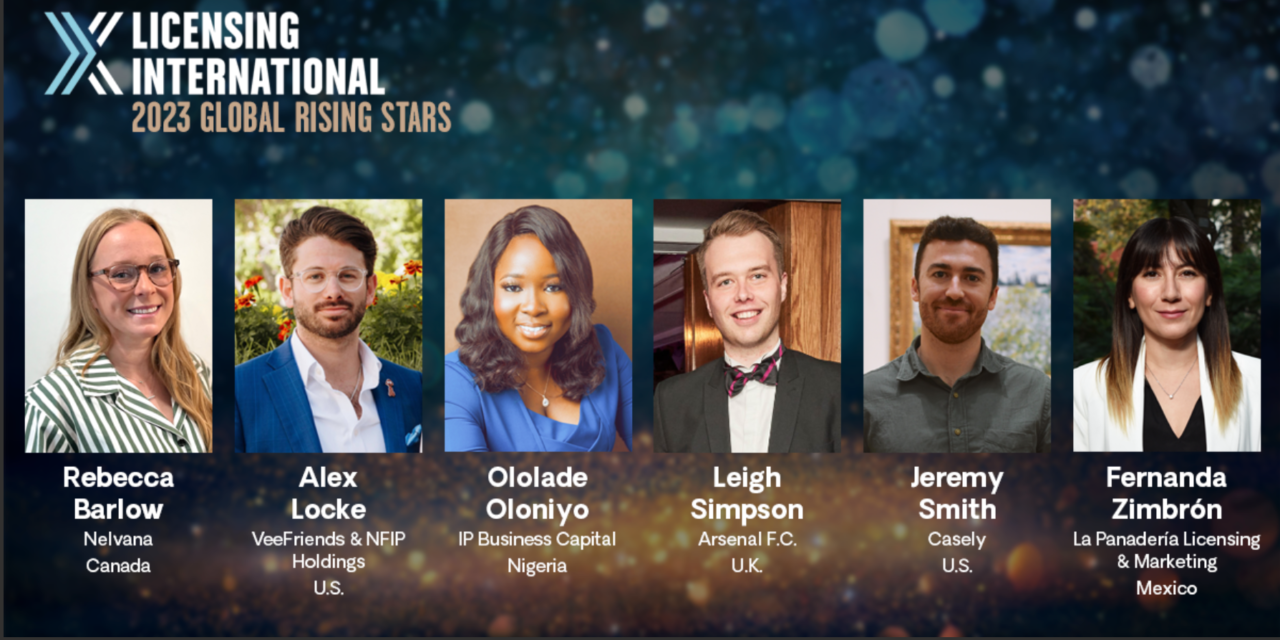 Licensing International announces that six licensing professionals will receive the 2023 Global Rising Star Award. For more than a decade, Rising Stars from around the world have been nominated by their peers and recognized for their contributions to, and passion for, the global brand licensing industry.  
"Licensing International is thrilled to shine a spotlight on the talented young professionals who will become the future leaders of the global brand licensing industry," said Maura Regan, President of Licensing International. "We would also like to say a huge thank you to our Rising Stars committee members, who have the difficult task of selecting among the best of the best."
This year's Rising Stars will be honored during the Hall of Fame Induction and Global Rising Star Awards on December 6, 2023, at the Gotham Hall in New York City. The event is a fundraiser for Licensing International's Scholarship Program and supports the LI Foundation in its mission to inspire the next generation of licensing professionals globally.
The Hall of Fame Induction and Global Rising Star Awards are sponsored by Hot Topic Inc., Paramount Consumer Products & Experiences, and Playmates Toys. Registration for the event is available online.
The 2023 Rising Stars are:
Rebecca Barlow, Licensing Manager at Nelvana
Based in Canada
Rebecca started her licensing journey at The Walt Disney Company where she supported both the hardlines and softlines teams, eventually moving into managing her own softlines categories. Today, she is the Licensing Manager at Nelvana Enterprises/Corus Entertainment. Rebecca manages the softlines business and oversees the hardlines business across Nelvana's iconic properties (like Babar, Max and Ruby, and more) as well as its agency brands (including Bluey, Barney, Care Bears, Thomas and Friends, Miraculous Ladybug, and Sesame Street) within Canada. She is on the YPN Canada committee and is excited to bring more attention to licensing in Canada.
Alex Locke, General Counsel at VeeFriends and Founder & CEO at NFIP Holdings, LLC
Based in the U.S.
Alex Locke is an attorney and entrepreneur. His specialties include IP strategy and transactions, product and service licensing, entertainment, sponsorships, strategic partnerships, branding, and emerging technology. Alex currently serves as General Counsel at VeeFriends, a contemporary entertainment company created by serial entrepreneur Gary Vaynerchuk, where he oversees all legal affairs and has worked on partnerships with the likes of Fanatics, Reebok, Mattel, and Crocs. Additionally, he serves as CEO and Founder of NFIP Holdings, LLC, the first international NFT intellectual property holding company. Its premier brand, Bored of Directors, has inked over 30 licensing agreements with products distributed in over 40 countries.
Ololade Oloniyo, CEO of IP Business Capital
Based in Nigeria
Ololade is the CEO of IP Business Capital, a firm that specializes in providing comprehensive IP advisory, consulting, and valuation services to African entrepreneurs. The firm's core focus is to assist creative entrepreneurs in identifying, protecting, licensing, and commercializing their innovations, fostering long-term corporate value. She recently led the team that launched the FUND Link, a licensing and investment portal for green tech entrepreneurs across Africa. The platform is specifically designed to connect green tech entrepreneurs with funders who are passionate about sustainable solutions. Through the platform, green tech entrepreneurs showcase their groundbreaking inventions to a global audience of potential buyers and licensees.
Leigh Simpson, Global Licensing Manager at Arsenal F.C.
Based in the U.K.
Leigh's licensing career began when he joined Arsenal Football Club as Licensing Executive in 2018, having previously worked for Saracens Rugby in a business development role. Just over five years later, Leigh is responsible for managing Arsenal's global cross-category licensing program and recently collected the Best Licensed Sports Property award on behalf of the club at the 2023 Licensing Awards. Leigh grew up a few minutes from Arsenal's training ground and is most passionate about projects that bring international supporters closer to Arsenal, reinforcing the important role that licensing plays in connecting and engaging with the club's communities around the world.
Jeremy Smith, Head of Licensing for Casely
Based in the U.S.
Jeremy is the Head of Licensing for tech accessory retailer Casely. His licensing career began in 2020 with the Grateful Dead, the first major collaboration for Casely. Since then, the company has worked with the likes of Crayola, Van Gogh Museum, Frida Kahlo Corporation, Pepsi, The Metropolitan Museum of Art, and The Beatles. Jeremy oversees contract negotiation, product development and approval, sales forecasting, and marketing content. He has a passion for sustainability and is proud of Casely's efforts to be environmentally conscious and a carbon neutral company. He loves the licensing industry and the positive emotion and connection it creates with people around the world.
Fernanda Zimbrón, Brand Manager at La Panadería Licensing & Marketing
Based in Mexico
Fernanda has been Brand Manager at La Panadería Licensing & Marketing since 2019. She first joined as part of the content and digital team, but a year later was offered a Brand Manager role. Since 2022, she has been Brand Manager of Hasbro's CP portfolio of brands, which has given her the opportunity to work with beloved IPs like Peppa Pig, Transformers, My Little Pony, PJ Masks, and Play-Doh, allowing her to design and guide strategic programs of greater relevance and impact on the Mexican market. Working with Hasbro, Fernanda found a new passion in the Dungeons & Dragons brand and has become a regular player.