Kids Insights Looks at the Impact of Coronavirus on Kids in New Report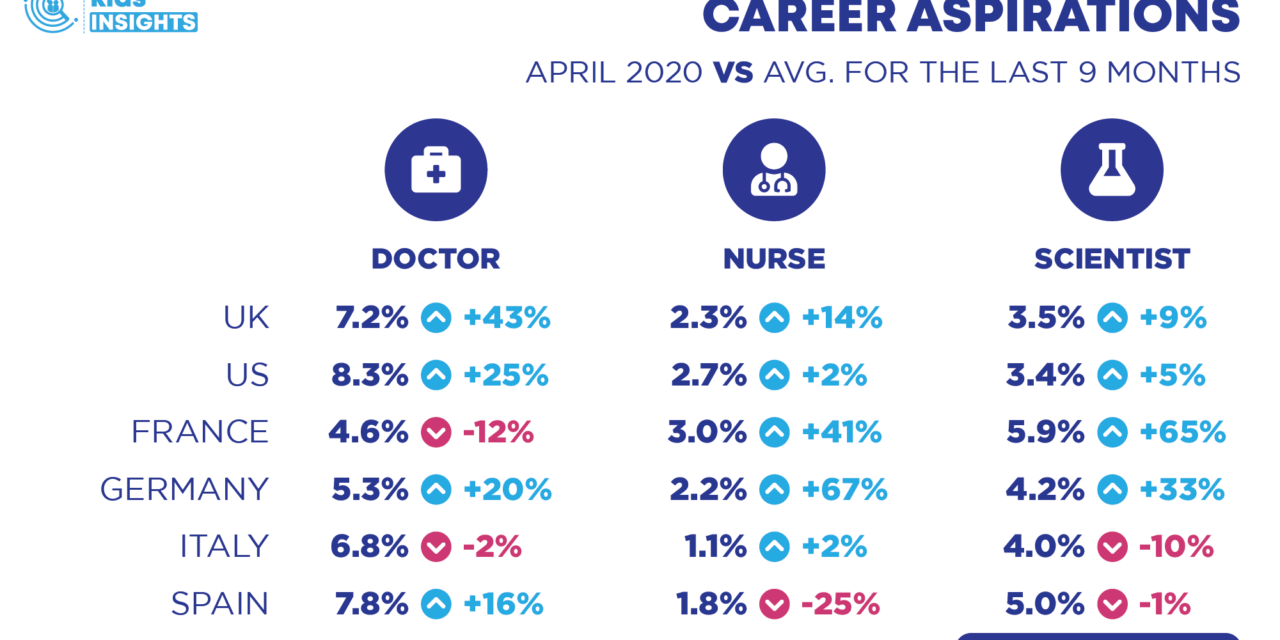 Kids Insights, a global leader in kids' market intelligence, has issued a special report revealing some of the differences in kids attitudes, behaviour and consumption that have changed since the outbreak of coronavirus and based on these changes they have also made five trends to look out for in the future. Kids Insights unique methodology surveys more than 400 UK children every week, which is equivalent to 21,000 across a year. 
Nick Richardson, CEO Kids Insights comments, "Speaking candidly there is now a new normal and it has never been more important for clients to have access to reliable, independent, real-time data; quite frankly any existing research which clients are using is simply not fit for purpose. We are helping our clients more than ever before understand and navigate their way through these unprecedented times."
Since the outbreak of coronavirus Kids Insights has seen significant changes in the attitudes, behaviour, and consumption patterns of the 12.3 million children that live in the UK, for example:
· The increase in the influence that children are having on parents and their purchase considerations. For example, a 39% increase in children influencing the choice of TV subscription.
– Participating and watching esports on-screen (+22%) has grown substantially in the UK across the last month.
· Kids between the ages of 3 and 18 are receiving more pocket money, with the average increased from £8.26 from £7.79 a month, which is equivalent to an extra £5.8m a month.
· An increase in anxiety with teens (+13% increase), and concerns over mental health have more than doubled over the last month.
· Becoming a doctor is now the number one career aspiration for all 5-18-year olds in the UK and there has been a +9% increase in children who now want to be scientists.
· A growth in the reading of comedy and fantasy books for all children, (+10% and +5% respectively).
· The closure of the high street has also led to more children shop online, which now sees 44% of children spend more online than offline, meaning that by the age of 14 children are now spending more online than they are offline
· The increase in adopting new payment methods, with PayPal and cash cards services such as Go Henry increasing, and an increase in children believing that digital currencies are the future, with a third of all children believing this to be the case (up 38% since the coronavirus outbreak).
· An increase in new comedy/sitcoms shows being watched, with half of the top 10 new shows children are looking forward to of this genre, nearly double the number across the last 12 months
· Board games have doubled in popularity amongst all kids, and for kids between the age of 3 and 12 board games have become 3rd favourite choice of the toy in the last month behind LEGO and LEGO Friends.
· There has been a change in favourite apps too as children spend more time in a digital world. Further growth in TikTok (it is now the 4th most favoured app for all kids (4.3%)
· The emergence of new apps Houseparty and Zoom which are becoming some of the favourite chat platforms for kids today.
The report also includes five future trend predictions which The Insights People expect to see as a result of coronavirus, Sarah Riding, Research & Trends Director at Kids Insights explains,
"For many families, the impact and destruction the virus will have on the lives, health, and financial situation of the home will be devastating. We cannot pretend to know for certain what the future looks like, nor do we even know how long and therefore how damaging this period of lockdown will be. But what we do have is the first site on how their attitudes, behaviour and consumption patterns are shifting, providing us with valuable insights into a child's life during this lockdown period which will then ultimately help us shape what we think this will look like after coronavirus lockdown ends".
Five future trends The Insights People are predicting:
– Redefining 'Real' – who will kids look up to once we come out of this period? There are new heroes in society, ones which children are increasingly inspiring to be.
– Rebirth of Family Time – Home confinement, homeschooling, and home working will, without doubt, cause many stresses within family life, but what we are seeing from our data is a growing desire to spend quality time together as a family.
– The Battle Between Non-Virtual and Virtual Worlds – Children during lockdown have no choice but to facilitate 'social' time via a virtual world.
– Redefining Retail – It's fair to say that this pandemic is not going to make life as a retailer easy and there is no doubt that when this is all over there will be long-term behavioural and mindset changes that will affect consumer buying patterns.
– A Sense of Belonging. As children readapt to the outside world, we imagine reintegration into a community will become increasingly important and brands that can help facilitate this will create lasting relationships with children and families alike.