Keynote and Panellists Confirmed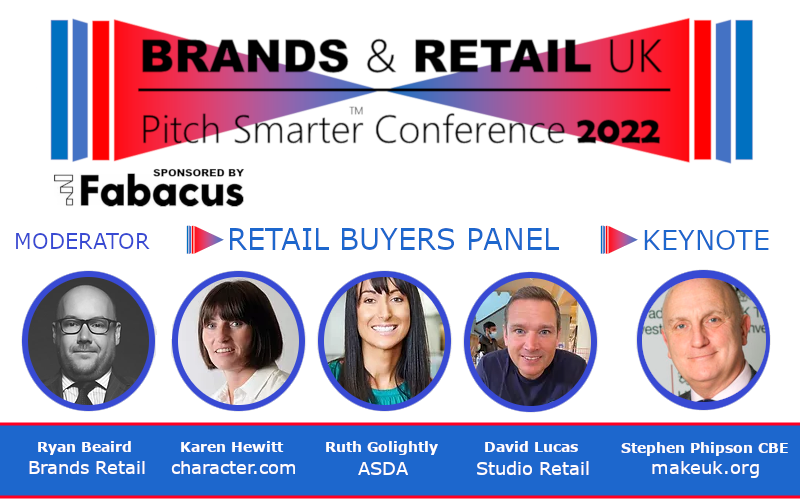 Ryan Beaird, Event Director, Brands & Retail UK conference, is delighted to confirm the Retail Buyer panellists and Keynote Speaker which will close the Brands & Retail UK conference (sponsored by Fabacus) which takes place at the British Library on the 20th Jan 2022 (9am till 6pm).
"I am delighted to have the support from such a great group of prominent licensing retail buyers. To confirm we have Karen Hewitt (co-founder) of character.com, Ruth Golightly from George at ASDA and to round off the panel David Lucas from Studio Retail. They will all bring a huge wealth of experience for the audience Q&A – and I look forward to hearing their thoughts on the retail industry for licensed products.
I am also very grateful that Stephen Phipson CBE the CEO of MAKEUK.org the UK manufacturers organisation will be the conference keynote speaker and will close the event. MAKEUK.org is the leading voice for UK manufacturers and I am sure the licensees attending will be interested to hear his speech.
To confirm the event is 100% taking place and I know covid has brought about a lot of uncertainty in how we do business in the licensing industry. We will adhere to the current government rules and for peace of mind for the attendees I have reduced the audience from 250 to 150 allowing people to spread out in the theatre if they wish – but as a result I now have a very limited amount of seats left.
Brands Retail UK politely request all those coming to take a covid test before the conference and in line with government guidance masks will need to be worn inside the theatre during screenings which I think we are used to doing now.
The event party at the ivy club (6pm till 9pm) is 100% taking place and the ivy club is asking if attendees could provide negative covid test proof on entry and that masks will need to be worn when entering the ivy. I have put aside some tickets for consultants, service providers and agents that wish to do some networking in the evening and invite them to come along to watch the panel and keynote from 4:30pm. Tickets cost £75 each for the party (6pm till late).
I want to thank all the brands taking part and also the event sponsor Fabacus for the continued support – please contact me for more information", says Ryan Beaird.
The event is FREE for Licensees and Retail Buyers – limited spaces are available at www.BrandsRetail.eventbrite.co.uk
Website: www.BrandsRetail.uk – Contact Event Director: Ryan.Beaird@BrandsRetail.u