KENN VISELMAN & TOONZ MEDIA GROUP LAUNCH itsy bitsy ANIMATION WITH LI'L PET HOSPITAL THE FIRST COLLABORATION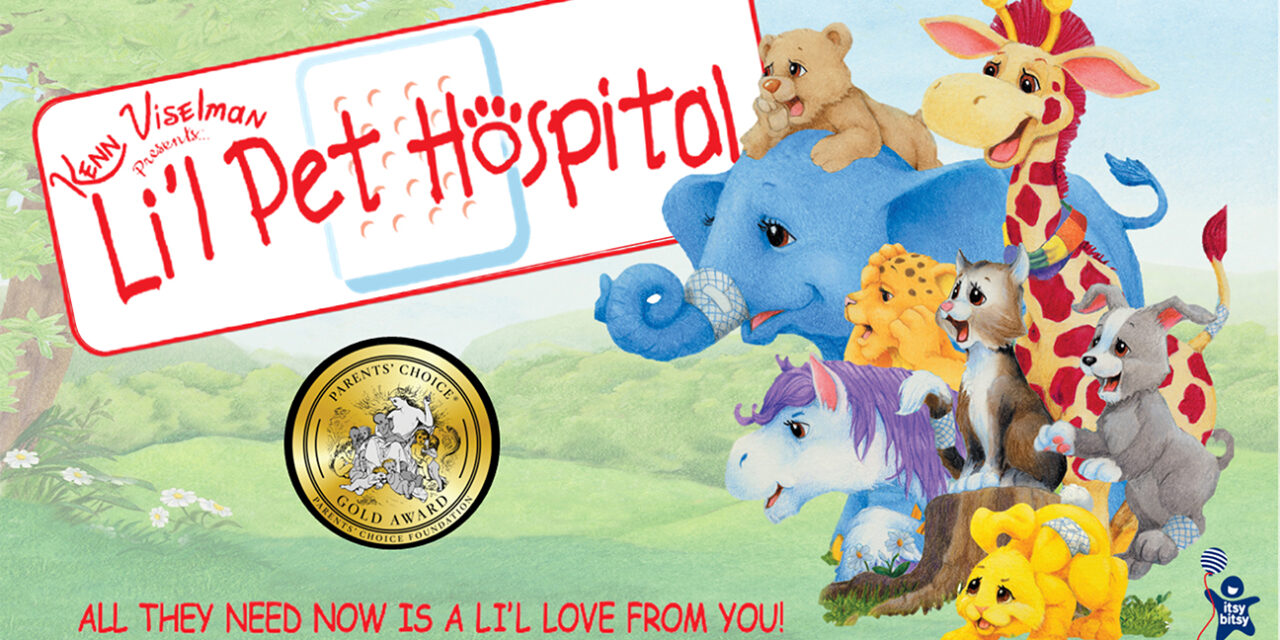 Children's and family entertainment mega-hit maker, producer and family advocate, Kenn Viselman, known for the most ground-breaking, innovative and successful Children's & Family entertainment of all time (including Thomas the Tank Engine, Teletubbies and nearly 50 others) teams up with global kids and family entertainment major Toonz Media Group, a 360-degree media powerhouse with over two decades of unparalleled experience and one of world's most active animation production studios (over 10,000 minutes of 2D and CGI kids and family content per year) to launch itsy bitsy Animation with plans to create both animated family feature films and television series that inspire empathy, compassion and belly laughs. This newly created multi-faceted partnership will introduce one new project a year starting with Viselman's award-winning Li'l Pet Hospital and will include other collaborations including a presence on itsybitsywow.com.
"It has been a dream of mine to have a home for my work and thanks to the inspiring and glorious team at Toonz that dream is now a reality" said Viselman. "Because of its origins, I am delighted Li'l Pet Hospital is the first project for this collaboration. Few people know that I was scheduled to be on one of the planes during 911 and was miraculously rescheduled on to another flight. For weeks after, I experienced a pendulum of emotions going from complete joy to total sadness and everything in between and channeled those deeply personal feelings into Li'l Pet Hospital. Over the years the LPH stories of empathy and compassion have sold hundreds of thousands of books and plush and I am now, with the help and strength of Toonz, finally ready to share these lovely, fun & funny, animated stories with the world."
itsy bitsy Animation, the newly formed relationship between Toonz Media Group and Viselman's itsy bitsy Entertainment, is a real game-changer in the ever-changing world of entertainment. Every time you turn around there is another merger or consolidation; The media giants are just getting 'gianter' and the biggest losers are often young audiences who are being deprived of original offerings. The irony is that most of the biggest family hits of the past several decades have come from independent creators; Teletubbies, Cabbage Patch, Barney, Peppa Pig, Paw Patrol, Bluey, the Wiggles, Thomas the Tank Engine, and dozens more. itsy bitsy Animation is determined to continue that trend and to create original content as a sharp contrast to the regurgitated assets that these mega studios keep pushing at audiences.
"We are convinced about the potential of Kenn Viselman's content and delighted to see the birth of itsy bitsy Animation, which will mark the beginning of a new episode for Kenn and Toonz. We are excited to select Li'l Pet Hospital as our first project and we both align on a common objective, which is making kids and family happy," P Jayakumar, Chief Executive Officer of Toonz Media Group said.
Another aspect of this newly formed relationship is that Toonz will be joining MeteoHeroes, ICEE, Atlanta Children's Film Festival and a number of other established brands on Viselman's newly formed online "entertainment emporium" itsy bitsy World of Wonders (itsybitsyWOW.com) which Viselman says will over the long-term help to level the playing field. It gives independent creators an opportunity to compete with the often out of touch mega-media conglomerates and to reach their audiences directly. Viselman's plan for itsybitsyWOW.com is expansive. While it started out like an online retailer it has plans to morph into an interactive online experience. Even the retail experience is more interactive and relevant to audiences who want their purchases to be more meaningful… to give back. As a result, at least 10% of every purchase is donated to charity. The premise is "It's not about making a purchase; it's about making a difference." Viselman, with unprecedented commercial success under his belt, is also planning to play a significant role in the merchandising of a variety of Toonz' original projects.
"The synergy is extraordinary. We were able to put MeteoHeroes live on PBS Stations in California, and simultaneously stream it on itsybitsywow.com for anyone else in the states or around the world who didn't have access, fans of this ground-breaking series had an opportunity to find exclusive products that were not available at retail with a percentage of their purchase helping to save the planet… And audiences responded feverishly… literally crashing the site. I cannot wait to see what itsybitsywow.com can do with brilliant content from Toonz" said Viselman.