How Brand Strategists are Capitalising on the Rum Revolution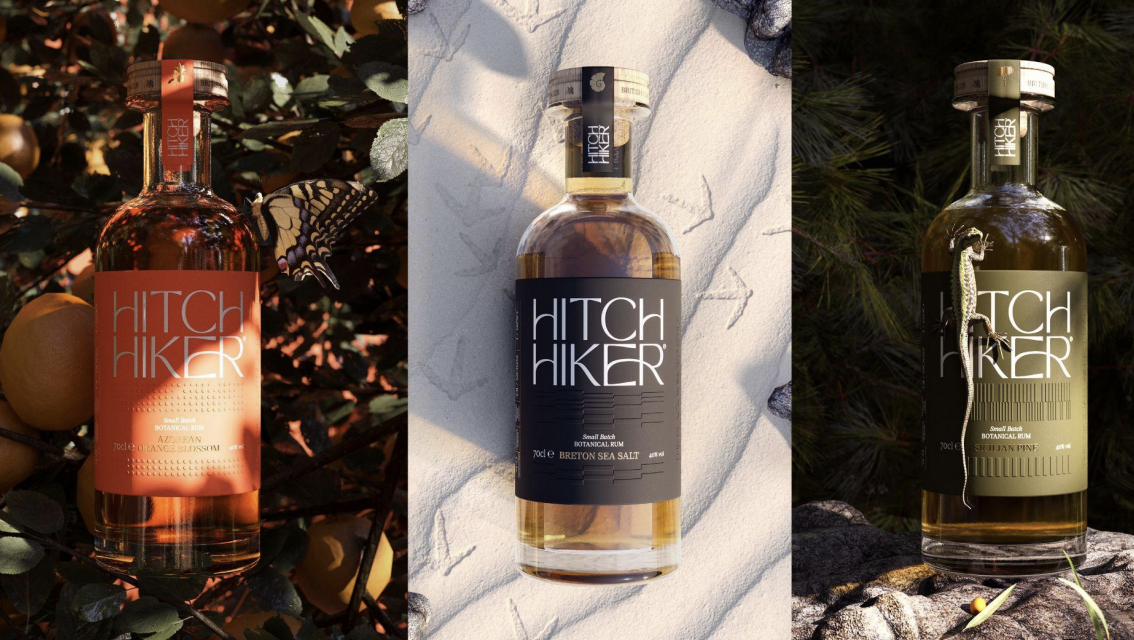 Brand strategists and designers Aylott + Van Tromp shake up the rum industry with their new small batch botanical offering, Hitchhiker.
With a bold desire to lead the crossover and departure from gin, Nathan Aylott and James
Van Tromp have created Hitchhiker; a small batch botanical rum that defies convention and
seeks to broaden the rum market.

While rum has largely been left behind in the premiumisation trend that other spirits have
capitalised on in the past decade, Aylott and Van Tromp firmly believe that product innovation
and targeted marketing can see the spirit soar in popularity and accessibility in 2023, and it
seems the industry agrees, with Hitchhiker recently being awarded two Masters and one Gold
at the Global Spirit Masters.
Background
As founders of interior design and branding studio Aylott + Van Tromp, the Hitchhiker brand was
born from the duo's hankering to push into the product market and challenge themselves in new
sectors and industries – learning, building and broadening their skill set. "Creating rum made
complete sense to us," says Van Tromp. "From a team who's used to designing architectural
spaces, the idea of creating a rum brand was somewhat enchanting – a product you can hold in
your hand, touch, taste and smell — tactile, visceral — and selling direct to consumer. It embodies
everything we love in a modern brand, plus we get to drink it!"

Product Development
Creative individuality was pivotal to the brand. While Spanish colonial, pirate grog and naval rum
had long filled the market, Hitchhiker leans heavily on the botanical-driven boom in the gin
market, and steers away from traditional coke or ginger mixers. "We didn't want to just follow the
market; we wanted to jump in headfirst, and do so carefree of any preconceptions of what we
might create," says Aylott. "Throughout our careers we have been involved in the re-positioning or
the shaping of brands, so when it came to creating Hitchhiker, we used the exact same approach: deep dive
into the industry and similar products – whether that be their evolution, their strong and
weak points, their audience and most importantly, why they became successful."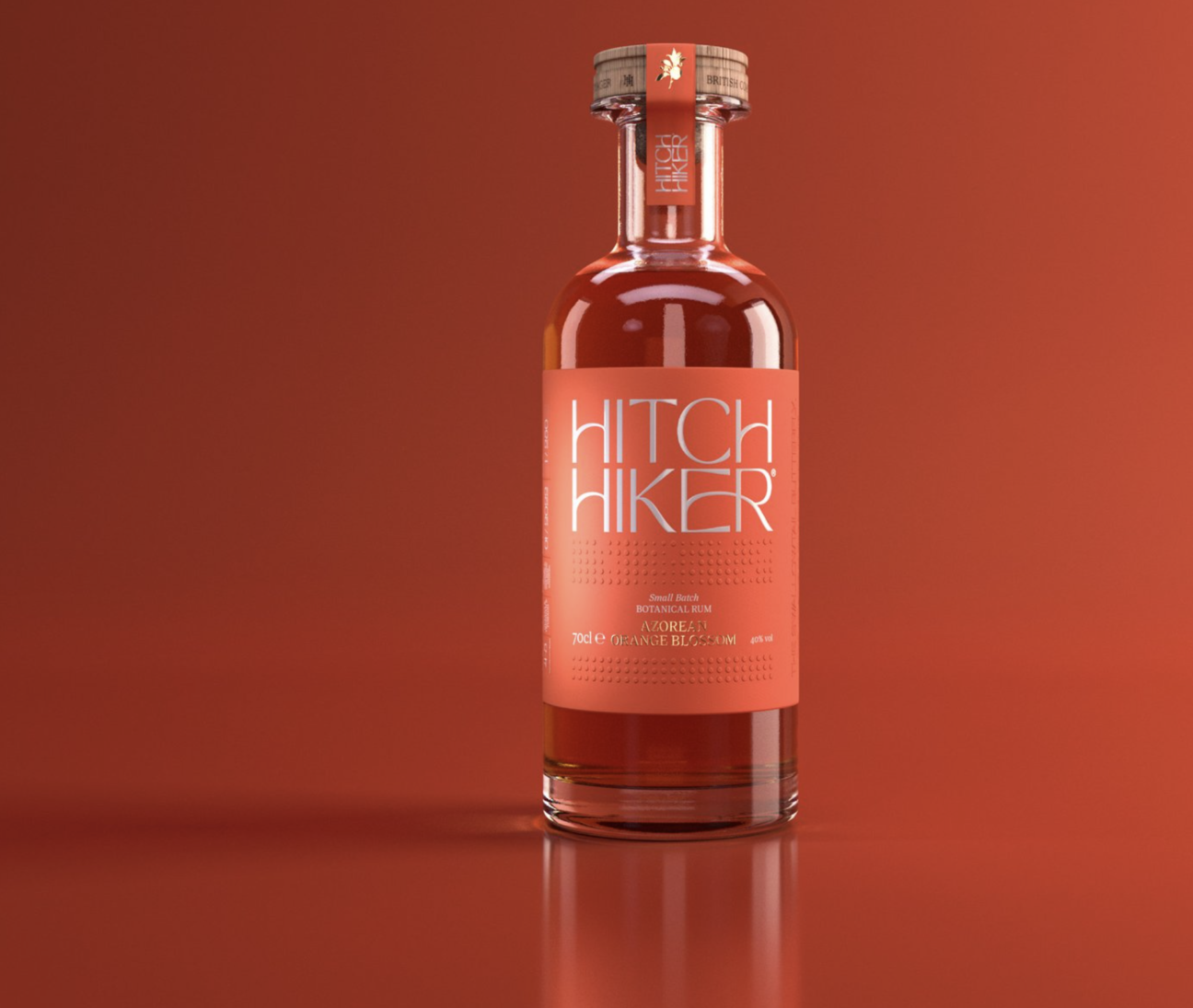 Aylott + Van Tromp know that value in creating a new product or brand that is being firmly ahead
of the wave, not riding or chasing it. "Using our skill sets, we identified the white space in the rum
market, and set about creating a product which could thrive in it," says Van Tromp. "We wanted to
'bridge the gap', and speak to the rich history of rum whilst producing a product that was ultra
contemporary, focusing on the historical journeys that rum took to reach all four corners of the
world and the sounds, tastes, smells it picked up along the way."

Branding
At its core, Hitchhiker's three limited edition blends are about bringing quality liquor together
with the utterly carefree nature of travel. "The destination of the rum's journey is tied together with
the British coastal botanicals we use," says Aylott, "as a nod to the brand origin, and a celebration
of Great British horticulture."
Crafted in Bristol, the three limited edition Hitchhiker blends — Sicilian Pine, Breton Sea Salt and
Azorean Orange Blossom — are a blend of the finest aged five year old rums sourced from Guyana
and Trinidad & Tobago, each represented by a creature (aka, the hitchhiker) which is
synonymous with the landscape from which its signature ingredient hails. "We see it as a
metaphor," says Van Tromp, "the sheer impact that one small creature can have."
A celebration of these adventurous voyages is encapsulated in Hitchhiker's distinctive branding,
which brought Aylott + Van Tromp vast experience in brand activation to the fore. As a premium
offering it was vital to stand out amongst the 'busy, over-the-top' rum brands that capitalise on a
pirate-esque style. Hitchhiker, in comparison, features clean, simple graphics with small
flourishes of the 'hitchhiker' in hidden locations on the bottle and solid oaks laser-etched
stopper. The shape of the bottle was chosen to allow for an easy carry between the fingers, which
feeds back into the laidback nature of a hitchhiker, while embossing and foil finishes on the label
subtly reveals specific messages about each hitchhiker through the sense of touch. Both of these
details provide a tactile point of difference and help elevate Hitchhiker within the sector.
The packaging purposefully utilises natural and eco-conscious materials — including eco-paper,
glass, cork and timber – with each edition identified not just by its individual hitchhiker (the
Swallowtail Butterfly, Black-Winged Stilt and Sicilian Wall Lizard), but also by the distinct colour
identity of each label. The vibrancy of the Azorean Orange Blossom bottle is particularly unique
within the market. Each bottle is printed individually, with sequential number detailing on the
labels detailing bottle and batch number.
Aylott + Van Tromp believe strongly in the impact that one small batch botanical rum can have
within the industry. According to Grand View Research the current global rum market is worth
$11.3Billion and is expected to grow at a compound annual growth rate of 5.2% from 2022 to
2028 to reach $16.08 billion by 2028. "Consumers are continuing to look for new and innovative
flavours," says Van Tromp, "and we felt that by creating a premium boutique rum offering, we can
assist in the evolution of the rum category and bring the product to a wider audience and new
demographic."