Hello Kitty in Fall Guys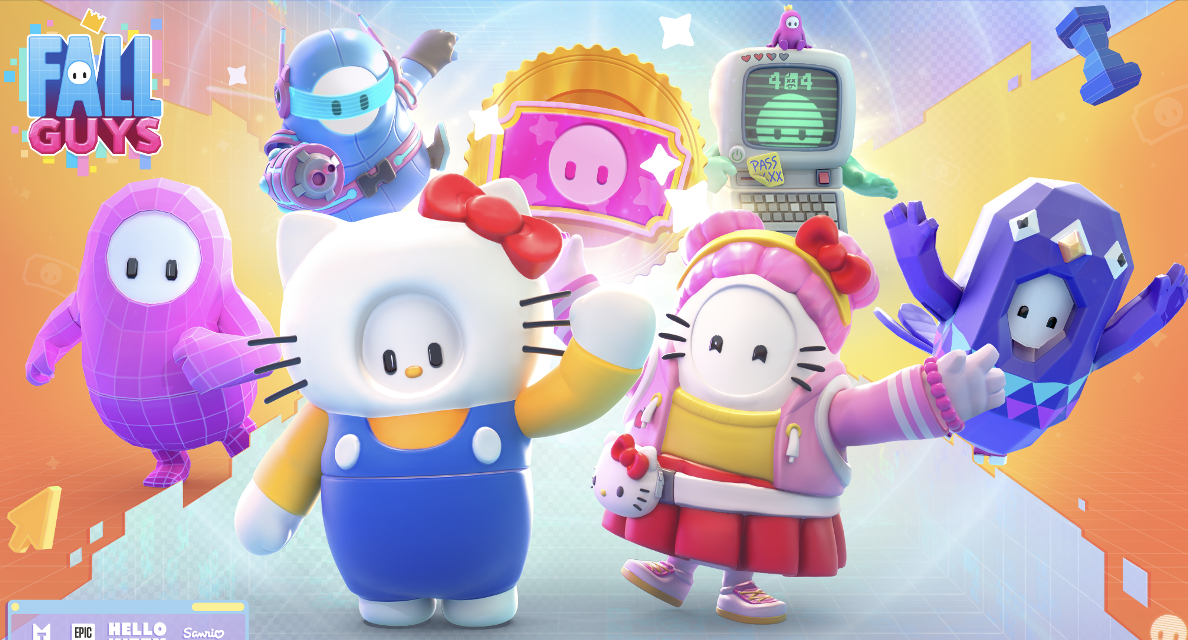 Announcing the launch of Fall Guys Creative as part of the game's new 'Creative Construction' season update, putting an exciting new toolset into players' hands alongside 50 new Rounds from the Mediatonic team and a pixel-perfect new season packed with a smorgasbord of digital delights.
[TRAILER – Launch cinematic]
Links:
Lang Link
AR https://youtu.be/VMieoGpWmqY
DE https://youtu.be/B1YaXgPnxcU
EN AUS https://youtu.be/j_ubhGtJwcs
EN PEGI https://youtu.be/yPLhQaeYinM
EN UNRATED https://youtu.be/lRjz8QiSn9k
EN ESRB https://youtu.be/BpI9yIglKV0
ES https://youtu.be/5jzASaaQqgM
ESMX https://youtu.be/XcKxy11TMJc
FR https://youtu.be/A2D8-xT-gsM
IT https://youtu.be/RtcWiA3gNDY
JP https://youtu.be/k7wGL0SSodk
KO https://youtu.be/wQuuiWtx9Ks
PL https://youtu.be/yTG43_36uoY
PTBR https://youtu.be/LynnvOCaujI
RU https://youtu.be/6CfsjHXaxLY
TU https://youtu.be/PN3EV0P_gjg
ZHCN https://youtu.be/o4wZ_doPVEc
ZHTW https://youtu.be/S6bGmQ5maH4
Introducing Fall Guys Creative
A comprehensive and full-featured level editor that allows players to create custom Rounds and share them with the community.
Players get the same tools as the developers for Round creation – all new levels from here on will be crafted in Fall Guys Creative.
We'll be using a mix of in-game analytics around most played and longest play-time to help us find which Rounds the community are loving, as well as surfacing levels from our community channels when selecting community-made levels for inclusion in the main Fall Guys Show Selector.
For more information on Fall Guys Creative and guidance on how to build and share levels, check out the launch blog[1] .
Season Pass is now Fame Pass
Players can now expect more regular and better value content drops with the launch of the new Fame Pass system, replacing the previous Season Pass system. Each season will now contain multiple, consecutive Fame Passes lasting 4-7 weeks and consisting of 40 rewards.
Hello Kitty is the first Fame Pass star, with the Hello Kitty Costume unlocking immediately when you buy the Pass.
Like the Season Pass before it, the Fame Pass will still retain a free progression path, with the Hello Kitty-inspired Cutest Friend Costume available for all Fall Guys players to unlock.
Season 4's first Fame Pass will be available from 10am BST on May 10 to 10am BST on June 12, 2023. More information can be found on the launch blog[2] .
Fall Guys is available free on Nintendo Switch, PlayStation 4, PlayStation 5, Xbox One, Xbox Series S | X and the Epic Games Store. For more information, download the press kit and stumble on over to FallGuys.com.
Link
Link