Grow With Peter Rabbit – New plans announced for National Children's Gardening Week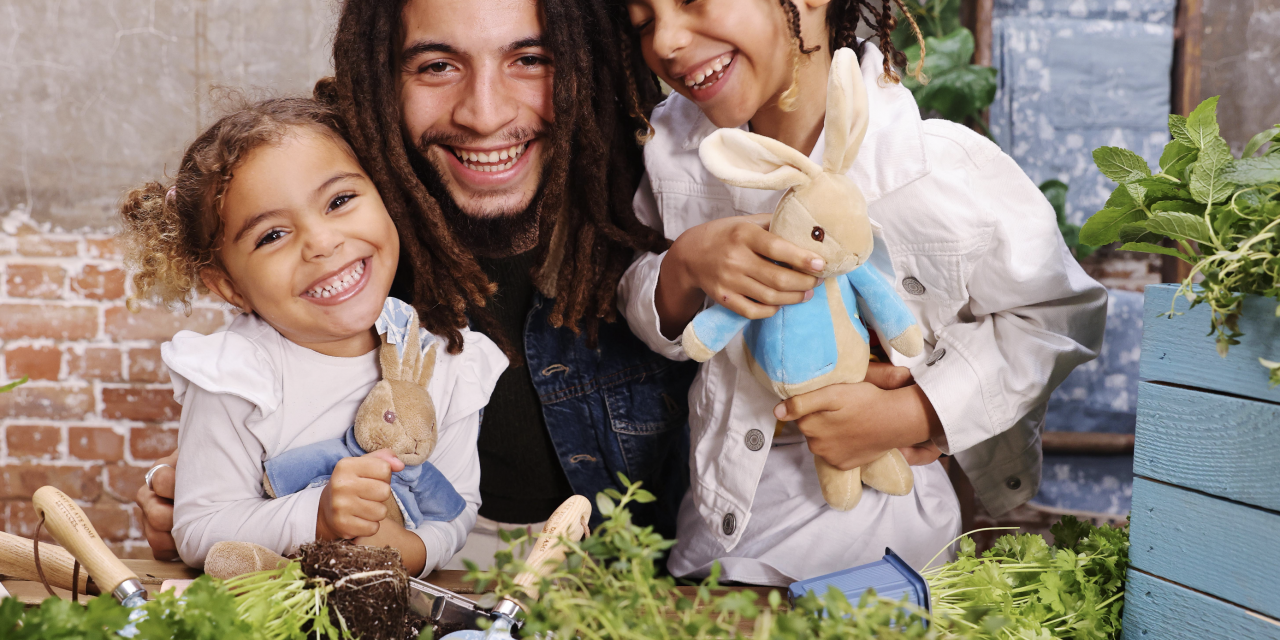 To mark 120 years since the publication of Beatrix Potter's much-loved children's classic, The Tale of Peter Rabbit, Penguin Random House Children's has launched Grow With Peter Rabbit in partnership with non-profit garden designers Grow2Know. This initiative will green-up community spaces across the UK and continue Beatrix Potter's legacy of conservation.
During National Children's Gardening week (28th May – 5th June), the initiative will focus on encouraging children to Grow With Peter Rabbit through a series of digital tutorials, school resources and free workshops.
Dobbies are the official garden centre partner for The World of Peter Rabbit™ this year and will be hosting free Grow With Peter Rabbit workshops in 65 stores across the UK on Sunday 5th June. The workshops will provide a playful introduction to gardening, including making Peter Rabbit ears, exploring a vegetable patch and a demonstration of how to re-grow vegetables with an activity devised by Grow2Know. The Grow2Know show garden was unveiled to critical acclaim at RHS Chelsea Flower Show this week, while Dobbies scooped three awards for sustainability, innovation and their stand design.
Tayshan Hayden-Smith, founder of Grow2Know has devised four How-To videos to teach children and families simple gardening activities to try at home. These four videos are inspired by The World of Peter Rabbit and will be available online via the Peter Rabbit website from 27th May.
During National Children's Gardening Week, influencers JB Gill – TV presenter and farmer – and Jake and Hannah Graf MBE – one of the UK's most influential LBGTQ couples – will take part in the #GrowWithPeterRabbit challenge on their social media channels to demonstrate how easy and fun it is to grow your own vegetables at home using simple, upcycled objects and a packet of seeds.
Penguin Ventures licensees have been lending their support to the campaign, including Jardinopia, Enesco and Rainbow Designs, who have offered products and prizes to the campaign. Penguin Random House Children's have also provided copies of the new picture book format of The Tale of Peter Rabbit. Dobbies will be stocking a range of Peter Rabbit books and merchandise this year as part of the official partnership with The World of Peter Rabbit.
Izzy Richardson, Director Owned Brands at Penguin Random House said: "Our intention with Grow with Peter Rabbit is to bring the joy and benefits of nature to young children and families in communities across the country. Our partnerships with Grow2Know, Dobbies and our licensees, help us to reach and engage with a wider family demographic, whilst at the same time, help us to leverage our IP to continue to affect positive change and drive social impact."
Sarah Murray, Partnership and Events Manager at Dobbies Garden Centres said: "Dobbies is thrilled to be supporting the Grow With Peter Rabbit campaign. Our Little Seedlings Club brings the benefits of gardening to young people within our local communities and we've had a great response to the Peter Rabbit partnership. We can't wait to bring the World of Peter Rabbit and the joy of gardening to families during National Children's Gardening Week."