Fizz Creations Launches Comic Ons at Toy Fair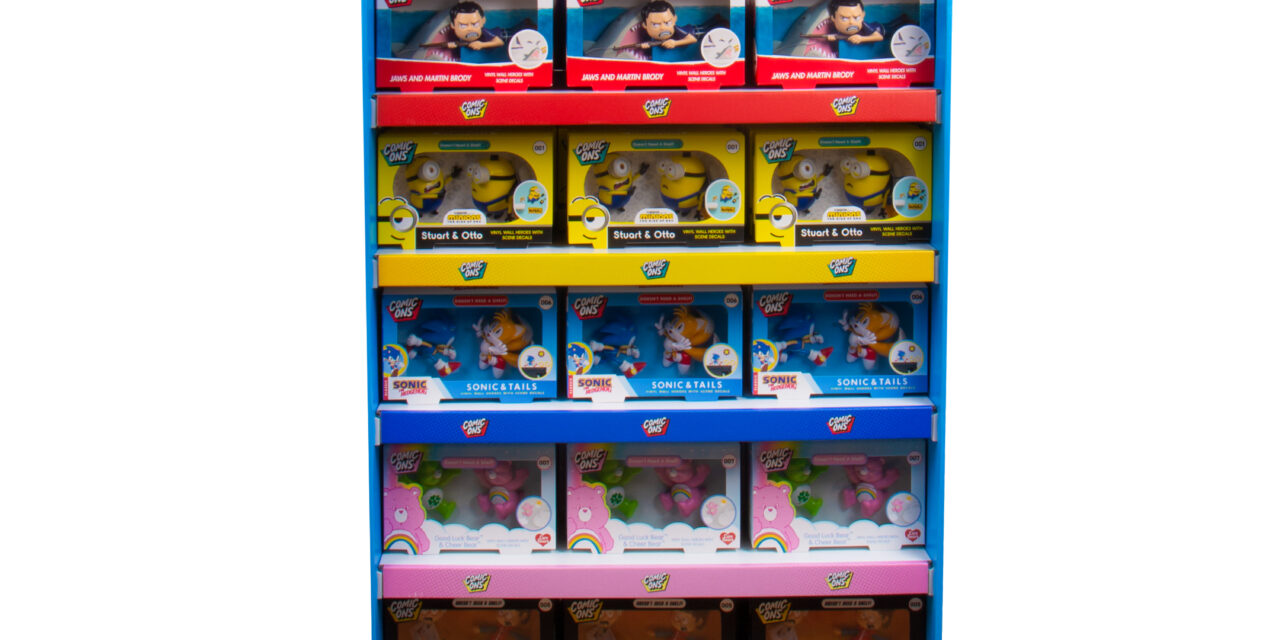 Fizz Creations, the creative Sussex-based company specialising in licensed gifting and novelties, are delighted to (literally) launch themselves into 2023 with not only their first time exhibiting at London Toy Fair (Stand UN57), but also showcase their innovative new licensed collectibles range, Comic Ons, to attending buyers.  The unique wall-mounted 3D vinyls are a collection of reusable characters and wall stickers that channel a child's creativity through the creation of personalised bedroom wall art. 
The initial collection includes iconic retro movie and gaming favourites: Care Bears, JAWS, Sonic the Hedgehog, Back to the Future, E.T. and Minions. Fizz Creations has capitalised on the current global spread of nostalgia, bringing these much loved characters back to life and re-introducing them to today's young character-embracing kids and tweens. Available to purchase online at an RRP of £20.00, they can be mixed, matched, moved around and collected to create a stunning bedroom wall display for fans. And the best, part? No shelf necessary!
Each pack in the range comprises two stunning 3D heroes and a sheet of scenic decal stickers that are uniquely distinctive but stay true to the original iconic movie, brand or game.  All the Comic Ons collectibles have a strong focus on humour and the clear-fronted purchase packs display both heroes to ensure they literally 'pops-out' on-shelf to consumers. 
Each iconic 3D character is created with a "flat back to attach" gel pad making it easy and simple to stick on a wall and move around as/when required, or the collection grows. All packs contain a sheet of brightly coloured and reusable scene decal stickers, which complement the character theme. Comic Ons are versatile and reusable, providing endless possibilities for imaginative wall scenes in a bedroom setting.
The 'no shelf necessary' Comic Ons collectibles are intentionally designed to be attached to any wall surface and removed, then re-attached, for endless fun.
Fizz Creations is excited to be showcasing Comic Ons for the first time at London Toy Fair (Stand UN57) and will also be back at Spring Fair in early February with the range to showcase to buyers.
Zoe Ryan, Head of Marketing at Fizz Creations comments: "We are delighted to welcome our new brand, Comic Ons to our well-established own brand portfolio at Fizz Creations.  As always, quality is our priority and our in-house team of product developers and designers have been diligent in bringing these wonderful 3D decal wall characters to life in the form of innovative wall art."