First-ever Paddington Café Launches at London's Paddington Station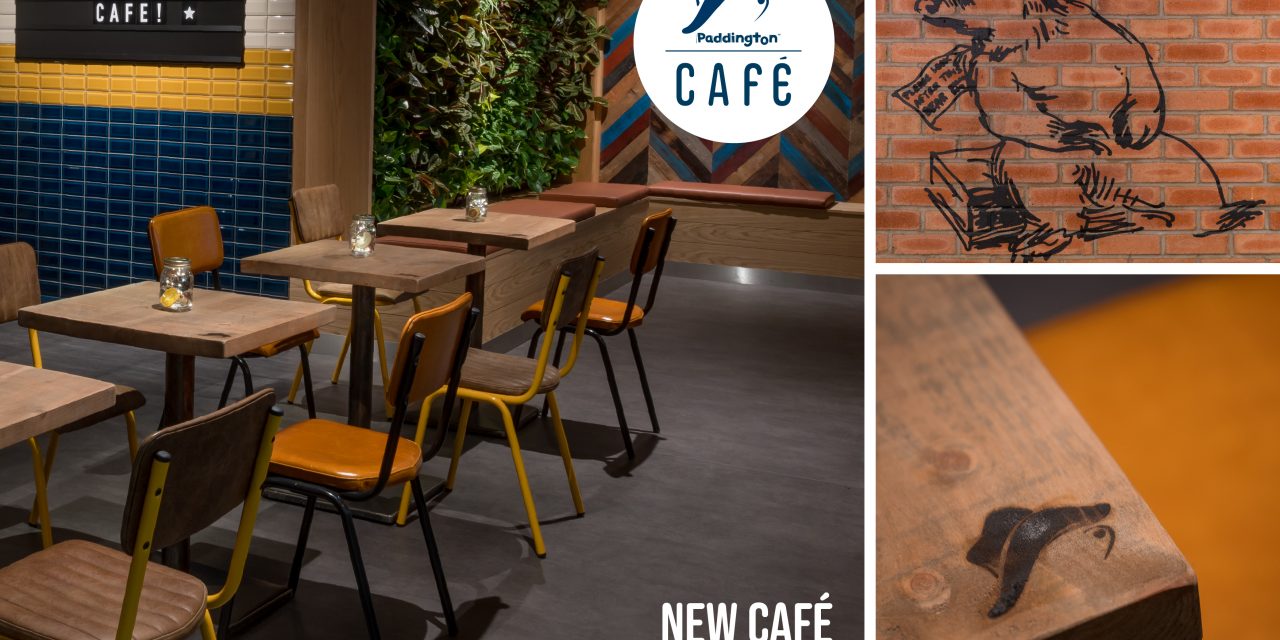 The Copyrights Group announced the launch of a new Paddington-inspired Café at Paddington Station, providing premium fresh food, drinks and bespoke products.
The unique environment, with its warm and welcoming setting has been created to reflect the brand values with rich colours, vintage furniture, natural textures and a live green wall. A relaxing escape for visitors to Paddington station and delight for all of our Paddington fans.
Luggage tag themed way-finding, comfortable booth seating complete with vintage luggage rack and suitcases beside an illuminated 'Lost and Found' sign evoke Paddington's original journey to London where he was found at Paddington station. These playful touches embody Paddington's spirit, including his iconic silhouette head carefully burned into each tabletop by hand.
Peggy Fortnum's original Paddington illustration, first published in 1958, has been faithfully reproduced as a piece of mural art on the Café's red brick wall.
On the café side, customers will be offered premium food sourced locally with a unique menu proposition not seen anywhere close, as well as premium quality beverages. Freshly baked pastries and muffins will be offered daily and the Fairtrade Peruvian Single origin coffee will please all coffee enthusiats whilst also giving a nod to Paddington's home country.
On the store side, a dedicated range of bespoke products is available, among which high-quality apparel targeting adults, as well as some iconic Paddington products.
Building on the very successful Paddington store located a few steps away, the Paddington Café extends the consumer journey beyond Paddington-branded products into a dynamic and sophisticated space, allowing commuters and fans to unwind and spend a qualitative moment in one of the carefully curated areas of the Café.
Working with interior designers, Avocado Sweets, the team meticulously and passionately brought the Café concept to life. Designing a very rare sort of Café, for our very rare sort of bear.
The Paddington Café is located on The Lawn, Unit 22, Paddington Station, London W2 1HB – more information, including opening times available at: @PaddingtonCafeLondon on Instagram.
Sophie Kopaczynski, CEO Copyrights Group said:  "We are thrilled to open our first Paddington Café. The warm ambiance, subtly inspired by Paddington will offer a bubble for a relaxing moment and an invitation to travel, to all our customers, who will be able to enjoy carefully sourced fresh products, and premium quality coffees and teas. But also marmalade sandwiches! Everything has been designed and thought in accordance to Paddington's main value: kindness. We do believe we'll offer a unique Café experience to commuters, travellers and Paddington fans."
Evros Agathou, Creative Director at Avocado Sweets Design Studio said:
"Paddington Bear holds a very special place in our hearts. It was a huge honour for Avocado Sweets to work with the Paddington brand to bring his first ever Café to life.
"Like our famous furry friend, the interior was put together with care and kindness at its heart. Bespoke detailing, a warm atmosphere and luscious greenery offer a haven for rest and recuperation to weary travellers and Paddington fans alike."