Falcon's Beyond Launches First Mobile Game – Katmandu: EtherMerge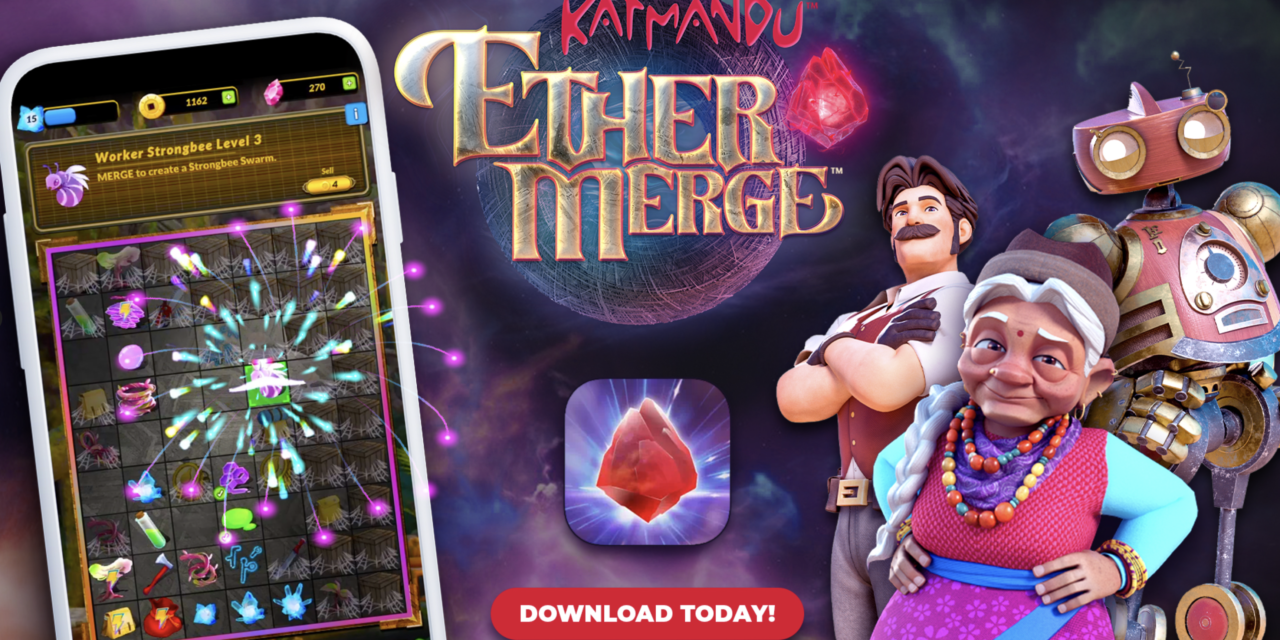 Following the recent grand opening of the highly-anticipated Katmandu Park | Punta Cana, the Caribbean's first world-class theme park, Falcon's Beyond ("Falcon's" or the "Company"), a leading fully integrated global entertainment development company specializing in intellectual property (IP) creation and expansion, announces the release of its first mobile game, Katmandu: EtherMerge™, now available in the App Store for iOS devices and Google Play for Android devices.
The launch of the game marks Falcon's debut as a developer on mobile gaming platforms and is the first in a larger portfolio of mobile games in development. The game was developed in collaboration with Epic Story Interactive, a subsidiary of Epic Story Media, and an industry leader in developing online and mobile games brands. Falcon's previously announced an alliance with Epic Story Media to expand the Falcon's Katmandu™ IP beyond a theme park experience into different avenues of the global entertainment market – including content, gaming and consumer products.
Katmandu: EtherMergeis a free-to-play, casual, merge-2 puzzle game that immerses players in the realms of Katmandu and extends storylines from the Katmandu franchise. In the new game, players match and combine hundreds of fantastical items to complete missions. As players progress through the game, they will discover new mergeable items, team up with beloved franchise characters, fight imaginative creatures, uncover mysteries and reveal new hidden realms of Katmandu. Throughout the game, players will earn and collect gems, valuable coins, mystical crystals and treasure chests to grow more powerful gems, and XP, which allow them to level up and receive rewards.
"Mobile games, such as Katmandu: EtherMerge, offer a thrilling opportunity to extend the play experience from our theme parks to engage consumers wherever they are, enabling a deeper connection to the Katmandu franchise," said Cecil D. Magpuri, CEO of Falcon's Beyond. "Supporting our proprietary 360° IP Expander model, we are pushing brand storytelling to the next level by creating an immersive entertainment experience."
Players engaging with Katmandu: EtherMerge and Falcon's future online video games will soon be able to earn and redeem experience points ("XP") for rewards through BeyondME™, the Company's fan loyalty and online gaming platform for all ages to connect, personalize and be rewarded for engagement across both digital and real-world experiences. Initially announced last September, BeyondME continues to expand its connected footprint through engaging experiences such as Katmandu: EtherMerge.
The release of Katmandu: EtherMerge follows other recent transformative news from Falcon's Beyond, including the debut of its first e-commerce website, Shop Falcon's Beyond™ (shop.falconsbeyond.com) and its new two-player trading card game, Katmandu: Age of Artifacts™.
Last year, Falcon's Beyond announced plans to become a publicly listed company through a definitive merger agreement with FAST Acquisition Corp. II ("FAST II") (NYSE: FZT), a special purpose acquisition company founded by Doug Jacob and headed by Sandy Beall. Upon the closing of the transaction, the new combined company will be named "Falcon's Beyond Global, Inc." and is expected to be listed on Nasdaq under the ticker symbol "FBYD." More information about the transaction can be found in the Investor Relations section of Falcon's website.