Exclusive Interview: Talking Paris 2024. Let the Games Begin!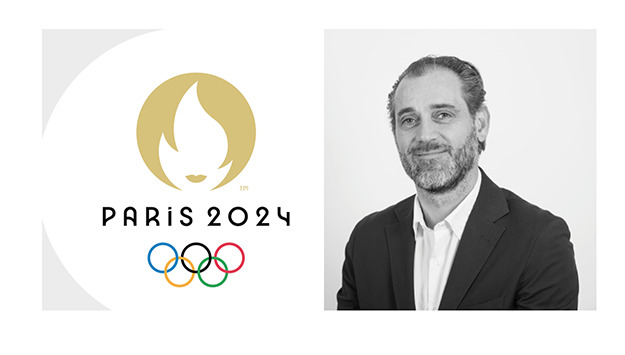 Becky Ash caught up with Edouard Bardon, Licensing Managing Director for the Paris 2024 Olympics and Paralympics, about the innovative and creative licensing program which recently launched.
First of all, tell us a bit about Paris 2024
Absolutely! Let me also give some context around our Games as well. This is a really positive outlook for business and the market – the licensing program will be ambitious, inclusive, creative and innovative. It will create jobs and be sustainable.

Can you tell us about the initial call to begin the licensing program?
The Games will be revolutionary and spectacular, and the licensing program will reflect this. We will rely on celebration, experience and legacy. The program will generate revenue to finance this great celebration. The consumers and fans can experience the Games through easy-to-reach and affordable merchandise. We want to legacy to be unique and memorable, through tangible and sustainable works.
In 2020 we launched our first call for interest across initial categories including textiles, apparel, premiums and gifts. Last September we gathered together many potential licensees in a Parisian venue to present our vision and strategy.
Paris 2024 is a public organisation, so we have to respect the public order regulations – we publish our opportunity of business, make it open access, guarantee equal treatment and transparency for the applicants. It is in our vision to bring both speciality items and mass-market, so the products are available to everyone on every budget.
And how many partners do you have so far, and which areas are of particular interest in licensing?
We are in discussions with about 15/20 licensees at present. Next we are looking at publishing, stationary, back to school and so on.
At present we have some categories still open, and some are almost closed!
Later in 2021, we will open Toys & Games, Jewelry & accessories, Homeware & Decoration, Official stores operator (in & Off venue).
What do you look for in potential licensing partners?
We are looking for every kind of know-how! We want to respond to consumer needs – we expect a total of 10,000 SKUs, similar to previous games.
We want to focus on of course apparel, which is predicted will make up to a third of our revenue, as well as gifts, novelties, toys and games, e-gaming, as well as collectible products, for example, stamps, coins, etc
There is a huge opportunity to look at all categories and allows licensees to be innovative and creative – this is such a globally recognised and unique event.
Given the last year has been challenging, what kind of potential does an event so huge as the Olympic Games pose for licensees and retailers around the globe?
We expect that the business will represent 2 billion euro in the French market and online with our official stores; we will launch an official web store Olympic platform soon. This offers a huge international opportunity for the Games and potential revenue.
In France the Games will have 30,000 POS, with 10,000 SKUs. Each normal year, France has around 100 million visitors so we very much hope that this will return! We anticipate over 60 licensees for the assortment of our products.
There is a difference of course between licensees and partners– partners are sponsors and licensees are our merchandising partners.
Each will have their own expertise and skill in their own category, and will have the ability to innovate and create something special for our Games
Games are huge events, with enormous reputation at risk of course – we must be aware of everything including local sustainability, social issues, working environment, local economies
We commit to some very ambitious directives, like we want to be a carbon footprint free Games – even negative – and we will develop this with all our licensees and partners. Local production/close proximity where possible – using local expertise, every licensee will be compliant with any kind of social regulation.
Looking back over previous games, are there any elements of licensing programs that you are looking to emulate?
Our mission is to create this licensing program which sees great success from a blank slate. London 2012 was certainly the closest event in similarities for us, same size market, proximity, and similar licensing opportunities. Paris 2024 will of course be completely unique and incredibly spectacular.
For more information, please contact licensing@Paris2024.org