Emmy-Winning Cyberchase Launches STEM-Powered New Season on PBS KIDS on April 21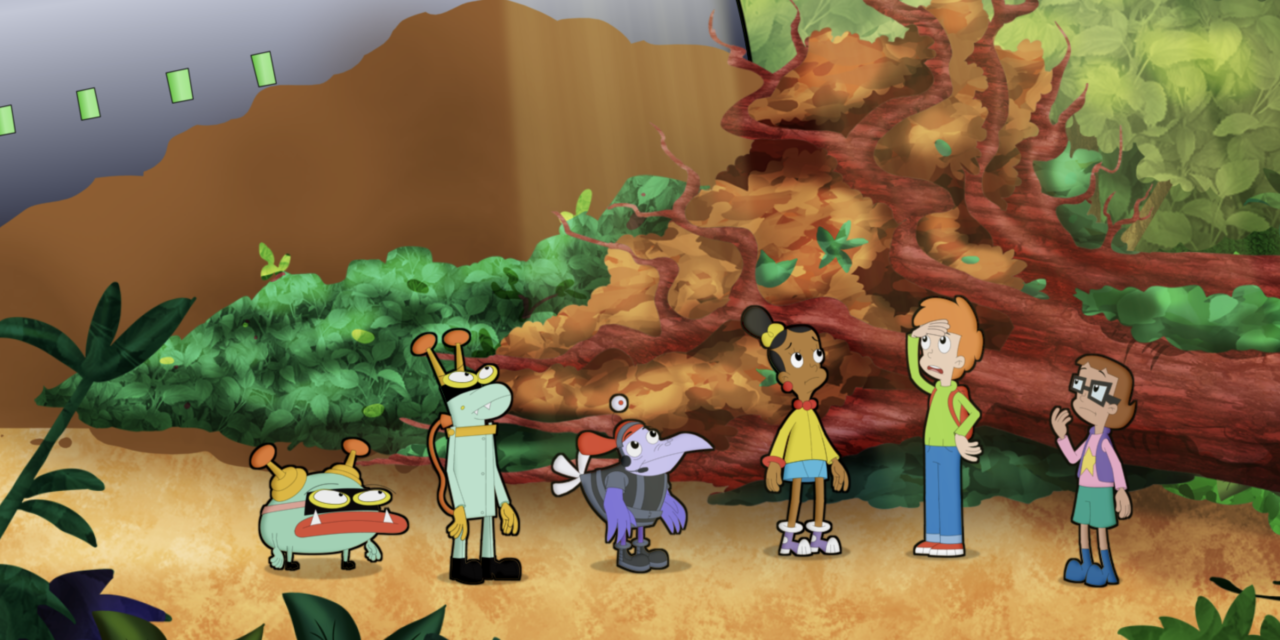 Cyberchase, the multiple Emmy-winning math and environmental literacy series for kids ages 6-8, returns for a new season beginning Friday, April 21 during "PBS KIDS Family Night" at 7 p.m. ET and streaming free on PBS KIDS in honor of Earth Day (April 22). Season 14 will feature four fresh environment-themed adventures and free interactive STEM resources for families, all available in English and Spanish. 
The action-packed new episodes find the intrepid heroes, Jackie, Matt, Inez, and Digit, exploring timely environmental topics – recycling and trash cleanup, tree planting, weather and climate – using their math and problem-solving skills. The new season premieres with "Clean-Up on Isle 8," where Inez grapples with giving her beloved stuffie heirloom to her little brother León while Delete corrals the CyberSquad into helping him clean up the lake. In "Trees, Please," viewers will meet Inez's Colombian and Mexican American family and discover how reimagining a community courtyard unites their family. Then, "Weather or Not," a special one-hour Earth Day "movie," will introduce Jackie's Jamaican American family on Earth, as the CyberSquad tackles an odd haze threatening Stellandia. The young characters explore positive solutions to environmental problems – sending viewers the message that taking small actions can lead to big solutions. Each episode will also include live-action "Cyberchase: For Real" epilogues that link the math and environmental concepts shown in the animation to the real world.
With a grant from the National Science Foundation, Season 14 of Cyberchase also focuses on reaching low-income and Latino communities with Cyberchase Mobile Adventures in STEM, a free, national bilingual family texting program. Families who sign up will receive weekly text messages in English or Spanish with links to Cyberchase media and a choice of two related hands-on STEM activities to complete together. Viewers can sign up by texting the word CYBER to 30644. As part of the grant, Education Development Center, Inc. is conducting formative and summative research with families and kids around the country on the appeal and effectiveness of the Cyberchase episodes and family resources.
"Our Cyberchase work is grounded in reaching kids and families across the country. This season, we continued that work by bringing on writers and advisors to further reflect the diversity of stories we're telling," said Sandra Sheppard, executive producer of Cyberchase and Kids' Media & Education for The WNET Group. "Through introducing viewers to the families of Jackie and Inez, we're excited to celebrate their unique backgrounds and cultural heritage while also sharing opportunities for joyful STEM learning with both English and Spanish speaking families nationwide."
In fall 2023, the series will debut a new digital-exclusive shorts series, The Belly Bowl.Inthis serialized story, the CyberSquad will trek through the snowy landscape of Penguia to track down a device the dastardly Hacker has hidden, while trying to make it back in time for their penguin friend's racing championship. Along the way, they find innovative ways to use different forms of renewable energy—solar, wind, wave, and kinetic energy from gravity—to save the day.