BRAVADO TEAMS UP WITH WARNER BROS. CONSUMER PRODUCTS IN EXPANSIVE U.K. LICENSING DEAL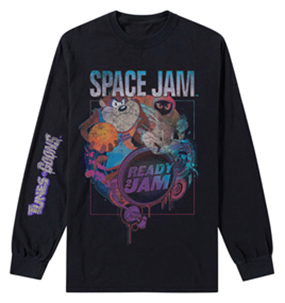 Warner Bros.  Consumer Products and Bravado, Universal Music Group's merchandise and brand management company, have have announced a collaborative licensing agreement that will see the entertainment merchandise heavyweight take on some of the biggest titles of the Studios' 2021 and 2022 slate, plus a vault of over 100 iconic movies and heritage brands.
A first of its kind between the two industry leaders, the agreement recognises Bravado as a key UK licensee covering adult apparel for iconic and timeless film and entertainment brands including Space Jam, Mortal Kombat, and The Matrix, as well as franchises within the DC universe including: Aquaman, Batman, Black Adam and Justice League. The first lines of merchandise will hit UK retail, online and in-store, beginning Summer 2021.
Having developed an impressive and extensive roster of entertainment-based licenses, the Warner Bros. Consumer Products partnership reaffirms Bravado's position as the go to licensing management company for global brands that cross into music, film, TV and sport. With its extensive range of partners and licenses, Bravado's scope compliments Warner Bros.'s vast portfolio of multigenerational titles, delivering a breadth of opportunity in the retail space.
Keith Taperell, Vice President, Retail & Sales Bravado UK, commented – "We're extremely excited about the creative possibilities this partnership carries. The huge offering and diversity of titles, iconic brands and the multigenerational fanbases that accompany them, delivers real scope from design stage to retail placement. We're very much looking forward to working with the team at Warner Bros. on making this collaboration as far reaching as possible."
The multi-collection partnership will service a broad range of partners across all areas of retail including a series of fashion led capsule collections. Product will be live across UK retail stores and eCommerce from Summer 2021.