Brands & Retail: Revised Summer Conference and Winter Confirmed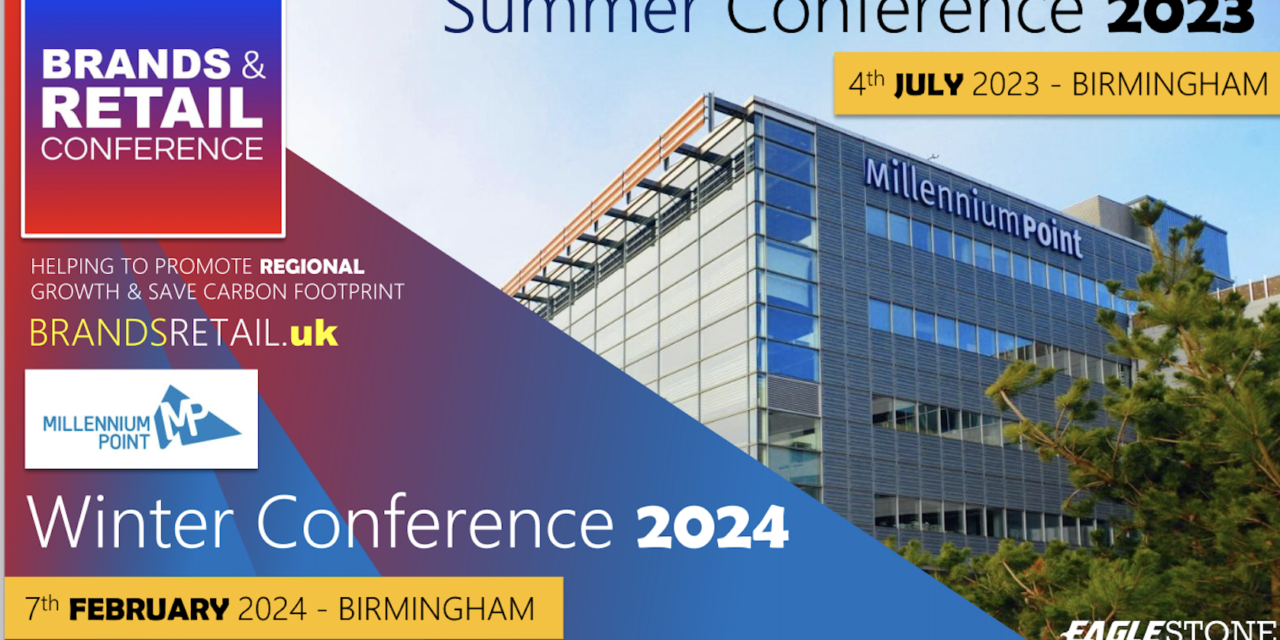 Brands & Retail announces the date of their 'Winter 24 VIP Screenings' conference which will take place on the 7th February 2024 at their new venue Millennium Point Convention Centre in Birmingham, and with a slight reworking of the forthcoming Summer 23 event from a two day event to a one day screenings and educational hybrid event.
Summer 23 Conference – REVISED
When: 4th July 23 – 9am – 5pm
Where: Millennium Convention Centre – Birmingham
(re-worked to a one-day b2b screening and educational event)
Summer 23 Gala Dinner – NO CHANGE
When: 4th July 23 – 6pm to 12am
Where: Grand Hotel – Birmingham
Winter 24 VIP Screenings – NEW CONFERENCE
When: 7th February 24 – 9am – 5pm
Where: Millennium Convention Centre – Birmingham
"Bringing in educational panels and keynotes for our first summer event outside of London was part of my plan for growth, " comments Ryan Beaird, CEO Brands Retail Conferences
"In all the years of putting on educational events for the licensing industry I believe we have the best topics and panellists I think I have ever had for an event I have put on.
"With Fiona Lambert who is one of the most respected female senior executives in retail as our Keynote speaker (sponsored by Fabacus), and a Women in Licensing Panel sponsored by (Products of Change and PowerStation Studios) it should be a great one-day event with an incredible dinner to finish it off.
"It shows the licensee and retail side of the industry is really supporting the event and I am now encouraging more of the brands to support by taking the five remaining 15-minute slots and to make the trip up to Birmingham and bring their junior members of staff with them.
"Your junior staff will be able to watch the screenings and panels and get a seat at the Gala Dinner as well for around £100 which is a fantastic deal.
"Also, by announcing our Winter 24 date early we can plan and solely focus on private brand screenings and continue that as a VIP event, which is what makes us different from anything out there.
"Having a conference in the West Midlands region where there are so many retailer head offices and licensees and manufacturers within a thirty-mile distance makes sense on a carbon footprint level and I am delighted Products of Change are patting me on the back on this move to Birmingham.
"I am also working behind the scenes to give us a great networking event in Feb 24 as well. Everyone enjoys the social side of Brands Retail conferences so it will be special.
"I am now taking deposits from brands for the Winter 24 conference and with 21 Brand VIP Screening slots only available for Winter 24 I predict we will have a full line up by the end of the summer."
Tickets for Summer 23 conference and gala dinner are now on sale.
The early bird rate ends on the 31st May.
Booking Link: https://www.eventbrite.co.uk/e/brands-retail-summer-23-conference-gala-dinner-tickets-623526643977
Summer Itinerary: www.BrandsRetail.uk/july23
Website: www.BrandsRetail.uk – Ryan.Beaird@BrandsRetail.uk