Brands & Retail Announces Major Brand Sign-Ups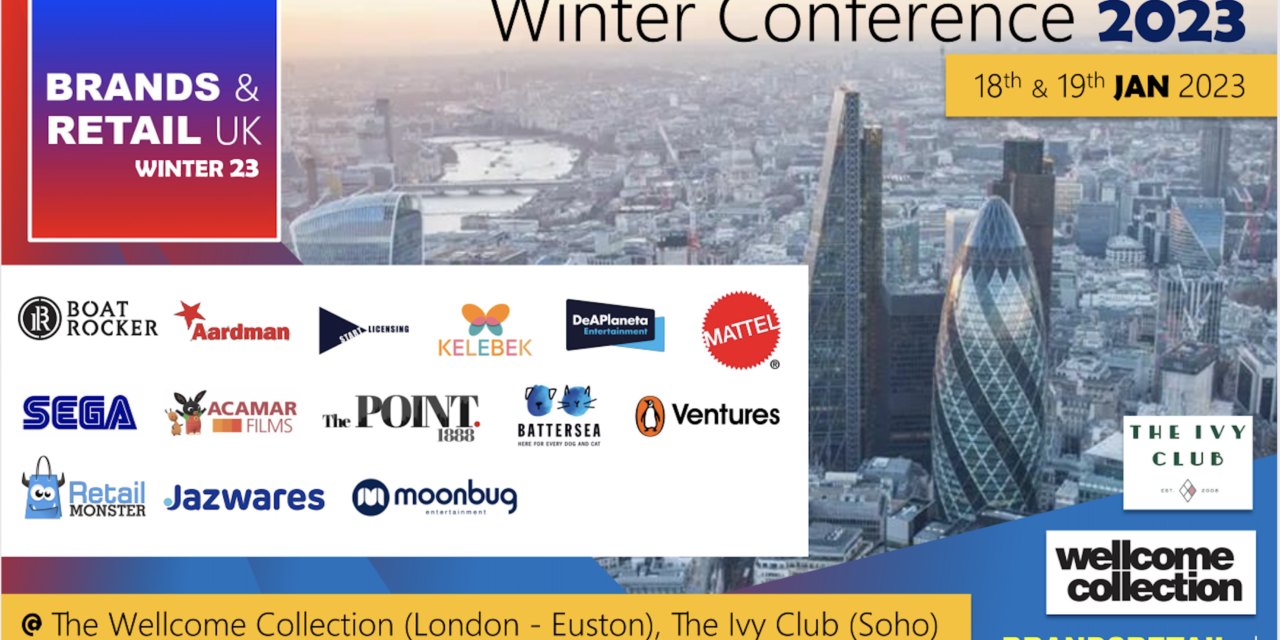 Ryan Beaird, Event Director of Brands & Retail UK conference has announced the first confirmed Brands for the next Winter conference taking place at the Wellcome Collection Museum (London – Euston) on Wednesday 18th and Thursday 19th January 23.
Boat Rocker – (Day 1)
Kelebek Media – (Day 1)
Penguin Ventures – (Day 1)
DEA Planeta – (Day 1)
Start Licensing / Aardman – (Day 1)
The Point 1888 – (Day 1 and 2)
Retail Monster – (Day 1)
SEGA – (Day 1)
Mattel – (Day 2)
Acamar Films – (Day 2)
Jazwares – (Day 2)
Battersea Dogs & Cats Home – (Day 2)
and…
Moonbug – (Day 2)
With only Nine unreserved 15 minute slots left for the conference if you are a brand and wish to present to a room of VIP Licensees and Retailers please contact Ryan Beaird – event director.
If you are a Licensee or Retailer you can now pre-register two seats in the 150-capacity theatre to watch the screenings.
As a reminder the conference is FREE for Licensees and Retailers to attend with food and drink included and complimentary.
"The huge success of 2022's Winter and Summer Brands & Retail conferences means it is going from strength to strength. Retailers have said to me they love the short, sharp and informative presentations – meaning they get to see so much more from the comfort of their seats.
Brands most certainly should consider taking part as you can get your IP's in front of attentive retailers such as Boots, Character.com, ASDA, Tesco, Vanilla Underground, Sainsburys and more to be confirmed.
We are also holding an Ivy Club VIP 'Meet the Buyers' party on both nights of the conference next year. Meaning you will get a great networking party on either of the days you take part". – Ryan Beaird
If you wish to book a remaining presentation slot please email Ryan Beaird and if you are a Retailer or Licensee and wish to reserve your seats send an email and we will hold some spaces for you.
Website: www.BrandsRetail.uk – Contact Event Director: Ryan.Beaird@BrandsRetail.uk