Brand Licensing Europe and Licensing International announce Licensing U programme details ahead of early bird deadline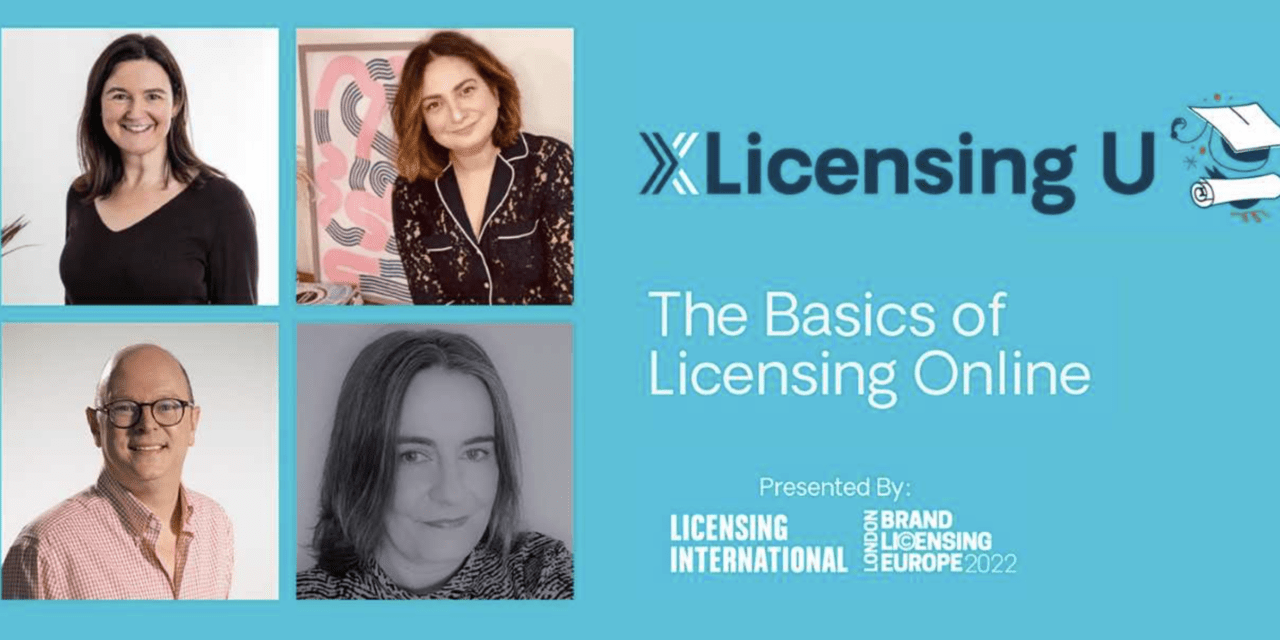 Digital content to go live 29 August
£245 early bird rate ends Friday 2 September. Programme valued at over £600, offering reduced rate for the launch year only.
In-person passes limited to 250 — book early to avoid disappointment
Industry trade association Licensing International and Brand Licensing Europe have announced further details for this year's Licensing U programme, which will be available online from Monday 29 August.

The reimagined 2022 programme features both pre-show and at-show content to educate anyone new to licensing with everything they need to know about the $315-billion licensing industry.
Complementing the pre-show content, Licensing U delegates will also benefit from orientation sessions and show tours at BLE in the License Global Theatre; concierge support for booking meetings ahead of the event; and in-person speed networking and mentoring with industry experts and key players in licensing. View the online agenda for timings and locations.
The early bird price of £245 (a saving of over £100 and for content worth over £600) ends on Friday 2 September and organisers are urging people to book now to avoid disappointment as only 250 in-person passes are available. Standard rate will increase to £350 after early bird.
Six pre-show online sessions (each supported with complementary downloadable materials) go live in the BLE Event Platform on Monday 29 August allowing those new to licensing who have purchased a pass to improve their understanding ahead of the event:
Licensing 101: The Basics of Licensing: Understanding licensing, how it works, the terminology, and process, with Susan Bolsover, Founder & Managing Director, Lightbulb Licensing
The Legal & Financials of Licensing: What you Need to Know: What to consider when negotiating a licensing deal and understanding the key contractual terms and financial obligations, with Esther Jolley, IA Director – Brand Extension at Stobbs
Style Guides: How to Present your Brand to the Market: What is a style guide used for? The essential components and understanding the importance of the creative process with Sarah Swindell, MD & Owner and Gemma Aveling, Studio Manager, Watermelon Creative
Trend Forecasting The purpose and process of trend forecasting in relation to consumer products, with Sophie Bloomfield, Founder & CEO, SBC
A Global Market Overview: As retail value of licensing exceeds $315 billion for the first time, what are the key markets and product categories that are driving the growth and the likely trends to consider, with Steve Manners, Head of Global Marketing & UK Managing Director from Licensing International
Top Tips for a Successful Visit to BLE. Licensing U delegates will also receive access to Concierge Matchmaking for BLE to help them pre-book meetings with key exhibitors who are relevant to their business objectives. Anna Knight, SVP Licensing at Informa Markets, will explain more.
Maura Regan, President of Licensing International, said, "This Licensing U programme will provide professionals at the beginning of their licensing journey with all of the information and tools they need as they prepare for BLE, ensuring they can be as successful as possible at the event. The in-person offerings will build on that knowledge, creating opportunities to put those new skills into action through extended networking and mentoring opportunities."
Anna Knight, SVP of Licensing at Informa Markets, said, "Having access to really valuable information, advice, and tools about how licensing works before attending meetings at BLE will be hugely beneficial to the many new faces in both the industry and at the show. We're delighted to partner with Licensing International, who have drawn from their extensive expertise to curate an inclusive and practical programme for Licensing U this year."


BLE is the leading European event for licensing and brand extension, taking place 20-22 September at ExCeL London and visitors can register for free online.