Boomerang Rebrands as Cartoonito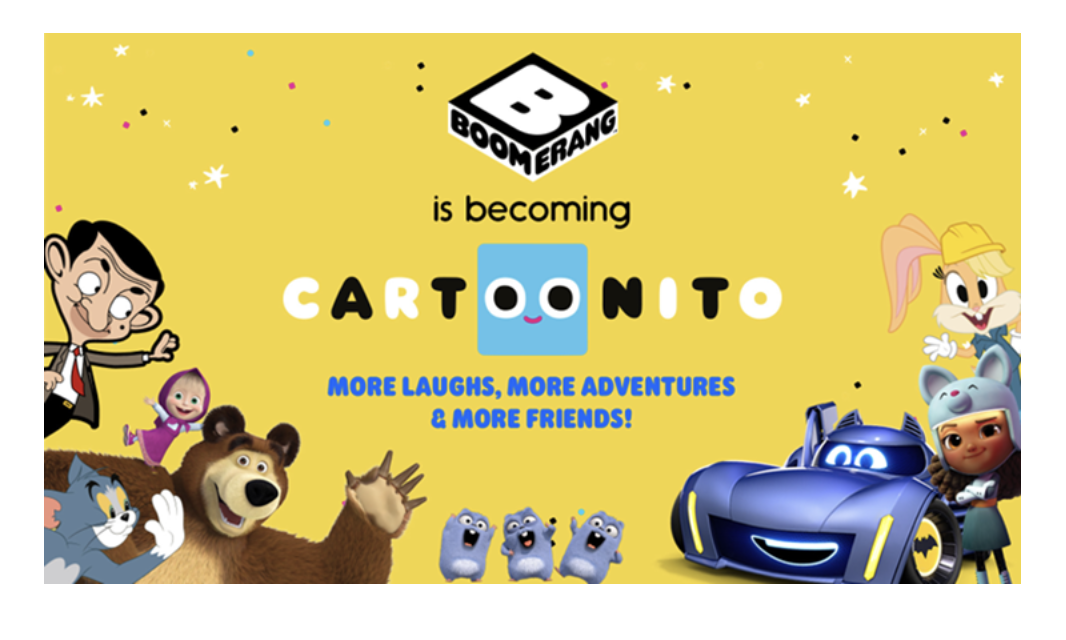 Boomerang becomes Cartoonito this September 2023 as a pay-tv channel across Sweden, Denmark and Norway in the Nordics, Turkey, and the Middle East & North Africa – with a super slate of modern preschool entertainment.
There's still plenty of room for long-time Boomerang favourites like Tom & Jerry, Mr Bean and Masha and the Bear to shine alongside newer friends such as Thomas and Friends: All Engines Go and Lucas the Spider. Cartoonito brings them together – while adding brand-new shows like Batwheels, Bugs Bunny Builders and Interstellar Ella – just for starters – offering a wider variety of programmes filled with new friends, trusted fun, and extraordinary adventures for the whole family to enjoy.
Cartoonito is Warner Bros. Discovery's biggest commitment to programming for children aged 2 to 6. Dedicated to fun, engaging and culturally relevant storytelling, Cartoonito celebrates young kids in their unique, unfiltered glory – quirks and all! – and encourages them to learn, laugh and draw outside the lines.
Reimaging some of Warner Bros. Discovery's legendary franchises with preschool-appropriate spinoffs which include "Batwheels", and "Bugs Bunny Builders" Cartoonito seeks to encourage inter-generational viewing and use characters we all know and love to champion creativity, teamwork, and inclusion. Cartoonito aims to celebrate every child by spotlighting their unique selves and encouraging them to interact with others with empathy, respect, and fairness.
Vanessa Brookman, Senior Vice President, Kids & Family EMEA for Warner Bros. Discovery said: "We have lots to celebrate in this 100th year of Warners Bros, including the launch of our preschool offering – Cartoonito across EMEA. We are excited to expand into countries such as Sweden, Denmark, Norway, Turkey, and the Middle East & North Africa – Cartoonito, offers a safe space dedicated to fun, engaging and culturally relevant storytelling. Celebrating individuality and originality, Cartoonito is where kids and their families can enjoy trusted characters and friends, stories from leading voices, brand new original series, and a whole lot of laughter."
Key unmissable shows that will join Cartoonito's programming line-up include:
Batwheels – Produced by Warner Bros. Animation, "Batwheels" marks DC's first-ever Batman preschool series, offering young viewers a high-speed, vibrant CGI-animated iteration of the Caped Crusader. Little ones and their families will ride along with an amazing team of super-vehicles—Bam (the Batmobile), Bibi (the Batgirl Cycle), Redbird (Robin's racecar), Buff (the Bat-Truck), and Batwing (the Bat-plane)—as they help Batman, Batgirl, and Robin keep the streets of Gotham City safe. Whether it's facing down the Legion of Zoom or one of Gotham City's notorious Super-Villains, the Batwheels will use their incredible gadgets and creative teamwork to save the day.
Bugs Bunny Builders – Produced by Warner Bros. Animation, the new preschool series is a first of its kind in Looney Tunes history, combining the wackiness, humour, and slapstick of the iconic characters with a modern Humancentric Learning curriculum that will promote children's fascination with building and design, and help preschoolers cultivate essential skills—including self-expression, problem-solving, collaboration, communication, scientific and mathematical thinking. In the series, Bugs and Lola are managers of the Looney Builders construction crew comprised of Daffy, Porky, Tweety, and more familiar Looney faces. Together, the team helps their fellow citizens of Looneyburg with zany building projects. Whether building a thrilling new racetrack or creating an out-of-this-world ice cream sundae, no job is too big or wild for the Looney Builders when they work as a team and utilize their super-looney tools and souped-up vehicles.
Interstellar Ella – A 3D CGI animated show packed with action, comedy and interstellar adventure as Ella and her friends discover amazing things about comets, planets and all the incredible stuff that makes up their home, the Milky Way galaxy. Produced by Belgium's Fabrique Fantastique and Canada's Apartment 11.
Lucas the Spider – A new CGI-animated show from Fresh TV in association with WexWorks Media with CAKE handling international distribution and is based on a viral YouTube hit that follows the adventures of an endearing young spider as he and his friends try to navigate the big world around them.
Mush-Mush & the Mushables – Produced by France's La Cabane and Belgium's Thuristar in coproduction with CAKE, Mush-Mush & The Mushables is a new show that follows the endearing Mushable community as they embark on a journey to put the fun back into fun-gi! As pocket-size guardians of the forest, growing up isn't always easy, but together each day shines just as bright as the one before. The show is created by Elfriede de Rooster and directed by Joeri Christiaen.
Thomas & Friends: All Engines Go – From Mattel Television, Thomas & Friends: All Engines Go invites preschoolers all aboard and follows the world's Number One Tank Engine and his friends on their silliest and most musical adventures yet. Produced in vibrant, 2D-animation in partnership with Corus Entertainment's Nelvana Studio, the show features a core cast of five young engines: Thomas, his best friend Percy, rival Diesel, the adventurous world traveller Nia and an all-new electric high-speed rail train, Kana.
Toad & Friends – A CG animated show based on Kenneth Grahame's The Wind in the Willows. The show celebrates the countryside, following the humorous adventures of Toad, Ratty, Mole and Hedge on the riverbank as they learn about moral courage, respect, and the value of friendship. Produced by Hoho Entertainment.
Cartoonito will be available as a pay TV channel across affiliate platforms in the region.