Boat Rocker Celebrates Danger Mouse's 40th with New Licensees and Anniversary Range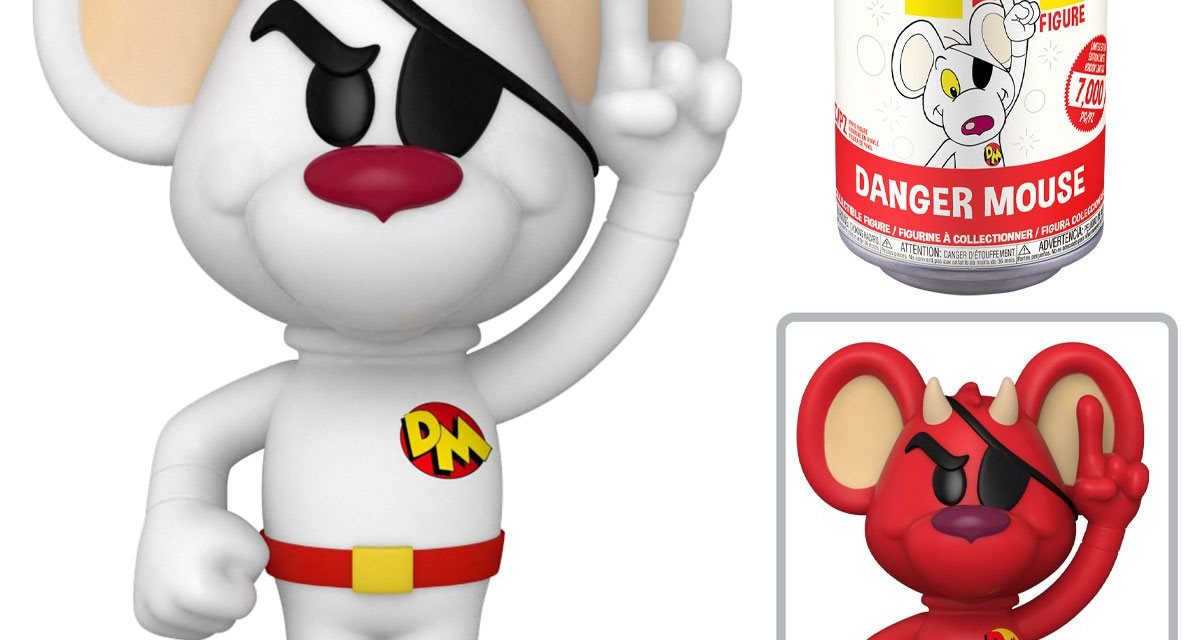 Kate Schlomann, EVP Brand Management and Content Marketing, Boat Rocker Studios said: "Danger Mouse is the world's greatest secret agent and one of TV's most iconic animations, packed with action, comedy and drama. The show has achieved incredible global success in both its original incarnation and its thrilling reboot. We are delighted to be celebrating its 40th anniversary with an epic range of products which really capture the style and wit of the show."
Bioworld, a premier global manufacturer of licensed apparel and accessories for 20 years, will be producing a new range of adult and children's Danger Mouse apparel and drinkware, including T-shirts, sweats, hoodies, face wear, socks and underwear for both children and adults, along with adult joggers, slippers, bags and headwear.
Funko have signed a worldwide deal to produce a brand-new range of Danger Mouse Classic collectibles, including its trademark Pop! stylized vinyl figures and the Vinyl SODA! figures of the heroes and villains from the series, including a limited edition Evil Danger Mouse chase figure.
Truffle Shuffle, home of cool t-shirts, retro gifts and more, will be launching a new range of T-shirts and clothing, knitwear, pyjamas, tote bags, mugs, art prints, metal signs, lunchboxes, enamel pins and door mats launching from June 2021 exclusively on TruffleShuffle.com.
The River Group, the UK's leading independent content innovation agency, will be producing an 84-page Danger Mouse Anniversary Bookazine to launch in October 2021. Blu Goblin have signed on for a limited-edition anniversary figurine set with proceeds going towards Kids Out Charity.
Smiffys will continue to offer their dress-up costumes for both adults and kids. In addition, adult t-shirts will continue to be produced by Trademark Products Limited. And further celebratory products will be available later in the year across a wide range of categories, including annuals, novelty, cards and gifting, children's nightwear and babywear and pet apparel and accessories.
In the U.S., Redbubble, the leading print-on-demand online marketplace, will be adding Danger Mouse to their extensive range of apparel, accessories and home items.
The Danger Mouse YouTube channel (youtube/DangerMouseTV) is joining in on the celebrations by showcasing 40 original classic episodes. Fans will have the opportunity to relive some of their hero's most death-defying and thrilling missions from September 2021.
Both the classic and the new series are widely available to watch on multiple platforms worldwide, including Netflix which holds the global rights for the new Danger Mouse series and also offers the classic seasons. Whilst in the U.S. both the classic and the new series are available to stream on Paramount+. Other major broadcasters for the new series include ABC Australia, Sky TV for New Zealand, Disney in Israel and across Southeast Asia, Viacom in Germany, Turner across MENA and UYoung in China.
Originally produced by Cosgrove Hall Films for Thames Television, Danger Mouse ran on ITV from 1981 to 1992 and returned to TV screens with a high-octane 21st-century gadget-packed, gag-laden makeover on CBBC in September 2015. Licensed to thrill a whole new generation of fans, Danger Mouse, together with his faithful side kick Penfold, takes on all manner of mind-blowing missions aided, abetted and aggravated by a menagerie of old and new allies and adversaries. An instant ratings and critical success, the rebooted Danger Mouse has proved a huge hit globally, with 99 new episodes to date over three series.