Bluey is Property of the Year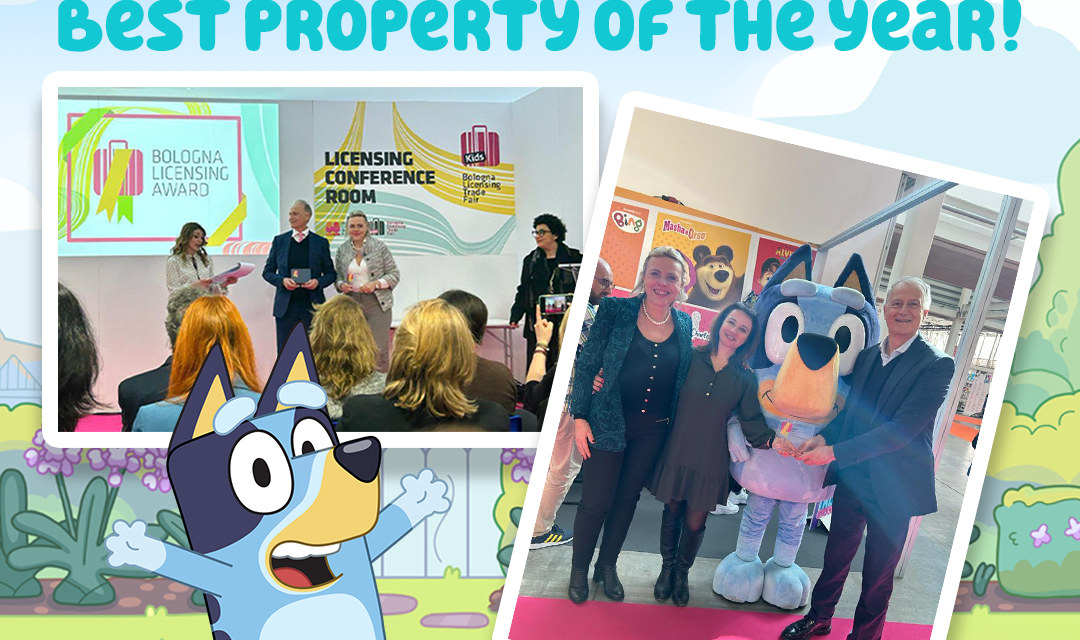 Bluey wins at Bologna Licensing Awards 2023 as Property of the Year
Present again this year was the Maurizio Distefano Licensing agency, who brought along all the new additions to its licensing portfolio. Maurizio Distefano and Michela Marchese Patti also collected the award Best Property of the Year for Bluey on behalf of BBC Studios. The participants showed great enthusiasm for the property that in little more than a year has won the hearts of Italian children and adults.
The awards ceremony, an integral part of the 16th edition of the Bologna Licensing Trade Fair/Kids, was held on the afternoon of March 6, reserved to licensors/agencies, licensees and retailers internationally and counted as many as 10 different categories: PRESCHOOL, KIDS, TEEN, ADULT with special awards for RETAIL, FASHION, PUBLISHING, PROMOTION, KIOSK and BEST PROPERTY OF THE YEAR categories.
Bluey, produced by Ludo Studio and co-commissioned by BBC Studios Kids & Family and ABC Children, captivates its audience with its simplicity, charm, and sense of humor. The animated series centers on Bluey, a Blue Heeler puppy who loves playing with her family and turning everyday life into an unpredictable and hilarious new adventure. It became an instant hit in Australia and has expanded to EMEA on TV in Italy, Spain, Ireland, Denmark, Sweden and France. Bluey is also available on YouTube in Italian, French, Spanish, Danish and English with over 950,000 subscribers.
In Italy, the first and second seasons air daily on Rai Yoyo with great success with audiences. Episodes of series 1-3 are also available on Disney+. In addition, BBC Studios Kids & Family launched Bluey's Italian-language YouTube channel in 2022, which now has more than77,000 subscribers!
Bluey's toy line produced by Moose, was successfully launched by Giochi Preziosi in spring 2022, and other partners are actively launching such as Adriatic, Ciao, Clementoni, Diramix, Dolfin, Dulcop, Grabo, Halantex, Lisciani, Multiprint, Pon Pon Edizioni, Ravensburger, and Soluna Experience. The show has won praise from both parents and critics since its launch in Australia in 2018, recently winning a 2022 BAFTA Children & Young People Award in the International category and garnering its fourth consecutive AACTA Best Children's Program award, adding to an International Emmy and numerous craft and production awards around the world. Thanks to the Bologna Licensing Awards 2023, Bluey can now also boast its own title as Best Property of the Year. Maurizio Distefano, President of MDL says, "We are extremely happy and grateful for this award, I immediately grasped the great potential of Bluey for its lively and above all extremely realistic content. The animated series offers great opportunities for licensing projects and the nomination as Best Property of the Year is further confirmation of the brand's strength