Bing Pops Up!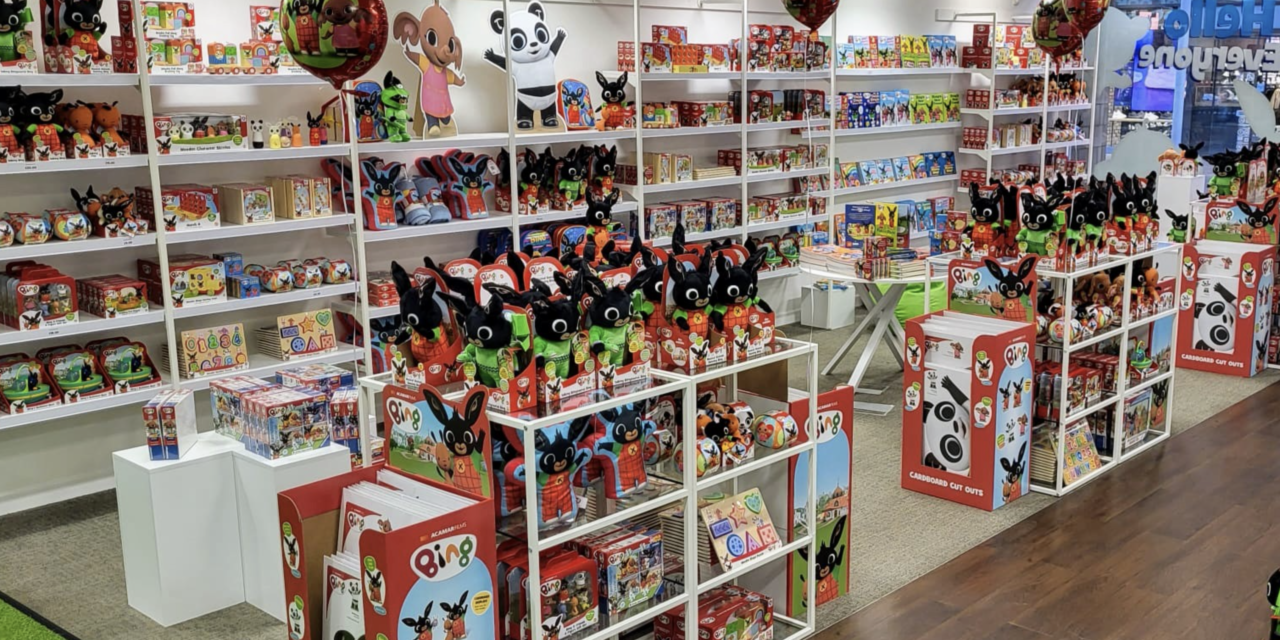 Acamar Films unveils the Bing Store Pop-Up, a brand-new pop-up shopping experience for Bing. Opening today, the Bing Store Pop-Up is the first of its kind dedicated to the hit pre-school animated series. 
Developed in partnership with Glasgow Fort's owner, British Land, the Bing Store Pop-Up will be in residence at the centre, until Saturday 31st December 2022.
This new retail space features an experiential area for little ones with scheduled games, storytelling and craft activities every Wednesday, Thursday, Friday and Sunday. On each Saturday and select Fridays during the Bing Store Pop-Up's opening period, Bingsters and their families will be able to meet Bing and Flop for hugs and photos. Free appointments to meet the costume characters were made available online on Friday 28th October with all available slots claimed within three days.
The Bing Store Pop-Up which is the first licensed retail partnership of this kind undertaken by British Land, will give families the opportunity to interact with the award-winning pre-school series with free activities and events. There will also be a wide range of Bing products available to purchase including books, homewares, party accessories, clothes and best-selling toys.
"Delighting children is the motivation for everything that we do at Acamar Films and it is exhilarating to be opening such an innovative retail experience with British Land," said Kirsty Southgate, Director of Experiential & Promotions at Acamar Films. "We know that children traditionally only have one person that they really want to meet in the run up to Christmas but I think that the pre-schoolers visiting Glasgow Fort will be as excited to meet Bing and Flop as they are to meet Santa. Indeed, the speed at which all of the Bing and Flop meet and greet slots were booked shows the colossal and continuing popularity of Bing."
Phil Goodman, Centre Director at Glasgow Fort, said: "The Bing Store Pop-Up is a great addition to Glasgow Fort in the run up to Christmas and one that we know will be popular with families – as we can already see with the meet and greet slots all already fully booked.
"We are always looking for new ways to offer our visitors something different and we're so pleased to partner with Acamar Films to host the first Bing store of this kind, including free activities for the whole family."
To support the Bing Store Pop-Up, British Land and Acamar Films will be holding an influencer event on 10th November. In addition to the launch event, both Acamar Films and British Land will support the Pop-Up experience across their social media channels using the hashtag #bingbunny.
The Bing Store Pop-Up is the latest Bing experiential offering. Bingsters and their families can stay in Bing-themed rooms in the CBeebies Land Hotel at Alton Towers Resort where they can also see exclusive Bing live shows. Bing and Flop have also met hundreds of fans at Gulliver's Theme Park Resorts this year. Acamar Films enjoys a long partnership with Leolandia, Italy's leading theme park destination for young children, where the first phase of a dedicated Bing attraction is set to open in 2024. Bingsters in the Netherlands are able to experience Bing in a touring live theatre show with more live shows, produced in partnership with Trend Media, planned for new markets from next year.
The Bing Store Pop-Up is open at Glasgow Fort Shopping Centre from 7th November to 31st December from 9am-7pm Monday to Saturday and 11am-5pm on Sunday. Visit glasgowfort.com/bing-store-pop-up to find out more.