Bing in new UK Partner Deals and Product Expansion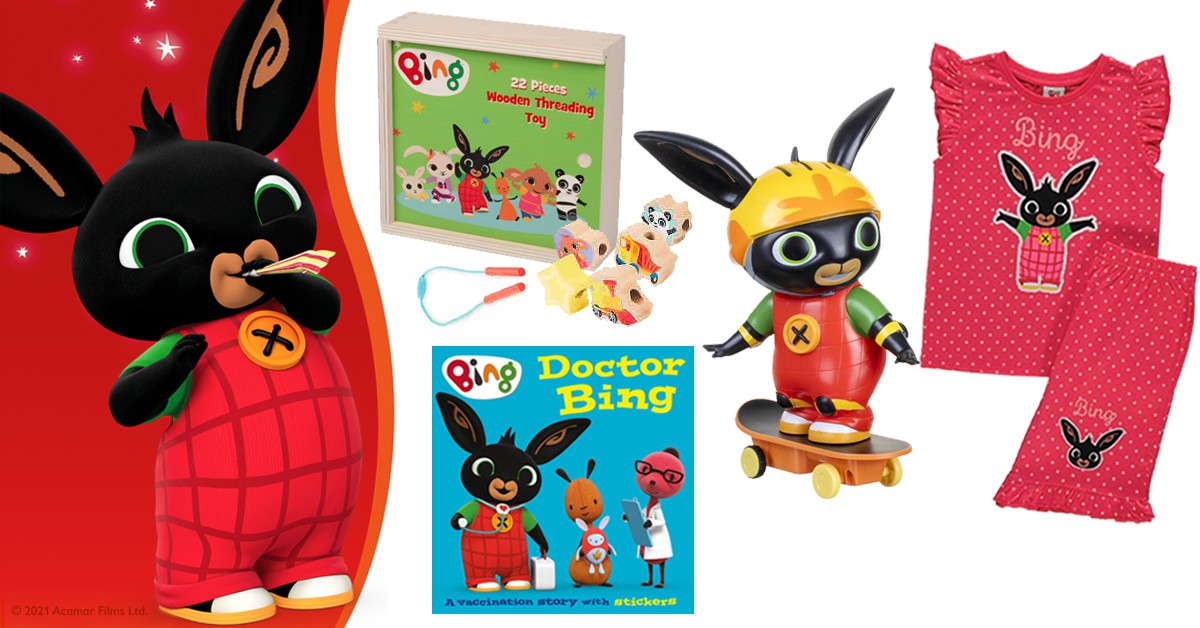 Building on Bing's 2020 success, Acamar Films are delighted to be expanding their UK licensing programme as appetite for Bing, the multi-award-winning hit pre-school show, continues to grow. Last year demand for Bing consumer products enjoyed an 11% year-on-year increase (Kidz Global, 0-6 years, Oct 2020 vs Oct 2019). 
This year Acamar Films have welcomed strategic new categories to the consumer product programme taking the UK licensing portfolio up to 25 licensees. 2021 will see new partner Solent launch bathtime and dental products and children's audio system, tonies® will be delivering an audio storytelling experience Bingsters will love, slated for a 2022 release.
Bing continues to perform well for master publisher, HarperCollins, who enjoyed 62% year-on-year net sales growth in 2020, with nine new titles scheduled for this year.
Juliet Matthews, Publisher, Media and Brands, HarperCollins Children's Books, commented "Thanks to strong support across retail and increased range space, Bing's backlist continues to perform well alongside exciting new titles such as Bing and the Fire Engine and the timely vaccination picture book with stickers, Doctor Bing. Our single sound novelty title The Rainybow Song is a stand out title, selling 1k copies consistently every week."
Master toy partner Golden Bear saw an impressive 115% year-on-year sales growth for Bing in 2020 and is expanding Bing's world in 2021, introducing Nicky, a new character from the latest series, and siblings Coco and Charlie to the range. Exciting new lines for Autumn/Winter include a musical dancing Bing and a large playset of Bing's House. For the very first time, bath toys will be available for Bingsters with the new wind up Bathtime Boat set to make a splash at retail.
8th Wonder have a raft of new wooden toys and games to add to their Bing range, marking the Bing Skittles and Carry Along House as high performers. MV Sports will be widening their retail footprint with additional listings of their wheeled and outdoor toys, in time to greet the warmer weather.
Bing's gender-neutral appeal is an attractive proposition to retailers and as a result, softlines have expanded across daywear and outerwear from licensees Fashion UK and William Lamb. There will be a specific growth in girlswear to match the boyswear offering and new lines include dresses, sweatshirts, joggers, trainers and rucksacks.
"We are excited to see the growth of Bing across our girlswear, boys and unisex lines," said Hannah Miles, Joint Managing Director at Fashion UK. "The trend guide collections bring fresh opportunities to tailor creative to each retailer and offer gorgeous designs to our consumers and their Bingsters."
Aykroyds and TDP continue to build their business year-on-year and Smiffys have introduced an additional girls' dress up line to their range with Sula, which launched exclusively with Tu at Argos/Sainsburys ahead of World Book Day 2021.
Continuing the focus on Acamar Films' direct-to-consumer relationships, e-commerce hub The Bing Store will be expanding its product offering further in 2021.
Louise Simmonds, Head of UK Licensing and Merchandising at Acamar Films, said of the year ahead, "It is wonderful to see steady growth across our consumer product programme for 2021 and the support from our partners during such tough times. Bing's timeless and relatable core values, alongside the growing audience engagement we are seeing across our content, digital and social platforms, provides a reliable and trusted foundation for the year ahead."