Beano and English Heritage partner for a special half-term Halloween Quest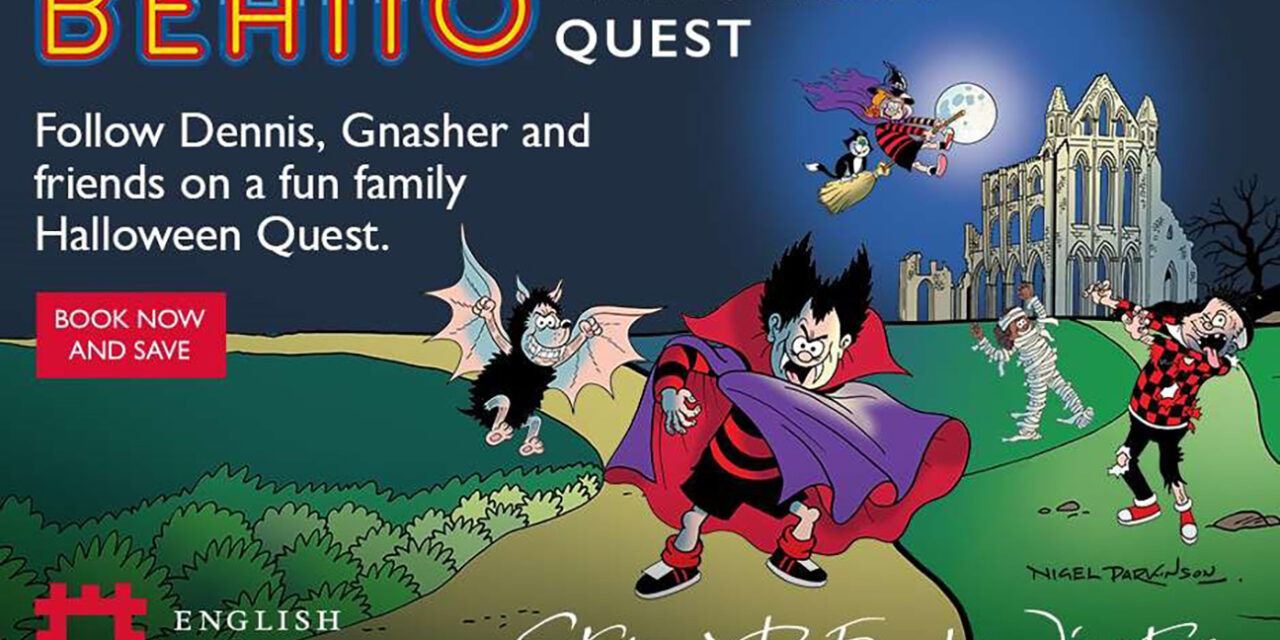 Kids can enjoy a creepy day out with Dennis and friends at 22 English Heritage locations
Two well-loved, very British brands have joined forces for Halloween: Beano and English Heritage.
Rocket Licensing, licensing agent for Beano, one of the best-known and most recognisable brands in children's entertainment, has announced plans for a Beano-themed Halloween Quest at 22 English Heritage sites nationwide.
The first-ever English Heritage/Beano Halloween Quest, running from 22-30 October, has been specially timed to coincide with both Halloween and the half term holidays. English Heritage, the organisation that cares for over 400 historic monuments, buildings and sites, will be hosting the Halloween Quest at 22 of its sites including Stonehenge, Dover Castle, Audley End House and Gardens and Kenilworth Castle. Visitors this half term can enjoy a ghoulishly entertaining day out inspired by their favourite comic characters including Dennis, Gnasher and Minnie the Minx.
The theme of every quest is Dennis, Gnasher and pals finding out fun and creepy facts during a day out – and visitors can do the same by solving clues on a fun family quest around the grounds of participating English Heritage sites.
On arrival at a site visitors will be given a Beano Quest booklet telling them all about the quest. They then hunt for eight question boards and try to find the answers. Every set of questions is specific to the site and its history. The booklet will also include some fun Beano puzzles and colouring for children to do at the site or take home. It's a fun way to find out about English history and perfectly reflects the core aim of English Heritage: to bring history to life.
This major event is being promoted on radio and social media, including the English Heritage social media channels. There's even a dedicated Beano Halloween landing page on the English Heritage website with downloadable masks of Beano characters, a historical prank feature and an interview with Beano's Creative Director and Director of Mischief, Mike Stirling. Beano merchandise will be sold in all the visitors' shops at Quest site locations.
Beano was first published in July 1938 and is still created every week in its original Dundee headquarters and printed in the UK. Voted Children's Magazine of the Year in 2021, Beano recently reported an ABC of 58,053, its fifth consecutive year of circulation growth. The brand reaches over five million fans a month on its digital network, which is centred around the multi-award-winning Beano.com, featuring jokes, quizzes and games in a kid-safe environment. The animated series Dennis & Gnasher: Unleashed is one of CBBC's most popular TV shows, and a live musical version has already toured the country.
Beano is uniquely placed as one of the most recognisable British brands with huge multi-generational appeal, boasting a licensing list that already includes gifting, dress-up, socks, greeting cards, houseware, novelty toys, jewellery and plush. Beano has also partnered with a number of major names, including Apple, Royal Mail, Netflix, EE, Kew Gardens, Somerset House and many more.
An extensive range of style guides and assets supports a comprehensive and growing licensing programme. Next year is set to be Beano's biggest year yet, celebrating its 85th birthday alongside a host of character celebrations and anniversaries.
Lorna Sharps, Senior Marketing Manager (Acquisition & Partnerships) English Heritage, said: "We're very excited to be working with Beano for the first time ever. Halloween is full of mischief and who is more mischievous than Dennis and his friends? We can't wait for families to enjoy the trail that we have created for them in partnership with Beano."
Melissa Satterly, Brand Manager, Rocket Licensing, commented: "The work of English Heritage is all about bringing history to life, and this marvellous event is perfectly designed to do just that for young visitors to some of the country's most historical sites. We're delighted to be bringing Dennis, Gnasher and friends together with the inspirational work of English Heritage in what promises to be a fun and engaging half-term treat."
Vanessa Andreis, Franchise Planning and Partnerships Director at Beano said: "We're incredibly excited to partner with English Heritage for the first time and for families to enjoy our spooky Beano Halloween Quests up and down the country this half-term. Beano's been entertaining for kids for more than 80 years so these iconic English Heritage sites are the perfect place for us to cause mischief and mayhem this Halloween."