Baby Shark Cereal Coming from Kellogg and ViacomCBS Consumer Products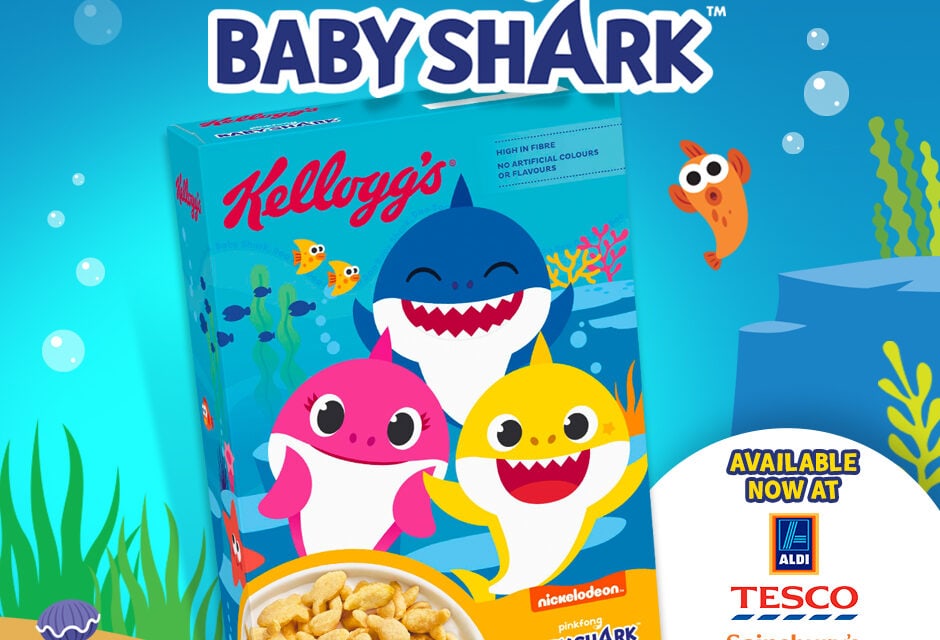 ViacomCBS Consumer Products UK has announced its first-ever deal in the UK & Ireland with Kellogg for Baby Shark's Big Show, launching Baby Shark Multigrain Cereal.
The shark-shaped multigrain breakfast cereal, with no artificial flavours or colours, is available at Tesco, Sainsburys, Asda and Aldi now.
Pinkfong's Baby Shark, now an established brand, has experienced instant success across multiple touchpoints, including UK retail aisles. Through a partnership with SmartStudy, the global entertainment company behind the beloved children's brand, Pinkfong, ViacomCBS Consumer Products have been managing licensing globally outside of Asia since October 2019 and in the UK, a wide range of products are now available at all major retail stores.
"Baby Shark has proven itself to be both a You-Tube phenomenon and an IP that translates into award winning Toys and consumer products programs. We're thrilled to be entering into this new deal with Kellogg's which is the first of many in the food and beverages category," commented Venetia Davie, Vice President, ViacomCBS Consumer Products UK & Ireland.
Olga Kondratyeva, Brand Manager at Kellogg's, said: "We are delighted to be working with ViacomCBS on the exciting launch of Baby Shark Multigrain Cereal. We know Baby Shark is a catchy tune that has captured the hearts of many families and we hope our new cereal will do the same."
Baby Shark launched on YouTube in November 2015 and took the world by storm, amassing 7.7 billion views and becoming the most-watched video in the platform's history. With music, characters, story and dance all combined, the song has been recognized as the only diamond awarded children's single in the Recording Industry Association of America(RIAA) Gold & Platinum Program history and spawned a viral phenomenon #BabySharkChallenge, generating over one million cover videos around the globe. In the UK, its TV animated series 'Baby Shark's Big Show!' will be released on Nick Jr. later this year.