MIPCOM: Atlantyca Entertainment and Rai Ragazzi Presenting First-Look at new Show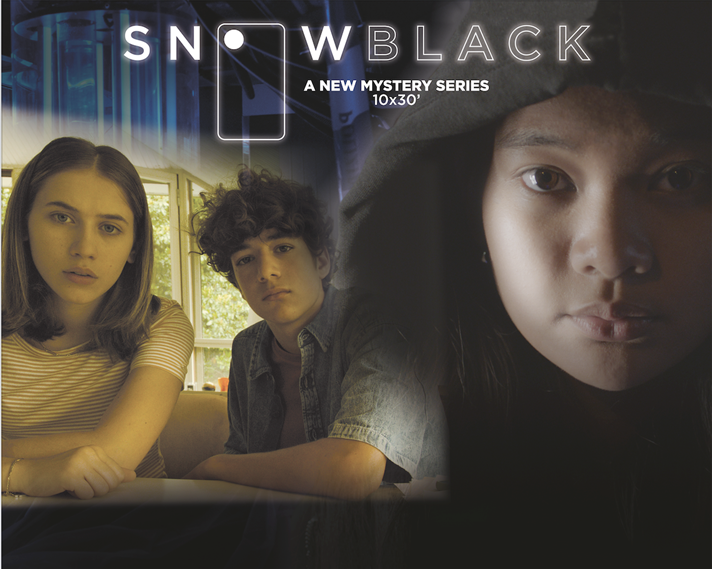 Atlantyca Entertainment and Rai Ragazzi are presenting this year's MIPCOM attendees with a first look at their two completed episodes for their new live-action series, "Snow Black."  This marks the first live-action production for Atlantyca Entertainment.
The 10 x 30 min series is a co-production with Atlantyca and Rai, in participation with Bedeschi Film. Based on a book of the same title written by Francesca Tassini and Mario Pasqualotto and published under the Italian inprint Marietti Junior, "Snow Black" is a thrilling mystery, sci-fi series revolving around a fourteen-year-old web-detective known as Snow Black that suddenly disappears during her last investigation. When she wakes up, she finds herself without a body and with no memories of her past life. She can only interact with the outside world through the devices connected to the Web, and that's how she gets in touch with two siblings Ella and Kennedy: they will help her shed light on the mystery of her disappearance, which turns out to be much bigger than they could have ever expected.
The series is set to be completed by February 2022.
"For the last 10 years, children's live-action programming has continued to demonstrate an immense popularity in our industry," noted Caterina Vacchi, Head of Production Department and Executive Producer, Atlantyca Entertainment.  "We knew this was the time to expand our production slate and important to change the content style, as well. As young viewers are starting at an early age to be attracted to live-action content, we knew we needed to create our own productions and tell our own stories in the popular format.  With access to an enormous amount of publishing material, we just had to wait for the right story that we could transform into a captivating and entertaining non-animated children's series. Mystery genres for children are not common productions for European companies, so this is a first for us, Atlantyca and Rai, which is very exciting. "Snow Black" is going to be wonderful addition and certain to compliment our current array of original programming."
"For our first mystery series for kid's, we have chosen a high impact property: a seemingly incredible mystery, but that actually has a coherent and rigorous logic, an invisible but very active title character, two siblings in a moment of upheaval in their lives, the acceptance of the inexplicable and the courage in the face of danger," noted Luca Milano, Executive Director, Rai Ragazzi. "Snow Black" is a series with a deep writing and a modern and international setting: it combines the coming of age with a taste for impossible challenges and mystery. Its format is ideal for our Rai Gulp channel and for the Rai Play online platform, which is increasingly popular with young people."