Asmodee Partners with Pollard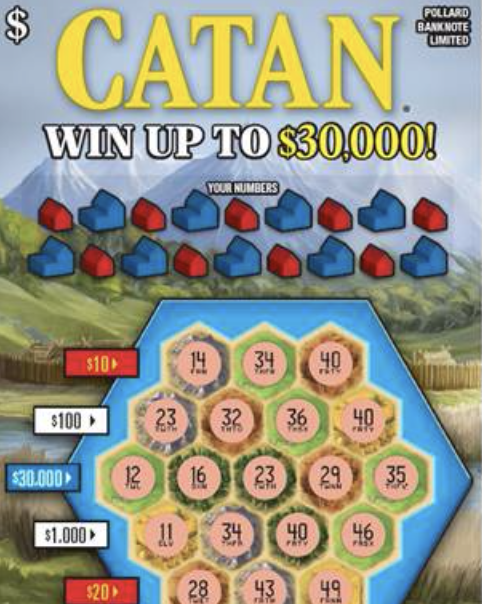 Asmodee Entertainment has announced CATAN® and Ticket to Ride are joining Pollard Banknote Limited's ("Pollard Banknote") large portfolio of licensed brands. This partnership brings two of Asmodee's largest brands to printed instant lottery tickets in the US and Canada.      
"CATAN and Ticket to Ride are incredibly strong brands and perfectly fit within Pollard Banknote's already strong licensing portfolio," says Asmodee Entertainment's Licensing Manager, Alexander Thieme. "I'm excited to see how a powerhouse partner like Pollard Banknote will expand the product offerings to fans and introduce our wonderful brands to new fans along the way!"
Board games continue to surge in popularity, and themed instant ticket adaptations will appeal to a wide range of players. Both CATAN and Ticket to Ride offer a variety of beautiful assets from which to choose. This makes for a great base to create fun lottery tickets and boasts appeal especially to the 18- to 35-year-old demographic. These brands can easily be adapted to suit multiple play styles, including extended play games.
"Board game adaptations have historically been well-performing standouts in the instant ticket category," said Brad Thompson, Vice President, Sales & Marketing, Pollard Banknote. "The addition of CATAN and Ticket to Ride to our licensed lineup is a real coup, and we're excited about where we can take these brands together with our clients. They're undeniable cultural forces we're confident will appeal to new and seasoned instant game players alike."
To support strong sales and engagement, Pollard Banknote's Licensed Games team offers lotteries a comprehensive turnkey program that includes the design, programming, and printing of themed tickets, as well as various optional enhancements like second chance draws, experiential prizing, POS programs, and digital marketing.