ACAMAR FILMS APPOINTS SPOTLIGHT LICENSING TO FURTHER DRIVE BING'S NORTH AMERICAN GROWTH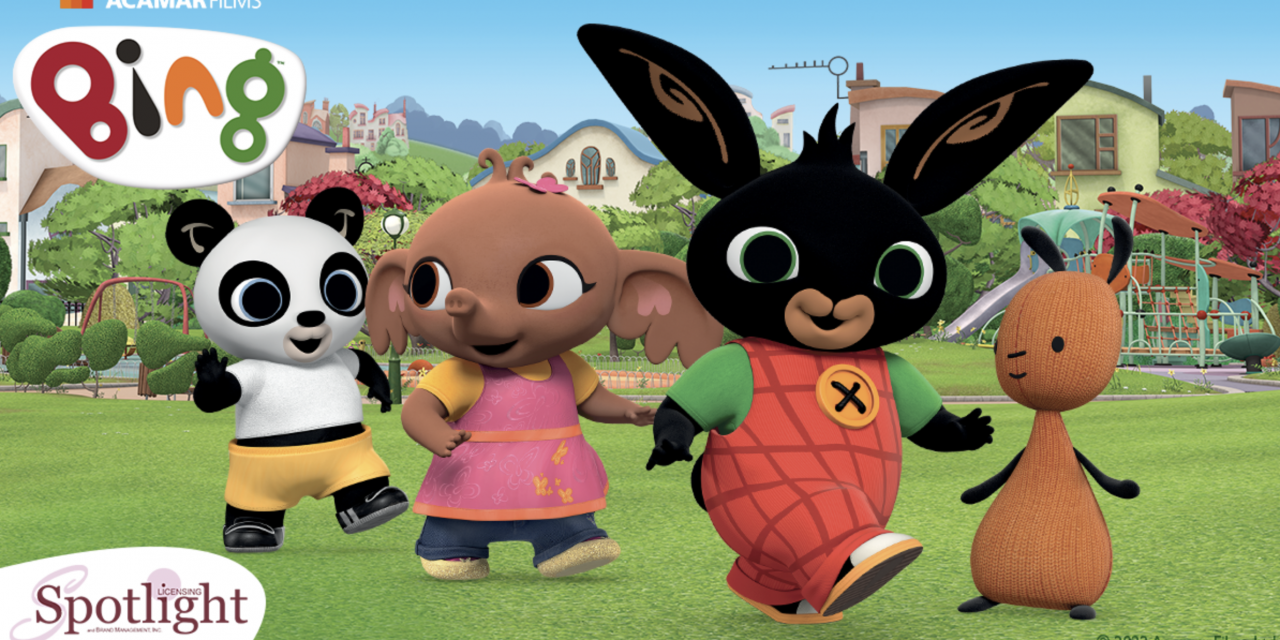 Acamar Films has announced the appointment of Spotlight Licensing as its Licensing & Merchandising agent for the USA and Canada for its globally successful, award-winning preschool series Bing. 
The multi-year licensing and merchandising agreement covers the USA and Canada to drive strategic Bing licensing and retail programs as the show's footprint continues to grow in North America.
A bespoke American version of Bing made its US debut on Cartoonito on Cartoon Network in September 2021, to great success. The show then launched on Cartoonito on HBO Max in February this year. Cartoonito is highlighting Bing as a series that helps young viewers understand how to manage emotions, understand others' perspective and develop social skills. In Canada, the series is available on TVO Kids, TFO and Amazon Prime Video. Bing is also available on YouTube and in the app stores in both the USA and Canada.
Spotlight Licensing is an award-winning and well-established boutique licensing and IP management company with considerable expertise and experience in the preschool sector. The agency has a reputation for innovation and successfully extending licensing programs by tailoring strategy to reflect the unique DNA of an individual property. The Spotlight Licensing team will be exhibiting at this year's Licensing Expo in Las Vegas and are looking forward to spreading the word about Bing and exploring exciting opportunities with attendees.
Sandra Vauthier-Cellier, Chief Commercial Officer, Acamar Films said: "We are delighted to be partnering with the award-winning Licensing & Merchandising team at Spotlight Licensing. Their outstanding expertise of preschool properties and their strategic and innovative approach, coupled with their wholehearted passion for Bing, promises exciting results. Bing already enjoys a hugely successful licensing program in Europe, with consumer products across a wide variety of categories, live shows and other immersive experiential offerings. Now we're looking forward to launching and building Bing's licensing program in the USA and Canada to provide our audience with equally delightful products and experiences to connect them even more closely with Bing."
Carole Postal, President, Spotlight Licensing said: "The whole team here at Spotlight has been moved and delighted by Bing and we're excited to be working with Acamar Films on developing a dynamic and robust program to accelerate its growth in the region. With its strong, unique and timeless values, the series is so relatable for toddlers and their families, and we want to help deepen their engagement and ensure its longevity."
Bing is a celebration of the joyful, messy reality of preschool life. Set in a delightful community "round the corner, not far away", its authentic, timeless stories follow the everyday ups and downs of Bing, Flop (Bing's own "carer") and their friends. Bing provides an honest depiction of the highs and lows of preschool life from a preschooler's perspective – a unique viewpoint for a children's property.
Acamar Films has established a successful licensing program for Bing in European markets with over 100 licensees on board across key categories, from toys and apparel to kids' audio storytelling and games, and experiential activities. The show is currently distributed to over 130 territories and engages digital audiences on a daily basis via 20 language-specific YouTube channels, social media channels and a suite of digital apps, and is firmly on-track to become a global evergreen property, cherished by families and young children worldwide.