A "Mole"vellous occasion for Moley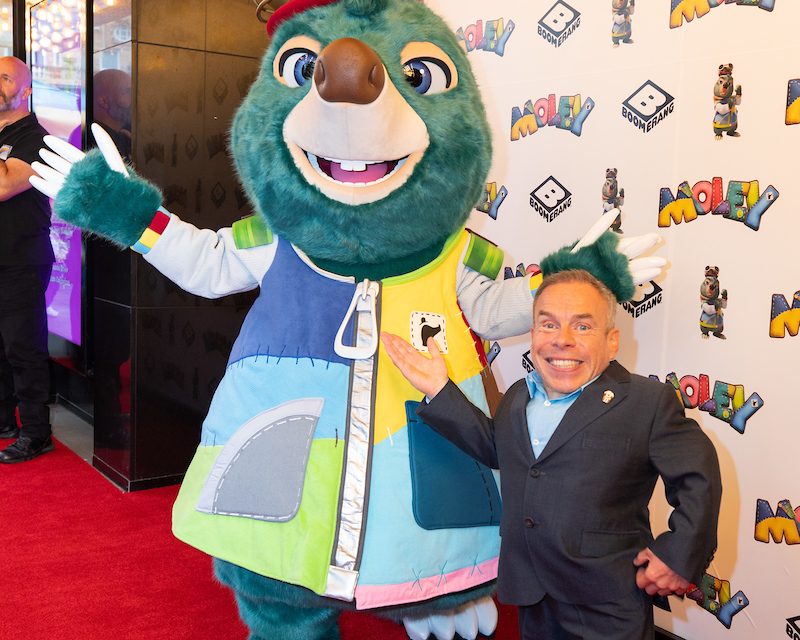 British-made children's property, Moley graced the red carpet on Saturday 25th September 2021 with a star-studded premiere in Leicester Square to celebrate the launch of the brand new TV series.
The new, animated children's property, Moley debuts on Boomerang on 4th October and follows the adventures of a fun-loving mole who lives deep in a burrow in the bustling city of MoleTown. The launch on Boomerang is just the beginning; a host of top broadcasters are in discussions to pick up the rights around the world and announcements are in the pipeline for additional partners in major territories. The loveable character Moley, voiced by Warwick Davis will therefore soon be enjoyed by children across the globe as he finds himself on a series of exciting escapades exploring the world around him, with accompanying magic, comedy and adventure.
To celebrate the launch of the series, an extravagant red carpet event took place on Saturday 25th September at the Odeon, Leicester Square. Over 600 guests, including members of the cast, broadcast partners, media, prospective licensees, VIPs and celebrities were in attendance with their families. There they were treated to the very first episodes of the new series, whilst also experiencing the magic that is Moley, with interactive fun activities in the foyer.
Creator of Moley, James Reatchlous commented: "The journey of Moley has been incredible – he has gone from a father's bedtime stories to the star of an incredible animated show! This weekend's event was a culmination of months of preparation and planning by the entire Moley team; not to mention a few postponements along the way due to the pandemic. We were delighted to finally reveal the spectacular world of Moley to all and we can't wait to share all that's coming in the months ahead."
With 52 episodes in the pipeline over coming seasons there's plenty of Moley to look forward to. The Colourful characters are played by an amazing voice cast including Warwick Davis (Star Wars, Harry Potter, Maleficent), Julie Walters (Harry Potter, Paddington, Billy Elliot), Charles Dance (Game of Thrones, The Crown), Gemma Arterton (Tamara Drewe, Saint Trinians), Richard E Grant (Withnail and I, Logan) and Togo Igawa (Mama Mia, Star Wars).