9 Story & Karma's World Entertainment Launch New Initiative to Support Black-Owned Businesses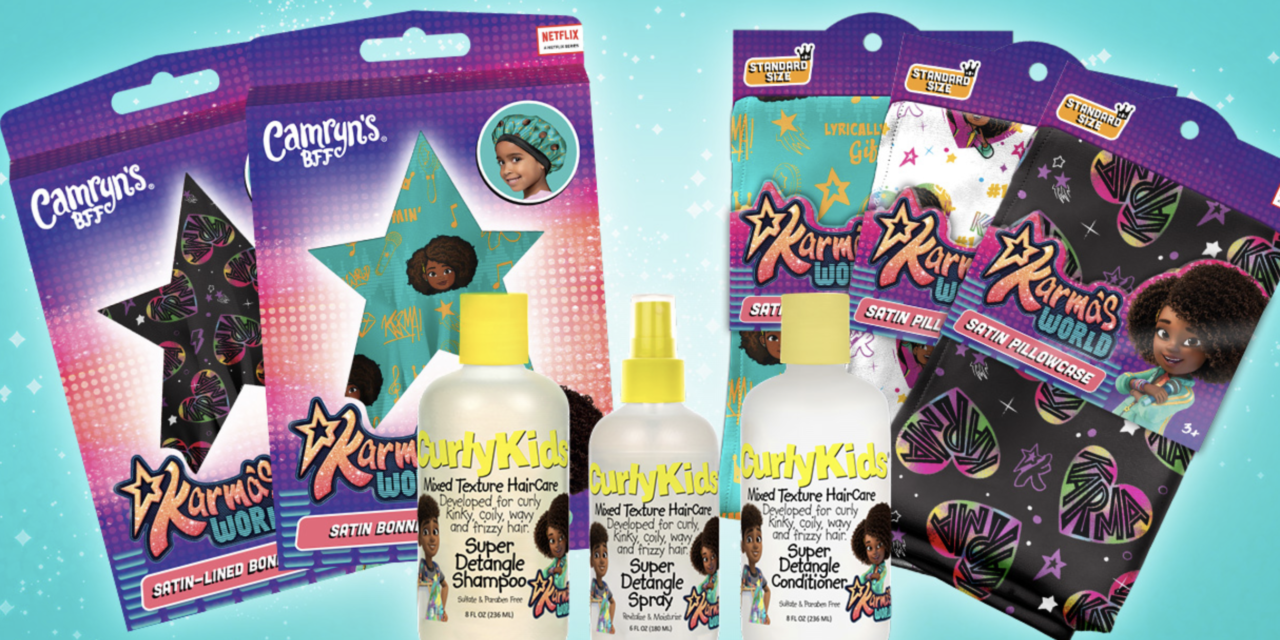 Partners include first-time licensees CurlyKids Mixed Texture HairCare and Firstline Brands with select retail kid's hair products
9 Story Media Group and Karma's World Entertainment announced the launch of a new licensing-based initiative for their groundbreaking global entertainment property, "Karma's World." It is designed to support Black-owned businesses and increase representation on-shelf for meaningful change within the licensing industry. The first licensees to participate in the program are hair care companies CurlyKids Mixed Texture HairCare and Firstline Brands. Secured by 9 Story Brands, 9 Story's dedicated consumer products and brand management division, the new partners join over 40 on the brand's roster across multiple categories, including global partnerships with Mattel, Scholastic, and Universal Music Group.
"Creating a program that supports Black-owned businesses speaks to the themes of representation and community that live throughout "Karma's World." This unique opportunity supports the power of entrepreneurship in inclusive spaces and puts Black excellence on display," said Chris 'Ludacris' Bridges, executive producer, "Karma's World."

The "Karma's World" Black-owned business initiative provides CurlyKids Mixed Texture HairCare and Firstline Brands with special marketing support and networking opportunities at the 2023 Licensing Expo, the world's largest licensing trade show. As part of the program, 9 Story has partnered with The Gathering Spot, which specializes in developing Black businesses and offers tools for entrepreneurs to scale and grow. The Gathering Spot is a private membership club that serves as a hub for collaboration, connections, and experiences with locations in Atlanta, Washington D.C., and Los Angeles. As participants in the "Karma's World" Black-owned business initiative, both CurlyKids Mixed Texture HairCare and Firstline Brands will receive combined offerings, customized memberships and more.

About the new partners:
CurlyKids Mixed Texture HairCare is a Black-owned and family-operated business based in Los Angeles, CA. Since 2010, CurlyKids Mixed Texture HairCare has continued to support children's hair journeys with affordable, quality products CurlyKids Mixed Texture was developed for Curly, Kinky, Coily, Wavy and Frizzy Hair. Their products are sulfate and paraben free and are available at select Burlington, Citi Trends, Kroger, Sally Beauty, Target, and Walmart stores.


Firstline Brands is a time-honored Black-owned enterprise, founded in 1986. The Firstline ethos is rooted in their commitment to embrace and accommodate the often-overlooked haircare needs of multicultural groups and hair types. Firstline Brands offers a masterful mix of hairstyling and maintenance essentials, from trend-right to timeless.


"Diversity and inclusion are in the DNA of the "Karma's World" brand," said Kyra Halperin, Co-Vice President, 9 Story Brands. "Black-owned businesses have been historically underrepresented within the licensing industry and it's critical that we work with partners that align with the DNA of the brand and work towards better representation on-shelf. We are thrilled to partner with CurlyKids Mixed Texture HairCare and Firstline Brands – each a first-time licensee – to develop exciting and innovative extensions of the "Karma's World" universe."
"Black television, Black media, Black art, Black hair products -these things all strive, thrive, and arrive together. We at CurlyKids HairCare appreciate Mr. Bridges and his team's diligence to find and select Black-owned hair care companies like ours, that speak to representation and engagement. Collaborating to help grow the "Karma's World" brand alongside CurlyKids HairCare synchronizes with our own family experience. As parents of a beautiful young Black woman, we see our little girl in Karma, a viewpoint we wish more of the world would adopt," said Sandy Williams Bordenave, CurlyKids HairCare Co-Founder.
Three exciting "Karma's World" CurlyKids Mixed Texture HairCare products – Super Detangling Shampoo, Super Detangling Conditioner and Super Detangling Spray alongside Firstline's three "Karma's World" silk bonnets and pillowcases– is now available at 469 Walmart locations and throughout the year.
"This is our first foray into the world of licensing, and we could not have chosen better partners than 9 Story and Karma's World for our Camryn's BFF line. At Firstline, our focus for nearly 37 years has been prioritizing and elevating textured haircare needs. With the support and resources of 9 Story's Black-owned Business initiative, we'll achieve our mission on a much larger scale while introducing Karma's World fans to our innovative Camryn's BFF product assortment," said Joni Odum, CEO of Firstline Brands.
"Karma's World," which premiered globally on Netflix on October 15, 2021, follows 10-year-old Karma Grant, an aspiring musical artist, and rapper with big talent and an even bigger heart. Every episode is infused with hip-hop music, streetwear fashion, and original choreography. From executive producer Chris 'Ludacris' Bridges, the series focuses on themes of self-expression, identity, leadership, creativity, and the importance of community. The fourth season launched Sept. 22, 2022.