New Licenses for Bob Ross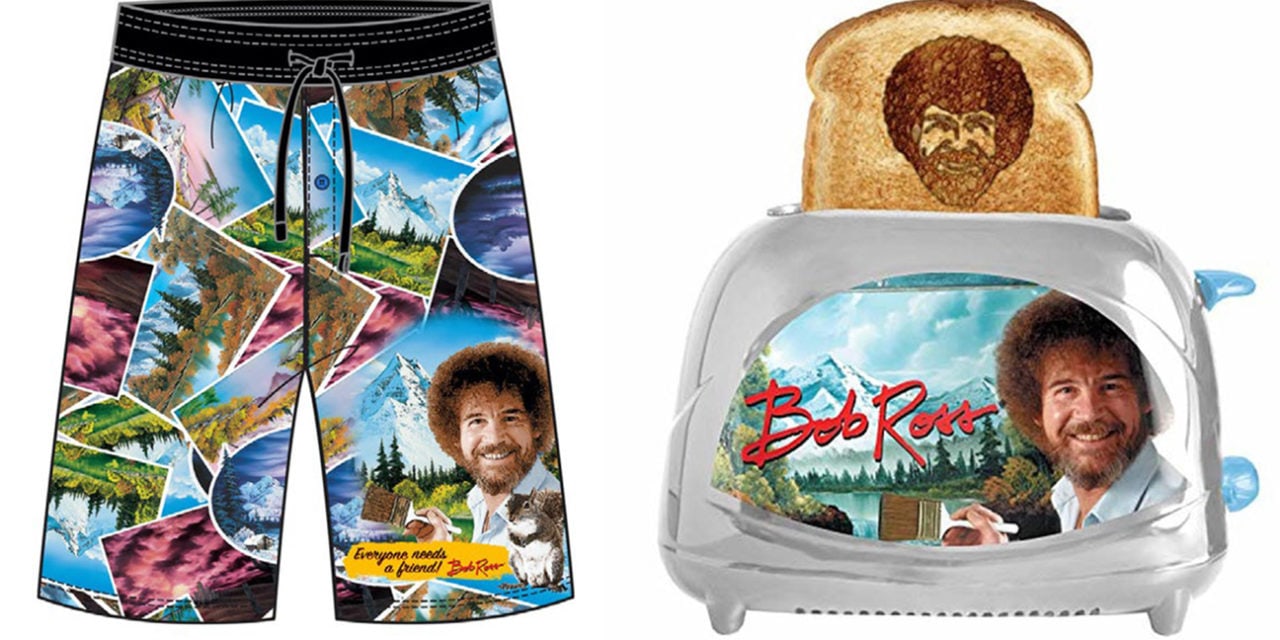 Firefly Brand Management has secured fourteen new licensing partners for client Bob Ross, Inc. and the Bob Ross Bob Ross: The Joy Of Painting brand. The new agreements commemorate over 60+ licensing deals for Firefly and the globally popular brand.
New agreements licensed by Firefly for Bob Ross are: PicsArt for App Content: themed stickers, backgrounds, templates, replay); Papersalt (Revolution, Inc.) for notables and lunch notes, inspirational card booklets;Empire Apparel Group for Men's and Women's apparel (T-Shirts & Hoodies) for Australia and New Zealand; Oppo Suits will produce men's, women's & boys suitmeister full suits, opposuits & blazers/apparel and men's fitted button down shirts; Remarks, Inc. for bookmarks, page clips, multi-pack bookmarks and coloring bookmarks; You Tooz will produce stylized vinyl figures; Calhoun Sportswear: fabric wall banners, neck ties and bow ties, hats and beanies, jackets short sleeved button down shirts and blankets; USAopoly co-branded table top boards games and puzzles; Meredith Corporation for bookazine; Jilcroft Pty Limited (MJM Australia) for puzzles, games, and crafts; Pix Brix for pixel puzzle bricks (building bricks); Fiesta Toy for amusement/crane machine plush; Studio Fabrics (Jaftex Corp.) for fabric by the yard, precut fabric kits and Andrews & McMeel for greeting cards.
Firefly has represented the Bob Ross Inc. since brand 2016 and in that time has secured a number of popular products including: Bob Ross Skis from JSkis; the unforgettable Bob Ross Chia Pet; and Bob Ross Happy Little Mints, which became one of Perpetual Kid's top selling candies.
"Bob Ross continues to be loved and embraced by millions," noted Cynthia Modders, CEO of Firefly Brand Management. "It's been an exciting time for us as we've seen his popularity grow these past few years, especially with millennials, and his artwork, likeness and quotes have uncovered a group of enthusiastic new audiences which in turn is gaining a fan base that has becoming quite appealing to a diversity of companies with unique licensing opportunities, it's surprising us some of the places Bob Ross keeps turning up. We are so excited to celebrate this milestone with our partner Bob Ross Inc. and look forward to expanding new products and licensing programs even further."
Noted Joan Kowalski, Bob Ross, Inc., President, "Bob Ross continues to reinvent himself every day, all we're doing is letting gravity take its course – fans show us what they want and through Bob delivers.