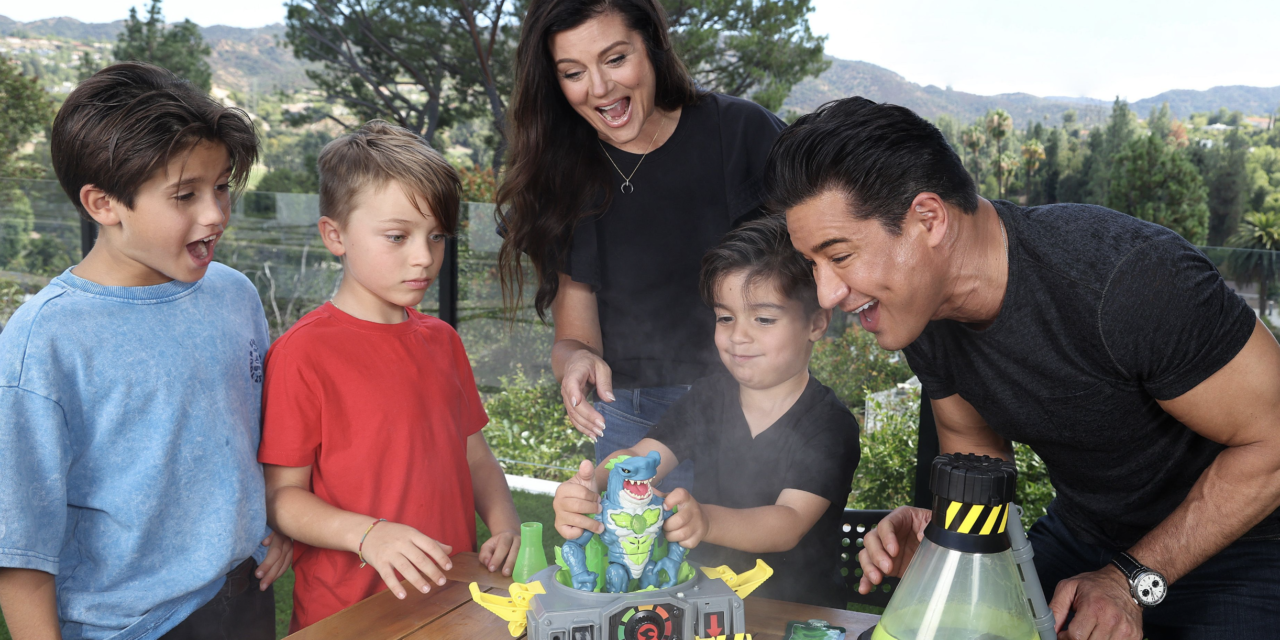 Moose Toys combines several of its signature play patterns — multi-layered creative playsets, action figures and storytelling — in  Beast Lab. From start to finish, this first-of-its-kind interactive playset engages kids in an experiment-based process as they create their own beast: a jaw-some shark-inspired electronic action figure to save the world. Beast Lab will be available at major retailers nationwide online Sept. 1 and in-store Oct. 1. Prior to launch, Beast Lab has already received early toy industry buzz with a Creative Toy of the Year nomination from The Toy Foundation.
To celebrate the launch of Beast Lab, Moose reunited two longtime friends as the first to experience this year's hottest holiday toy: "Saved by the Bell" costars Mario Lopez and Tiffani Thiessen. Mario, Tiffani and their kids, Dominic and Santino Lopez and Holt Smith, were "Saved by the Beast" as they used Beast Lab to create beasts to save the world.
"Moose Toys has introduced many 'firsts' in the toy world and Beast Lab is the latest to fill white space to reinvigorate the action figure category," said Paul Solomon, chief executive officer, Moose Toys. "With Beast Lab we're breaking new ground and taking what we do best – using innovation to put kids at the center of the creation process. Beast Lab puts the power to 'save the world' in kids' hands and the only way to do that is to create and unleash their own beast."
To create their beast, kids activate the lab and initiate the experiment with a simulated finger scan to begin a human-beast connection. Step by step, kids add ingredients to the chamber, each one eliciting a reaction from the beast being created within, including crackling sounds, epic roars, flashing lights and fizzing bubbles – all while Bio Mist flows out. With each ingredient the intensity of the experiment amps up until it's time to drain the chamber and unleash the beast. Emerging in the ultimate reveal is either Mayhem Megashark or Havoc Hammerhead. Equally fearsome, each fully articulated electronic action figure is ready for action-packed battle with a weapon to attach to its arm and a spring-loaded power punch.
Adding to the layers of this toy is getting to know the beast and how it evolves with new sounds, colors and ways to play. Rounding out Beast Lab's already robust engagement, Moose is creating original animated content to inspire kids to explore their own imaginative and independent play within the Beast Lab story.
Beast Lab launches with a global, 360-marketing plan to bring the brand to life enlisting people to "Unleash Your Beast. Save the World." The robust campaign includes the original content, cinema advertising and engaging lobby displays, TV advertising, public relations, social and digital executions, as well as a holiday weekend takeover dubbed LAB-or Day. Throughout the weekend, key influencers will be called upon to join "Team B.E.A.S.T" and be among the first receive the experiment, and LAB-or Day beach goers in major cities will be encouraged to unleash their beast through airplane banner ads and digital trucks.