10 Predictions for 2021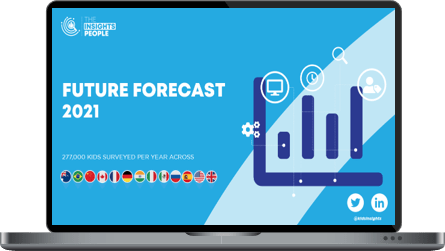 A Year of Increasing Influence & Opportunity
Now surveying 277,000 kids globally across 13 countries, The Insights People is the global leader in market intelligence for kids, tweens and teens.
Predictions include the growth in direct-to-consumer retail, with Kids Insights data showing that online purchasing increases by children has increased by 50% in 2020, and has shown the quantity of US tweens who own or use digital currencies such as Bitcoin, has grown by 63% in the past 12 months.
The Insights People, global leader in kids, tweens and teens market intelligence, has issued its annual Kids Insights Future Forecast report, which has previously successfully predicted a number of trends including the emergence of Generation Speak (a generation who increasingly prefer to control their devices by their voice).
The Future Forecast 2021 report makes 10 predictions based on its extensive experience of the kids' ecosystem by surveying more than 277,000 children per year, across five continents and 13 countries, or interviewing a child every 30 seconds.
Nick Richardson, Founder & CEO of The Insights People says:
"2020 was a year none of us could have predicted, but in many ways the impact of Coronavirus has speed up a number of trends which were already in motion or bubbling under the surface. And as a result, I believe we are entering a transformational time,  which is going to fuel innovation across the kids ecosystem, but specifically in sectors such as retail, entertainment and education – and that is going to create opportunities for brands and businesses from all aspects of the kids' ecosystem."

In 2020, American children between the ages of 6-9s online expenditure has grown by 78%, and with tweens in the US spending more than $175 a year on INXP (in-experience purchasing) for example, a prediction The Insights People are making is a huge surge in brands looking to go direct-to-consumer (D2C). Globally, the number of children (3-18) spending money online has grown by 50% since the start of the year.
According to data from the UN more than 1.5 billion children from around the globe affected by school closures in 2020, and as a result one of Kids Insights predictions for 2021 is significant innovation in the education sector, and specifically the growth of Edutainment. In France, 168% more tweens used YouTube to watch educational videos throughout the pandemic-stricken school year, compared to 2019. While, some education institutions have decided to embrace platforms – such as Minecraft, Roblox and Fortnite – on which kids are digital natives in order to engage their virtual classrooms. Currently, Minecraft is the most popular console game among 6-9 year olds in the US, making its Education Edition the perfect classroom tool to engage kids during unprecedented times.
Prof Dr Ger Graus OBE, Education Director at KidZania says of the rise in edutainment:
"At KidZania, we encourage children to experience on their own and with their peers, so that they can learn for themselves. Grown-ups are there to be seen and not heard. Experience-based learning, if facilitated well, can provide purpose and connect in-school teaching with out-of-school learning; it can persuade children that going to school isn't such a bad thing after all.
"I travel around the world – under normal circumstances – and I ask children everywhere why they go to school, and they reply, far too often is, 'because I have to'. Through utilising environments and facilitating experiences we can change this, not through in-school teaching alone. Think of experience-based activities as free-range learning: self-initiated, self-directed, self-sustained, adventurous, safe and fun."
With kids spending more time online, it is more imperative than ever that there is safeguarding in place for them. Kids are gaining more access to technology at a much younger age. 76% of UK 3-5 year olds now have access to a tablet, while in the US, the data from the 10-12s and 13-18s age categories state that kids on average, own four smart devices. As we move forward, there is going to be increased pressure to provide children with greater protection in their digital ecosystem.
Away from the digital world, one of the other predictions in the report is the growing trend in kids influence on family and household purchases. These influences range from TV subscriptions, food choices and even new family cars – with Kids Insights data showing the latter has increased by 54% in the US over the past 12 months.
Mattel, Head of Insights EMEA, Michael Swaisland discusses the return of traditional hobbies, he says:
"We'll be looking at what stays for 2021 and what dissipates, what has been accelerated this year in terms of play patterns with children, family time and the balance of screen time and physical time. I think our focus for 2021 will be on helping families get that balance and making it easier instead of having to stress about it."
Other predictions include the rise of niche to become mainstream. Industry expert, and CEO of Epic Story Media, Ken Faier comments:
"There are so many more ways to reach an audience now than 10 years ago. The ecosystem of broadcast has changed with so many services, so every service has a bit of a splintering effect, which is means almost every platform is niche in some way. Each new IP launched starts from ground zero, such as when you launch a new YouTube channel, or utilise social platforms, you're starting it niche right away. There are so many different ways to reach that audience, it's a challenge but it's also an opportunity. For us as a director and producer of content and a distributor of content and merchandise, our job is to take build fandom and to take that audience and grow it from the niche to mass or, at least turn it into a meaningful and sustainable business."
To download the full complimentary Kids Insights Future Forecast 2021 report and view the Future Forecast webinar, which featured The Insights People Research & Trends Director Sarah Riding, Epic Story's Ken Faier, KidZania's Prof Dr Ger Graus OBE and Mattel's Michael Swaisland, please visit: http://www.kidsinsights.com/futureforecast