Withit and Skinnydip in Collaboration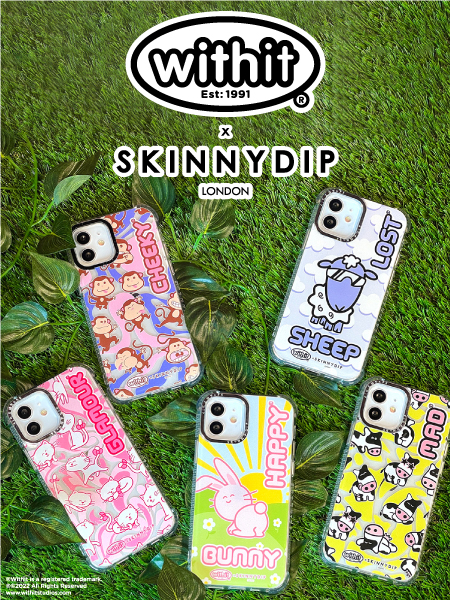 Withit Studios announces a new partnership with fashion aficionados, SKINNYDIP. 
The collaboration is set to bring an instant smile to the faces of fans that grew up with the brand in the 90's and 00's, along with a whole new generation!
The 'Withit x Skinnydip' collection features phone cases featuring all of the favourite characters including Cheeky Monkey, Mad Cow, Glamour Puss, Happy Bunny and Lost Sheep. The phone cases are drop-tested, shockproof and made from recycled materials, and protect phones in style. This fun and colourful collection is lauched in December.
Withit is the iconic, easy to understand, fun, colourful brand which captures word and picture play together. The brand transcends language barriers and cultures and captured a global audience.
Withit is celebrating over 30 years of designing fun lovin' characters. The brand has a huge history of success around the world, achieving sales of over £100,000,000 across stationery, apparel, accessories and homewares.
With the timely resurgence of retro brands, Withit is placed perfectly to reconnect with the original massive female audience, along with bringing in new fans for these timeless characters.
Which character are you?!