WIT APPOINTS DELANIE WEST AS DIVERSITY & INCLUSION CHAIR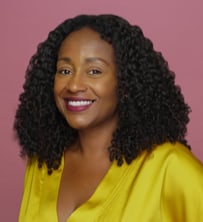 Women in Toys, Licensing & Entertainment (WIT) announces the appointment of Delanie West to its board of directors as WIT's first Diversity & Inclusion Chair. In this role, she will be leading the organization's efforts to cultivate Diversity, Inclusion and Belonging as critical priorities across WIT's global community, including Black Women in Toys, Licensing & Entertainment (B-WIT), an initiative focused on attracting, recruiting, spotlighting and advocating for Black women in the industry.
"As an organization whose mission is based on equality, WIT is rooted in the truth that everyone must take action to bring about change that will ultimately drive greater diversity. Appointing Delanie to this role is the first of many actions to come," says Janice Ross, WIT President. "Delanie is a brilliant and proven leader within WIT, and her ability to lead and galvanize others to a common goal makes her the right person to lead us forward in our D&I journey. We are excited to have her on board as our first D&I Chair."
In her new role, West will work alongside the WIT leadership team on all D&I strategies, initiatives and programming, including the B-WIT task force team. Moved to take action because of the lack of representation of Black women in the toy industry, WIT and the B-WIT task force are dedicated to navigating complex issues and developing solutions through regular, direct and candid dialogue within the WIT community and the industry, developing programming, activities and an actionable roadmap focused on three main disciplines: Recruitment, Programming and Scholarships.
"Fostering a culture of ongoing learning, inclusion and understanding is paramount to delivering on the WIT mission," says Delanie West. "I am deeply committed to integrating D&I into every facet of our global community, and energized to work collaboratively with our industry leaders to develop and implement innovative D&I initiatives and programs that will positively impact our industry at large."
West is Founding Creative Director of BeSuper Creative, a creative consumer product development and design consultancy. In addition, she is Partner and Chief Strategy Officer at Black Creatives, a global network of over 15,000 professionals in communications, media, advertising, technology and fashion. In this role, West is focused on positioning Black Creatives for future growth and responding to the need to match talent with the demand for industry opportunities across all sectors.
West also serves as Chief Operations Officer at Healthy Roots Dolls, supporting the innovative female-founded brand's operations. Additionally, she serves as WIT's Ohio Chapter Chair. Formerly, West was VP of Product Development, Design & Creativity at AW Faber-Castell, and prior to that, she held the position of VP GM Design & Development at Wilton Brands.