Winners of License This! announced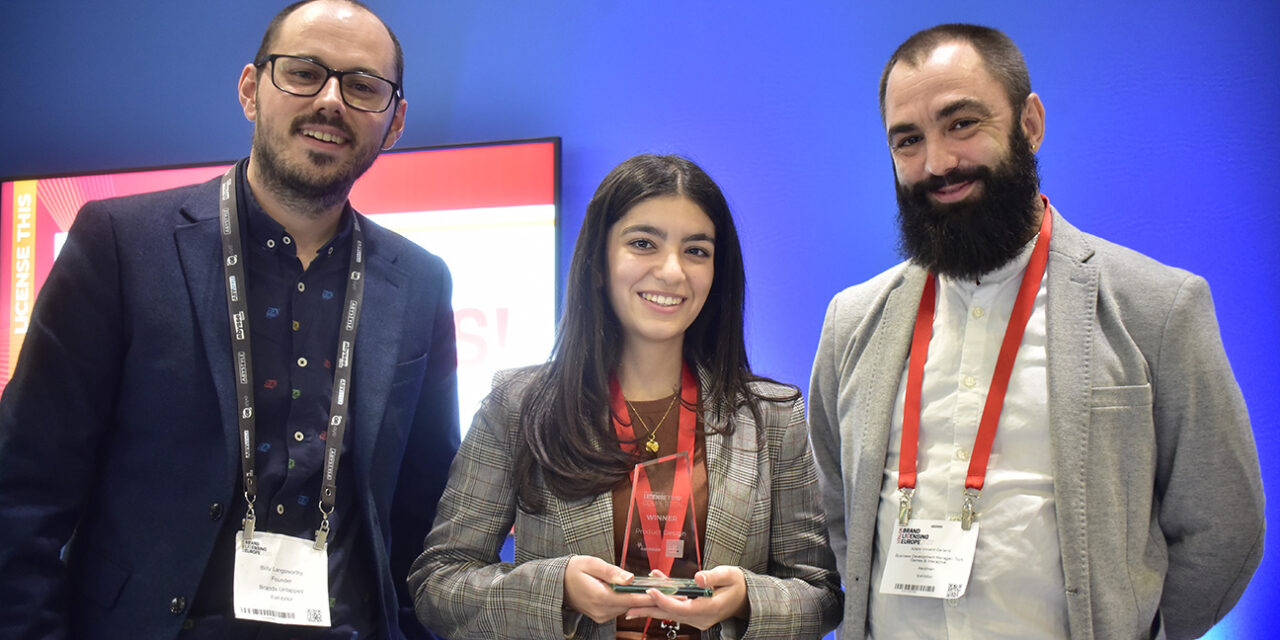 The winners of the 2022 Kelvyn Gardner License This! competition were announced at Brand Licensing Europe today after eight finalists battled it out in three pitches full of creativity, inspiration, laughter and emotion.
The winners are:
· Brand & Design Category: TheSpookysaurus
· Character & Animation: Frobelles
· Product Design: Penny Kyriacou
The Spookysaurus started as a character in a children's picture book and is soon to be expanded into the children's fantasy book, "The Spookysaurus and the Boy with No Fear".
Creator Crispin Lowrey said:"How does it feel to win? It's spooktacular. I don't know where it's going to take me or what's going to happen, but I'm not going to waste this. After coming to BLE for the last 20 years and seeing the likes of Keith Chapman with Roary the Racing Car I always thought, 'it would be nice to be there one day', so it's amazing.
"You know, The Spookysaurus was this silly idea I came up with in the middle of the Natural History Museum with my nephew then spiralled out of control. There have been moments of extreme doubt, but also moments of elation when I sold my first book and when I saw a child reading that book, so to be on the License This! stage and to have the opportunity to grow it as a brand, is amazing. Totally nuts."
Frobelles is a character and digital toys brand based on sisters Coco, Kelli and Krista. The Frobelles proudly rock their Afro hair and inspire girls to love their natural tresses. Through a gaming app, digital content, a fan club, and activity magazine, the brand provides much-needed positive representation for girls with afro hair, it encourages self-confidence and fosters sisterhood.
Frobelles' creator Yvonne Ottley said: "I'm so excited and so pleased to be able to share this with my daughter – who wanted to be here today and couldn't. You know, I was very nervous but I think when you're passionate about your brand, it shows through, and I was up against some tough competition, too. Winning this will give me so many fresh opportunities and just having the expertise of the judges is going to really help our brand to shine."
The Product Design category was introduced by Mojo Nation's Billy Langsworthy who reminded the audience that, "For the first time ever, students are taking part in this category. Lorcan and Phoebe attend Brunel University and Penny starts at Central St Martins on Monday."
Winner Penny Kyriacou presented her unique 'Invent-A-Cards', a card game inspired by Aardman's Wallace & Gromit that encourages STEM skills among players.
When commenting on the final presentations, Ian Downes, chair of the judges and director of Start Licensing, said, "Thank you to the finalists for your presentations, efforts and dedication today – it's a difficult ask at any time, but even more difficult in an environment like this in front of a live audience and panel of judges."
Judges:
· Ian Downes, Director, Start Licensing, Chairman of the Judging Panel
· Phil King, Managing Director, Trademark Products Ltd
· Sabrina Segalov, Senior Licensing Manager, Sanrio Global Limited
· Emily Fawcett, Head of Global Licensing, Abysse Corp
· Dan Grant, Licensing Director, Danilo
· Teri Niadna, Managing Director, Brandgenuity
· Sarah Ward, Chief Executive, The Giftware Association
· Clare Piggott, Director of Licensing and Merchandising, Larkshead Licensing Ltd
· Billy Langsworthy, Co-Founder, Mojo Nation & Brands Untapped
· Sarah Lawrence, Director, This Is Iris
· Dale Boreham, Senior Design Manager, Moonpig
· Maxine Lister, Head of Licensing, Natural History Museum
· Adam Vincent-Garland, Business Development Manager, Aardman
· Charlie Langhorne, Director, Wild in Art
The other five finalists:
Brand & Design:
· Animo: Animo's designs are based on the watercolour paintings of animals by the Swedish artist and stage designer Anna Gisle inspired by her many years working in the theatre and the world of Scandinavian children's literature.
· Klara Hawkins: Her brand features distinctive, colourful and charming surface design that appeals to all ages!
Character & Animation:

· Let's Go See: Based on the original Pilot Ollie and Pilot Polly adventure books written by Captain Rob Johnson, Let's Go See uses animations, an augmented reality app, picture books and schools' packs to entertain, educate and inspire children about the wonders of our world, it's amazing people and cultures.
Product Design – this category is in partnership with Mojo Nation and Aardman:

· Lorcan O'Shea and his 'Contraption Creator'
· Phoebe Bamford and her 'Stop Motion Bonanza Boz Set'