Lunchables and the Rube Goldberg Institute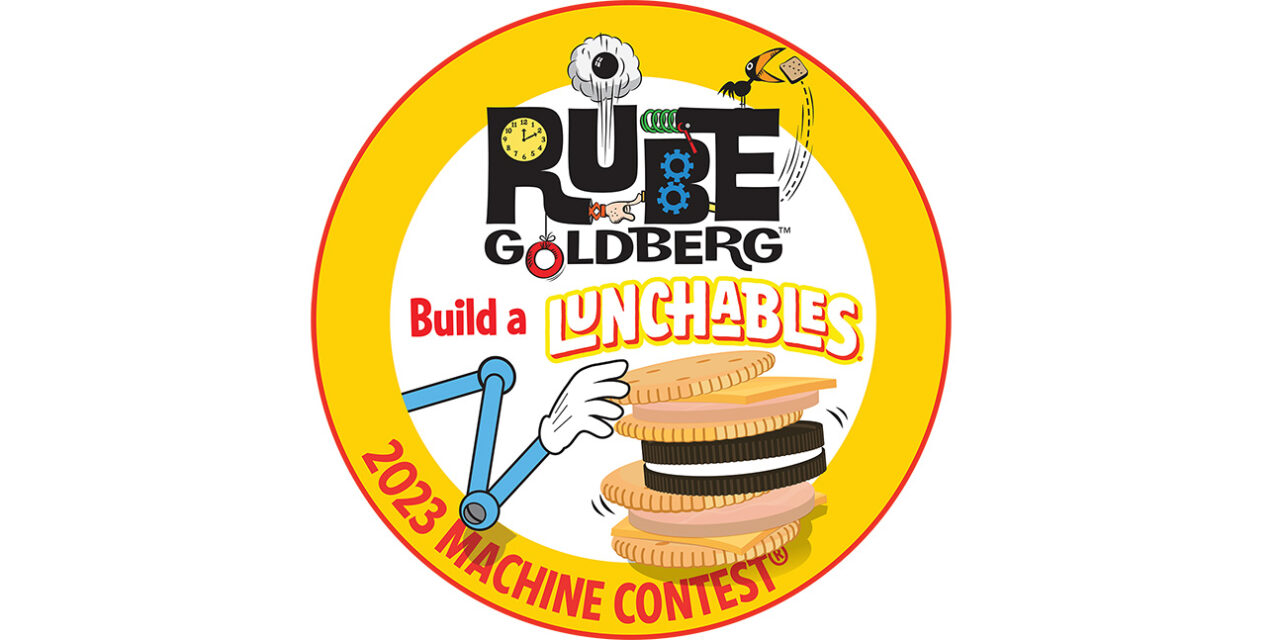 The Rube Goldberg Institute (RGI) is proud to announce that the task sponsor for the 2023 Rube Goldberg Machine Contest® is Lunchables, the beloved buildable, real food that powers kids forward manufactured by the Kraft Heinz Company. This year's task is fittingly called Build A Lunchables, in celebration of the brand's Lunchabuild This campaign, which is designed to fuel kids' creativity and inspire them to build what they see out in the world.
A Rube Goldberg Machine is an overly engineered invention that uses ordinary objects in extraordinary ways to accomplish a single task. These chain-reaction contraptions are based on the work of the Pulitzer Prize winning cartoonist, Rube Goldberg (1883-1971). Every year since 1988, tens of thousands of students across the country build Rube Goldberg Machines and participate in its annual competitions. At the beginning of each school year The Rube Goldberg Machine Contest® announces its annual task, a simple problem that each machine must solve.
The 2023 Rube Goldberg Machine Contest takes rolling submissions on its website, rubegoldberg.org, from September 21, 2022, through March 23, 2023, with winners being announced on April 23, 2023. Prizes include trophies, Visa gift cards, and Rube swag. For more information on the contest, visit rubegoldberg.org
Whether a rocket ship, penguin or UFO, there are endless possibilities for what kids can build with Lunchables® and the creativity involved in stacking, crafting and building now brings the art of invention into the mix. While playing with your food is fun, the contest will encourage problem solving with your food as all participants in the competition are challenged to imagine, design and build a working Rube Goldberg machine that through a series of chain reactions ends in building a Lunchabuild® creation.
"Lunchables® is excited to partner with The Rube Goldberg Institute and can't wait to see what amazing Lunchables®-inspired inventions they'll dream up," said Samantha Mills, Associate Director of Brand Communications for Lunchables®. "The Build a Lunchables® Rube Goldberg task reinforces our commitment to fueling kids' creativity and inspiring them to explore the limits of their imagination.
"Partnering with Lunchables® for this year's Rube Goldberg Machine Contest is a dream come true! Inspiring kids to build crazy contraptions with one of their favorite lunch and snack foods is right in our sweet spot," says Jennifer George, Rube's granddaughter and the Chief Creative Officer of the Rube Goldberg Institute. "Every year our Rube Goldberg Machine Contest invites builders of all ages to think differently about the everyday objects that surround them — and Lunchables® does the same thing with food. As partners, each with a mission to inspire creativity and out-of-the-box thinking, we are perfectly aligned. We can't wait to see what the kids come up with!"
The Rube Goldberg Institute for Innovation & Creativity is a not-for-profit focused on equity and access in STEM and arts education. RGI works with partners, collaborators, and sponsors to promote education opportunities that spark creativity and curiosity through the lens of its namesake. The hands-on fun of imagining, designing, and building Rube Goldberg Machines, inspires scientific thinking, improvisation, teamwork and storytelling. Through improbable engineering and creative problem solving, Rube kids develop the skills, confidence, curiosity, and sense of humor they need to build a sustainable future.