tonies launches Schools and Nurseries Education initiative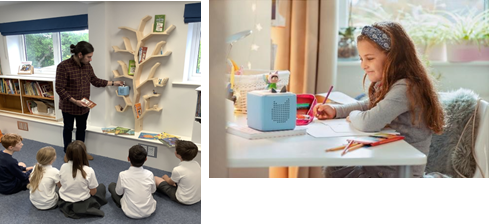 tonies has announced its Schools and Nurseries Education initiative, 'Tonies for Teachers', to support teachers and help children learn through the power of audio, with research commissioned from the National Literacy Trust. 
Through the initiative, teachers will be offered a 25% discount on Toniebox starter sets so that school children across the country can benefit from the broad range of educational and inspirational content. tonies® features a Toniebox audio player created for children from nursery to school age, offering an extensive range of stories, music and educational content. The Toniebox comes to life when paired with the fantastic collection of Tonies: beautiful, hand-painted figurines that contain the stimulating and engaging range of content that can be enjoyed by children for many years.
As part of the initiative, tonies® worked with the National Literacy Trust charity to research the link between listening to audiobooks and increased vocabulary proficiency in children*. Almost all (95.6%) of children in the survey said they enjoy hearing stories read to them.
Analysis by the National Literacy Trust found that 380,000 children in the UK do not own a book and without essential vocabulary and literacy skills being instilled at a young age, children are likely to be held back at every stage of life. Audio is increasingly being recognised by parents and education professionals as a tool that has the potential to close the literacy gap: with listening to audiobooks and music helping to improve literacy skills and vocabulary in an enjoyable, accessible way.
Emily Best, Knowledge and Research Manager at The National Literacy Trust, comments: "Our research shows that engagement with audiobooks can benefit children's reading skills and enjoyment, as well as their mental wellbeing and emotional intelligence. During the first lockdown, more than half of children said listening to audiobooks increased their interest in reading and 2 in 5 said it made them more interested in writing. Boys were particularly likely to listen to audiobooks during this period. For children who struggle to decode words, audiobooks and podcasts provide a great alternative to books – children can still be immersed in a narrative, while building vocabulary and improving comprehension."
Sharing her experience of working with tonies®, Mrs Ruth Lue-Quee, Educational Consultant for primary schools in the West Midlands and special needs teaching specialist, comments: "We have children in the class who are slower learners, or have special educational needs. The Toniebox helps with specific exercises and sometimes children take the Toniebox home to do the learning – they check it out like a library book."
Miss Grant, Early Years Teacher at Granton Primary School, comments: "As a teacher in Early Years, I read to the children every day, but the Toniebox has been such a benefit to have in class. I use a Creative-Tonie to invite children to complete weekly classroom challenges. I have also noticed how it's developing their listening and attention skills, as it engages them so well. I like how it can also be cross-curricular: I sometimes put it in the Maths area with the counting songs Tonie and use a Creative-Tonie to record Maths challenges or questions on there. It's so much better than using a computer, tablet or laptop, as it is more personal and they can use it independently."
Having a Toniebox in the classroom has the ability to introduce children to an entire world of stories and tales, building a bridge to an eventual love of words and reading that will set them up for life. The Toniebox can also act as another pair of hands in the classroom and can be a real help to teachers with pupils who learn at a slower pace or who may have special educational needs.
Included in the starter sets are Creative-Tonies, containing 90 minutes of 'blank audio space', enabling teachers to upload their own content for the children in their classroom, such as a daily challenge for the class. Teachers can set up small groups with an activity narrated onto a Creative-Tonie, and the child-controlled nature of the Toniebox means information can be repeated as many times as is necessary for learning.
Pinky Laing, UK Partnerships at tonies® comments: "Children have always been at the heart of everything we do at tonies®. From its creation by two fathers to the child-led design, our mission has always been to help children listen and learn independently. tonies® is committed to helping children learn through the power and magic of storytelling and we are delighted to help support schools and nurseries across the UK with such an important education initiative. Our audio storytelling devices help to engage young minds, and we feel fortunate that we can help inspire the next generation to learn and develop their literacy skills."
This initiative comes on the back of the recent announcement that tonies® partnered with the Book Trust and Waterstones Children's Laureate Cressida Cowell MBE's 'Life-changing Libraries' project to gift Tonieboxes and Tonies to primary school libraries in underprivileged areas of England. The donation allowed children in the schools taking part to enjoy some of the nation's favourite stories, such as Elmer, Peter Rabbit and How to Train Your Dragon in audio form.
tonies®' Pinky Laing and Emily Best from the National Literacy Trust appeared on the MyBaba Parental Control podcast to discuss the benefits of audiobooks for children, their educational wellbeing benefits, and the launch of 'Tonies for Teachers' – the episode can be found on Acast, Apple Podcasts and Spotify.
To redeem their unique discount code for 25% off a tonies® Starter Set, teachers should visit the Tonies for Teachers page and fill in their details.
For further details on tonies® Schools and Nurseries Education initiative, 'Tonies for Teachers' – please visit: https://tonies.com/en-gb/tonies-for-teachers/