The Federal Youth Authority and Mubadala to harness popularity of The Adventures of Mansour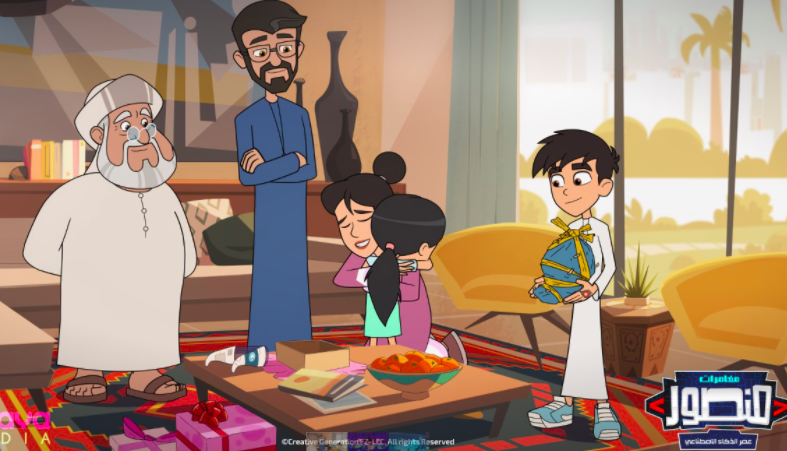 The Federal Youth Authority (FYA) and Mubadala have signed a memorandum of understanding (MoU) with Bidaya Media to harness the new, rebooted series of popular Emirati cartoon, "The Adventures of Mansour: Age of A.I.". The partnership will inspire future generations in media and content production through a wide variety of youth-focused activities.
The FYA and Mansour producer, Bidaya Media, will target UAE youth through workshops where young people will have the exciting opportunity to channel their inner creativity and learn about creating high quality media production and content, delivered by the world-class talents behind 'The Adventures of Mansour' cartoon.
Her Excellency Shamma Al Mazrui, Minster of State for Youth Affairs, commented "The Mansour cartoon series is a celebration of both Emirati talent and youth, and its continued success is an exceptional accomplishment for the nation. This collaboration marks a new step in contemporary media and the production of meaningful, engaging content for children representative of Emirati values and morals. Our partnership with "Bidaya Media" targets all segments of society, spanning the entire youth age group. We believe that the future of future generation is a collective responsibility. We also aim to provide youth with opportunities to be creators of content instead of just consumers, allowing them to reflect our culture and values globally."
Homaid Al Shimmari, Deputy Group CEO and Chief Corporate and Human Capital Officer at Mubadala added "The new rebooted show, with increased production values and quality, is a prime example of what is possible in the UAE. Through this partnership, we aim to further leverage the show's popularity and show the next generation of UAE creative talents how much they can achieve with the right tools in place. It is partnerships like these that truly make a positive impact on the community, and I encourage the youth to get involved in these workshops and initiatives to develop the future content in this region and globally."
The UAE wide roadshows exhibiting the new rebooted show content will take place across 2023 with the aim to reach UAE national and expat children in the 4-12 age range. In parallel, the FYA and Bidaya Media will visit local youth centers and summer camps to share their knowledge and experience in developing
and producing high quality Arabic content. This will serve to incentivize the UAE youth to increase their participation in creative careers and plant the seed of innovative ideas for future productions.
"The Adventures of Mansour" is a popular show among children in the region, and has over two billion YouTube views, three million subscribers and 300 million watch hours, and 25.2 million unique viewers in just the last 90 days. The new, rebooted, series aims to build on this success and is due to launch in 2023. It has improved production values and aims raise awareness for the values that represent the UAE both locally and internationally, tackling issues of international significance such as AI, the role of and reliance on technology, climate change and space exploration.
Originally created to appeal to Arab children and encourage a healthy lifestyle, cultural appreciation and an interest in Science, Technology, Engineering, and Mathematics (STEM), the show has superseded the expectations of its original, award-winning creator, Rashed Alharmoodi, to capture the imagination of children across the entire Middle East region and beyond.
The series targets children aged 6-12 and is funded by Mubadala Investment Company (Mubadala) and the Abu Dhabi Early Childhood Authority (ECA) as part of their efforts to support children content creation that support inclusion, culture, and Arabic language.