The Ashmolean Museum in Deal with Conway Stewart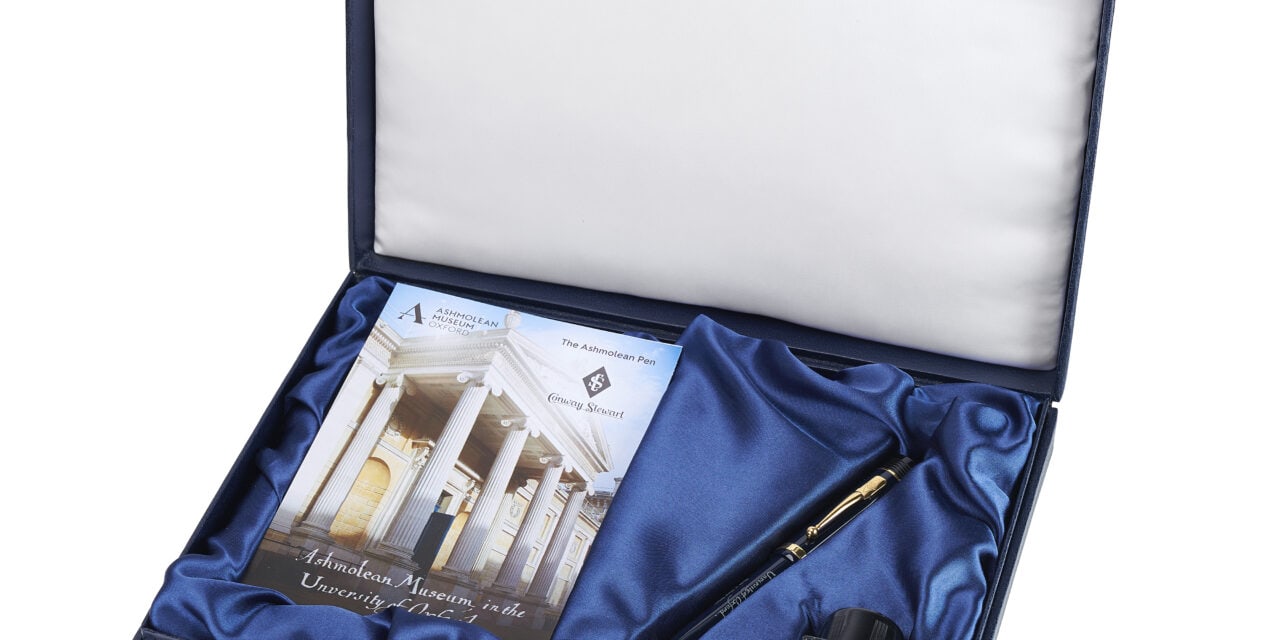 Start Licensing has brokered a partnership between its client The Ashmolean Museum and luxury pen maker Conway Stewart. 
Conway Stewart have worked closely with The Ashmolean Museum to develop the first in a series of Ashmolean Pens. The pen will be sold in a Limited Edition of 200 and will retail for £595. The first Ashmolean Pen is based on the Conway Stewart iconic Churchill pen. It has been produced in Oxford University Blue with 9-carat gold trim with English hallmarks. The theme of the first pen in the series is John Ruskin. Closely connected with Oxford and the Ashmolean, Ruskin studied as an undergraduate at Christ Church, and remained connected with Oxford for most of his life. He went on to establish his drawing school at Oxford in 1871. Ruskin was well known for his writing and also sketching. The Ashmolean Museum houses a significant amount of Ruskin's work including detailed sketches and paintings of rocks, plants, birds , landscapes, architectural structures and ornamentation. The release of the pen dovetails with the opening of The Ashmolean Museum's latest exhibition "Pre-Raphaelites Drawings and Watercolours" which will include a number of Ruskin's works. 
The Ashmolean Pen will also feature the Ashmolean's founder Elias Ashmole's hand-written 'Statutes Orders & Rules' heading on the barrel of each pen as a further link to the Museum and its history. The Ashmolean Museum is the world's first public museum and the world's first university museum. The Museum first opened its doors in 1683.
The pen will be sold in a presentation box and will include a bottle of ink plus a specially developed booklet that sets out the history of the Ashmolean Museum and gives an insight into John Ruskin's life. The booklet was written by The Ashmolean Museum adding a further layer of authenticity to the partnership.
Conway Stewart were founded in 1905. Conway Stewart's pens were famous for their vibrant coloured and stylish pens in the 1920s. in the 1940s their innovation made them Winston's Churchill's pen of choice. Their pens including the Ashmolean pen are designed and manufactured in the UK.
Ian Downes from Start Licensing commented: "We are delighted to see The Ashmolean Museum and Conway Stewart working together. The Ashmolean pen is a unique and original product that makes great use of the Ashmolean's collection and highlights their unique place in the Museum world. Conway Stewart are experts in their field and have developed a fantastic product. We believe the Limited Edition will prove extremely popular and we hope the John Ruskin pen will be the first in a series of pens from the Ashmolean. Conway Stewart also deliver a strong marketing platform for the product and have access to a global community of pen collectors. It is a consumer group who we think will respond well to the Ashmolean's collection." 
Dec McCarthy from the Ashmolean Museum said: "This is a wonderful collaboration for the Ashmolean, and we are delighted to be associated with such an iconic brand as Conway Stewart."
Alastair Adams MD of  Conway Stewart said: " I have loved working with the team at the Ashmolean Museum to produce this pen, doing the research and learning about the amazing collection on display in Oxford. I would urge all readers to visit this wonderful museum."