Sesame's Mecha Builders Heads to Milkshake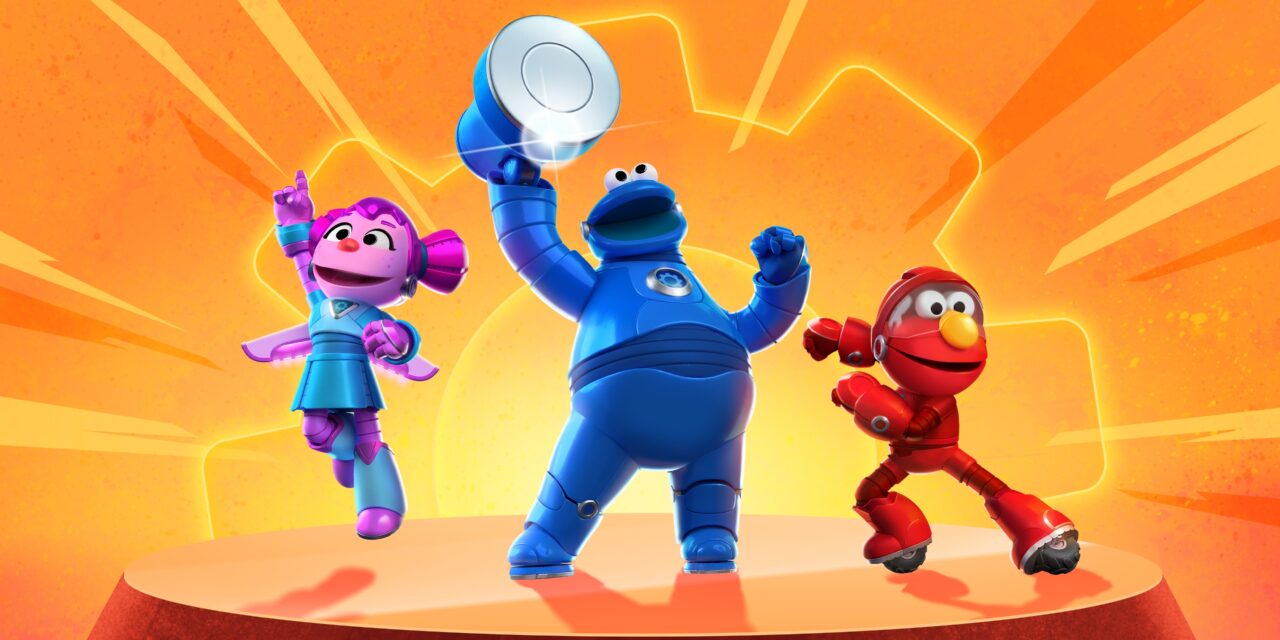 Sesame Workshop announces that Sesame Street Mecha Builders, the first fully animated Sesame Street spinoff series, has been acquired by Channel 5's Milkshake!  The 52 x 11' series is due to premiere on the channel in spring 2023.
The dynamic 3D-animated series from Sesame Workshop, reimagines much-loved favourites Elmo, Cookie Monster and Abby Cadabby as robot heroes-in-training who use their STEM superpowers to solve wacky, larger-than-life problems. Along the way, the series aims to help older pre-schoolers practice foundational critical thinking skills while laughing along with their Sesame Street friends.
Need help? The Mecha Builders will be there on the double to "plan it, test it, solve it!" There's no problem too small or too big for the Mecha Builders – and while they may not get it right the first time, they won't give up until they solve the problem and save the day!
Across the series, the friends get into all kinds of silly situations, whether they're using a wedge to split a giant banana for an ice cream statue or learning how to measure cables for a zipline through the trees. Mecha Elmo has a ton of gadgets—some useful, some not so much. Mecha Abby's stretchy arms can lift heavy objects and reach faraway places. Mecha Cookie has a handy hammer hand, googly vision, and springs to help him bounce from one place to another. Together, the friends are ready and willing to solve problems on every scale.
Through the Mecha Builder characters and their unique powers, the series introduces children to STEM concepts like simple machines, force and properties of matter.
To provide an added sense of localisation and relatability all the secondary characters featured in the series will have British voices.
"These much-loved characters have been children's icons for decades and we are excited to be taking them into the future in these fun robot versions and bringing them to the Milkshake! audience "said Louise Bucknole, General Manager, Kids & Family, Paramount UK and Ireland. "The stories are a great mix of energetic entertainment and STEM-related learning with a valuable message that it's okay to make mistakes. That's how kids learn, so the series will be hugely relatable for them."
Stefan Kastenmüller, Sesame Workshop's General Manager for Europe, adds: "Sesame Workshop Europe is thrilled to partner with Milkshake! on Sesame Street Mecha Builders to help inspire children across the UK. As kids get older, they'll continue to grow with these much-loved characters but now as dynamic, superpowered robots. Mecha Elmo, Mecha Cookie and Mecha Abby have the same lovable personalities as their Sesame Street counterparts with shiny new gadget-laden guises, ready to enthuse kids about STEM-related subjects and teach them the value of teamwork and perseverance."
Sesame Street Mecha Builders is produced by Sesame Workshop, the non-profit educational organisation behind Sesame Street, with animation produced by Canadian animation studio Guru Studio.