RHS and Caspari present the Sunflowers range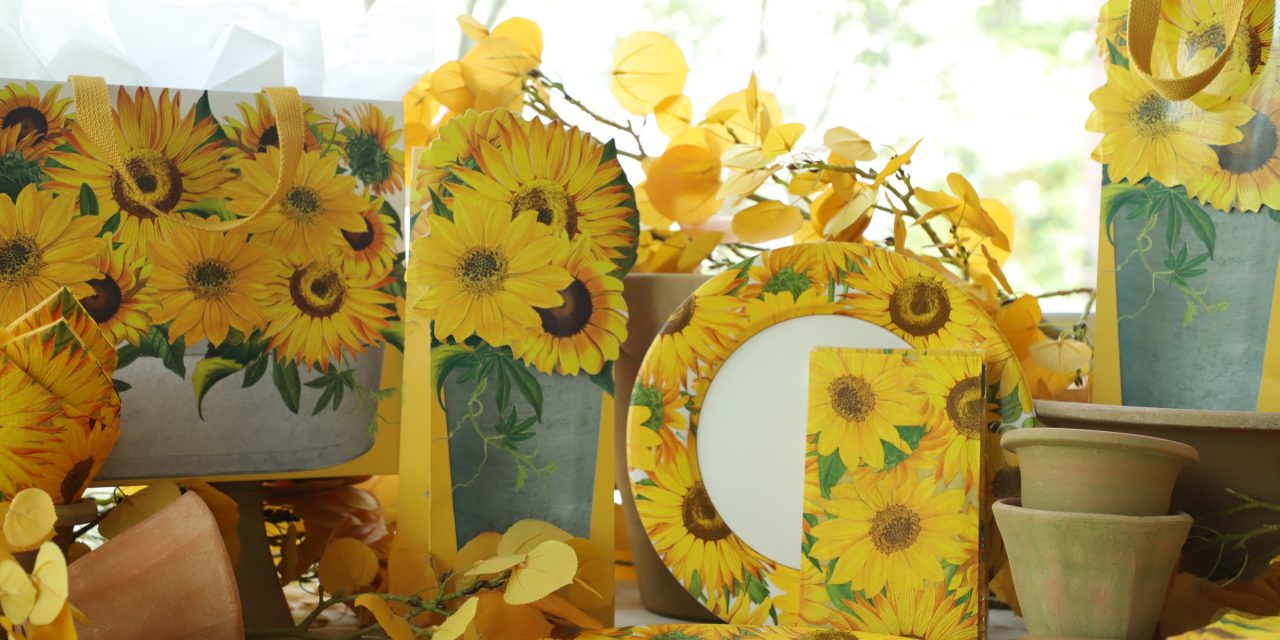 The Royal Horticultural Society (RHS) has partnered with licensee Caspari, a respected publisher of exquisitely designed and printed paper products, for Sunflowers, a range of tableware and napkins.
This range consists of cocktail napkins (20 per pack), luncheon napkins (20 per pack), guest towels (15 per pack), dinner plates (eight per pack) and salad & dessert plates (eight per pack). There will also be a large gift bag and a bottle bag. An additional gift bag and gift wrap will follow.
For the delightful sunflower-themed designs that appear throughout the range Caspari brought together several botanical illustrations chosen from the RHS Lindley Collections – the world's largest collection of botanical art – to create a joyful field of sunflowers. The result is a colourful and eye-catching collection that perfectly captures the glorious peak of summer and the abundance of autumn. The RHS name appears on all packaging as well as on the products themselves.
This Sunflowers range was officially launched as part of Caspari's autumn 2021 collection in June and will be supplied to wholesale customers worldwide. Stockists in UK and EU markets can pre-order wholesale product on b2bintl.casparionline.com. US customers can pre-order product on both Caspari's B2B and B2C US websites. The full range is expected to be in stock for retail and consumers in all of these markets from early October.
The target market is a wide one. Stylish, eye-catching table settings are always popular for dinners and parties, and this colourful and elegant selection of tableware and napkins is likely to have a strong appeal to a very big audience.
All the paper products in the range are FSC-certified and made using environmentally conscious raw materials, ensuring that they are both biodegradable and compostable.
The range has already been shown this summer at a number of major US trade shows, where it has received a very positive response.
Throughout its product line, Caspari showcases licensed artwork from many respected museums, gardens and artists. The RHS has been the inspiration for a number of popular Caspari ranges in recent years.
Gaea Rich, Licensing & Concept, Caspari, says: "Sunflowers are a joyful symbol of late summer and the early days of autumn, and these illustrations, sourced from the marvellous RHS Lindley Collections, perfectly capture that splendid time of year. We really feel this is tableware that many people will be thrilled to have at parties or gatherings."
Cathy Snow, Licensing Manager, RHS, says: "Caspari, a respected and environmentally responsible publisher of paper products, has brilliantly adapted some wonderful imagery from the RHS Lindley Collections for these stylish, colourful table settings. This delightful range of beautiful and affordable tableware will be a marvellous addition to any party or informal gathering."