Revolution Beauty hand global account to Rise at Seven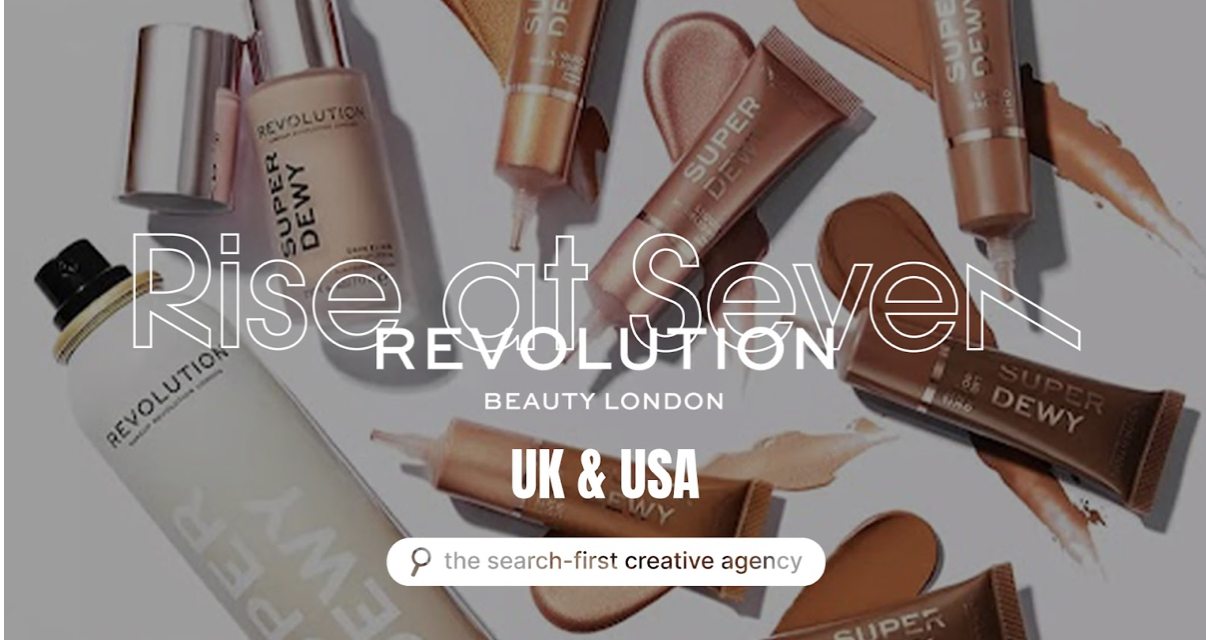 Revolution Beauty has announced it has appointed Rise at Seven as their retained digital agency to support ambitious international growth plans. 
Built around the principles of inclusivity and affordability in the makeup industry, the global beauty brand joins the client roster of Nasty Gal, Just My Look, PrettyLittleThing, and many more at the search first-creative agency.
Revolution Beauty recently launched into 2,800 Wallgreens stores in the US, and posted annual group revenue of 194 million pounds, a 42 percent increase from the previous year.
The account was awarded to Rise at Seven as Revolution Beauty wanted a creative approach to brand performance, PR and search, along with a dedicated reactive plan in order to move fast on current trends and product launches. Rise at Seven's work and case studies ticked all their boxes from day one.
In order to put their clients at the heart of relevant stories, Rise at Seven has launched a brand new service, Rise Live, that covers reactive social, PR, influencer, content, and even paid performance using a trend tracker tool, Early Risers.
The agency has already generated £1.2million for this service alone and expanded it across the US, Germany, Spain and Netherlands so far.
Rise at Seven will be working closely with the internal teams at Revolution to drive growth using this service.
Lauren Stretch, Global Head of PR, Influencer & Partnerships at Revolution Beauty, said: "We were looking for an agency that breaks the mould when it comes to the reactive approach, and Rise at Seven is exactly that.
We have watched Rise at Seven shake up the search industry over the past few years, which already reassures us that they fully understand our ambitions to disrupt the beauty industry. Their proven link acquisition results with current reactive efforts already reassures us that they will fuel digital growth for the Revolution brand internationally.
On the whole, we are really excited to be working with the Rise at Seven team in supporting our ambitious plans both here in the UK and over in the US."
Kate Leach, Head of Rise Live at Rise at Seven said: "Revolution Beauty offers a whole host of incredible products that offer a difference. They continuously innovate within their sector which is exactly how we work at Rise at Seven, so we're thrilled to be joining them to drive their reactive PR strategy.
We've already kick-started our partnership and managed to drive not just coverage and brand awareness but selling out products and driving thousands of visitors directly to the site in just a few short weeks. We're really excited to work with such a thriving brand that excites us as a team and we're looking forward to where this relationship goes."
Carrie Rose, Founder and CEO of Rise at Seven said: "Revolution Beauty is one of the world's leading affordable beauty brands with huge international expansions and we are super excited to be part of that journey.
We have already kickstarted our work with the brand and seen incredible results in just 3 months. We are extremely excited to be working with such a diverse and ambitious company which is looking to push the boundaries, and be bold with their reactive strategy.
We have a proven track record of delivering growth, speed and relevance and myself and all risers feel ours and Revolution Beauty's vision aligns, forming the perfect partnership to do some great work."
If you are interested in joining their team, they'd love to hear from you. Rise at Seven is currently recruiting a number of roles based in the UK and US, including Finance Director, Digital PR Manager, SEO Manager, Head of Business Development, and more".
Please let me know if you need anything else to make this a perfect fit for your readers.